Headless Mumby Brewing Company is throwing a bash to kick off Oktoberfest in Olympia and is keeping it rolling for two weeks! Get out your festive lederhosen and dirndls because all the fun starts on September 17 with a celebratory cask tapping just like in Munich, Germany. Be in the taproom to fill your stein and to hear some lively German brass band music on vinyl to commence the festivities.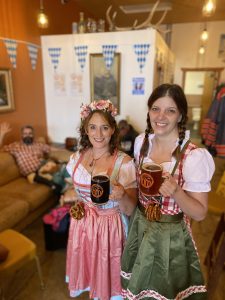 "I'm not kidding when I say it's the best holiday there is," says Alex Maffeo, co-founder and owner of Headless Mumby. "You just have a good time."
Closer than Munich, and 100% all-in, Headless Mumby begins the seasonal celebration with their new Marzen, pretzels made by a local baker, delicious food from CarbonPop and traditional Oktoberfest, oom-pah-pah music. You can clink mugs together for a toast in their new commemorative steins and enjoy visiting with friends.
"Other than our anniversary party, Oktoberfest has become one of our biggest parties of the year," says Stacey O'Connor, head brewer for Headless Mumby. "We have lots of people who pride themselves on being here every year. It's fun to see people come back every year, getting to see those faces again and some people dressing up, having a real hoot with it."
New Marzen Brew During Oktoberfest
Though released on the big kick-off day, the Headless Mumby Oktoberfest Marzen will be available for the duration of Oktoberfest. "We chose to be an all-lager brewery and that means we do have deep ties to Bavaria and German culture, which is known as the birthplace of that style," O'Connor says. "The celebration of Oktoberfest was originally the celebration of a wedding. That's why they do a huge kick off in Germany. The importance to us is that it really celebrates that area, that history and those specific styles of beer that we have come to love so much and like to showcase here."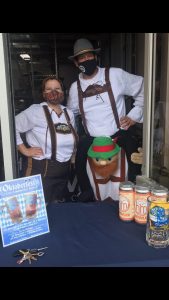 "Marzen" refers to the Bavarian-region beer batches that were started in early spring, allowed to age for months and tapped at the end of the summer, ushering in autumn. Today, technology allows for a later start date but the name of the amber lager with rich malt characteristics remains the same, and patrons are participating in a long held, seasonal activity.
Special Deals, Handcrafted Steins at Oktoberfest
In addition to enjoying their signature brews and the new Oktoberfest Marzen, Headless Mumby will also release their Cascadia brown lager the very same weekend. Customers can look forward to the food truck out front, soft pretzels, the new brews, favorite beers from the taproom and a choice of indoor or outdoor seating. To see how beer is made, staff will be inviting folks for brewery walk-through tours during the first kick-off day to share about the brew room processes. Grab a group of friends and family, and staff will show you around.
For savoring the memories, and following tradition from the first three Oktoberfest parties, Headless Mumby will have a locally made, collectable stein for sale. "We have people who have been coming to collect the steins," Maffeo says about past celebrations. "We're the only place left in town that does a traditional Oktoberfest."
Even more unique than those that precede it, the 2022 Oktoberfest mug is the work of local potter Andrew Kolberg who was approached by Headless Mumby to create their stein. Kolberg, artist and owner of AKPOTS, is growing a lifetime hobby into a business of small batch pottery. "I'm pretty excited about the steins this year," O'Connor says. "Finding a local artist to make them is a very unique thing that people can get." Kolbger has slated 50 stout, liter-sized stoneware steins sporting the Headless Mumby logo.
During the two-week celebration, customers can buy the handcrafted stein with a fill or buy a stein and a 32-ounce crowler and stein combo to fill it later. Whoever has a stein can bring it back in to use for fills.
Headless Mumby Continues Game Nights: Bring Good Food and Play Games
All throughout Oktoberfest, popular activities continue. Always available are the board games and tabletop games that groups love to play while visiting and eating. Wednesdays are BINGO. Thursdays are trivia nights. Friday's there will be a food truck, and Sundays are family game nights. The taproom sanitizes the kids' toys and has Mini Mumby Soda on tap for them. Patrons can always bring their own food, even during Oktoberfest.
Fall is just around the corner, and Oktoberfest is right on its heels. Mark the calendar, and head over to Headless Mumby on the September 17 kick off for new brews, good food, traditional music and good times. "It's a really fun time to kick off the beginning of fall, enjoy some darker beers and some German themed camaraderie," O'Connor, says. Be there to kick off the yearly events, pick up this year's stein and make great memories.
Sponsored