South Sound Parent to Parent has been growing its Mom-to-Mom support groups by holding them in Spanish. SSP2P strives to understand the communities it serves. The organization offers a diversity of programming for families and children who have chronic illnesses, developmental delays or disabilities. Two years ago, Angie Godinez joined the SSP2P team as the bilingual helping parent coordinator. Angie, who was born in Mexico and maintains strong cultural ties, was excited about bringing more of her culture into the activities in Shelton. Slowly but surely, there is greater excitement and success in both Mason and Thurston counties. Since then, the Latino population has grown. "Now the growth has exploded," says Sylvia Davenport, Helping Parent/Transition Program director. What started as just an idea now includes 25 moms.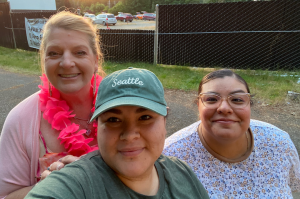 Attention to Spanish Language and Culture in Thurston and Mason Counties
La organización, South Sound Parent to Parent (SSP2P), se esfuerza en comprender a las personas a las que sirve. Desde que la agencia involucró a Angie Godinez, una hablante nativa de español y residente de Shelton, los grupos de Apoyo de Mamá-a-Mamá se llevan a cabo en español, dos veces mensuales. Angie trae su amor y entusiasmo por su cultura latina a todo lo que hace.
La agencia ofrece una diversidad de programas para familias y para niños que tienen enfermedades crónicas, retrasos en el desarrollo o discapacidades. Puede encontrar más información sobre todos los programas en el sitio web de South Sound Parent to Parent.
Programs for Families with Special Needs Children
Angie knows first-hand what it means to have a child with special needs. "I have been through hardship," she recalls, "SSP2P was there." Her pediatrician suggested contacting the agency. Angie took advantage of the early support program and found it really made a difference to her whole family. At that time, all SSP2P programs were conducted in English. Fortunately, Angie speaks both English and Spanish.
Over time Angie and Sylvia developed a working relationship. Angie continues to celebrate her Latino heritage and culture. She knew that speaking Spanish for some families would encourage their engagement. Her intense outreach made a difference, and people began to respond.
It's not just that the mom support group is in Spanish. It is also about bringing in the Latino culture. "Mother's Day is a huge celebration," explains Angie, adding, "We respect our mothers very much." El Dia de la Madre is a national day to honor the enormous role that mothers play in everyone's life. It is always on May 10. "I had no idea Mother's Day was such a big thing in the Latino community," says Sylvia. This past May SSP2P planned a new and special event. There was a barbeque, drawing for baskets, an activity to create gifts for moms, and a raffle. It was all about joyfully celebrating moms. Not surprisingly, it went over well. "We did events in Mason County. I was not able to get into the community as deeply as Angie," recounts Sylvia.
Come-As-You are Support Happens in Spanish
Angie leads a Mom-to-Mom support group in Spanish. "We give the mom's space to express themselves," says Angie. Sometimes there is a guest speaker or a fun activity, but most of all it is a time for the group to ask questions, share ideas, and express concerns. "They teach and learn from each other," notes Sylvia. "It is women coming together to ease isolation and offer empowerment and encouragement," says Angie. Everything is confidential. "What you say at M2M stays at M2M," affirm both women. One member has found so much value in the meetings that she drives to a parking lot at a local store to get online to attend.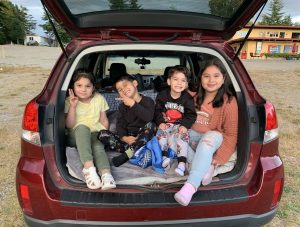 The monthly meetings are via Zoom. "M2M meets you where you are," assures Angie. That means it's fine if you are folding laundry, feeding the baby, or making dinner. The popularity led to twice monthly sessions. Angie may be located in Shelton, but moms in Olympia who want to attend in Spanish are welcome. "We share a few moms," smiles Sylvia. Angie's group meets the second Saturday and the third Sunday of each month.
SSP2P strives to adjust its programs to suit the current needs of the community. Remote services were initiated when people were only learning about COVID. The early intervention transition program assists families leaving the early development and graduating to public school. "We have great leadership from Executive Director, Kim Smith," says Sylvia. This means ears are open and feet are on the ground to figure out new and more effective methods to reach people. Now that the Spanish M2M groups are established, the next steps are underway. "It is our goal in the next year to start Sib Shops (in Spanish)," adds Sylvia. Angie wants Latino moms to know that they are not alone.
SSP2P strives to understand the people it serves and continues to ask who is under-represented or underserved. The agency has support groups for moms, dads and siblings, has the ability to diagnosis autism and offers many early learning intervention support programs. You can find more information about all the programs on the South Sound Parent to Parent website.
Sponsored