Any family that has a child with extra needs can find support at South Sound Parent to Parent (SSP2P). The agency is a provider for Early Support of Infants and Toddlers offering a variety of professional services tailored to each family's needs. When a child receives the appropriate therapy at these early ages, it provides the best chance for positive outcomes as he or she develops. It makes differences for a lifetime. At the age of three, a child who is qualified transitions to programs delivered by the public schools. SSP2P is launching an Early Intervention Transition Program to better assist parents and their children into the next phase. 
"In an effort to make things easier for the school and families, we have hired a transition coordinator," says Kim Smith, executive director. The new program will be managed by Jim Smith, who has spent his career in education. He has been a public-school educator for the past 33 years, holding an impressive range of positions at the elementary level. He has taught grades K-6 and been both an assistant principal and principal. Jim also instructs future teachers at Centralia College. "I like starting things and getting to build programs," says Jim, who is excited to be an essential part of this new transition program.
His valuable experience within the public-school system will aid in developing relationships with the area schools and districts. His role is to assist parents in navigating children that are nearing the age of three, when they graduate from the Birth to Three Early Intervention Program. "My vision is to get children to reach their potential," says Jim.
SSP2P has about 500 children in the early intervention program, which is 200 more than last year. This astonishing increase reflects the challenges children now face after pandemic restrictions. All children have been impacted. "So many things that kids do were eliminated," reflects Kim. Think of all the activities that babies and toddlers could not do during shutdown. There were no play groups or trips to the grocery store. There was limited, if any, contact with adults besides parents. Others were usually masked, making it impossible to learn about full facial expressions. There might have been more tension at home with employment or financial issues for the parents. It is not a surprise that there have been serious lags in social/behavioral skills. SSP2P recognizes this and has been increasing staff to meet the demand for services.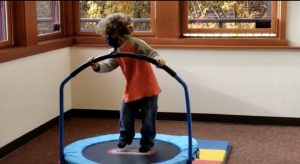 Jim also believes that since parents have spent more time with their children, many have recognized the special needs of their children at an earlier age. This is good. Many developmental delays can be addressed as soon as they are identified to make up for lost ground. Continued intervention after the age of three is meant to prepare children to be fully ready for kindergarten.
The Early Intervention (EI) Transition program will be more streamlined and relationship based. Jim will strengthen connections to all 24 school districts and the special education teachers in Thurston, Mason, and Grays Harbor counties. "He will get to know district personnel and SSP2P staff," says Kim, which is an asset, especially when family needs are complex.
Also, the youngsters are going from primarily home-based services to a school. That's a big change. When children turn three, they are not guaranteed services from the public school.
Thirty to 35% of SSP2P EI children do not qualify for public school services. They may still have needs but may not fit into a program. SSP2P wants to keep families connected to all the services where they do qualify. For example, SSP2P has a Transitional Preschool.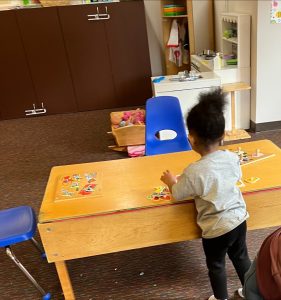 South Sound Parent to Parent has been active in our area for over 30 years, offering a rich diversity of programming for families with children who have development delays, disabilities, or chronic illnesses. It began with parents and professionals working together to identify support for all members of the family, acknowledging that there are extra demands for the parents and siblings. SSP2P values the abilities of parents helping each other as well. The Early Intervention Transition Program is another way the agency is responding to the needs of our community.
You can learn much more on the SSP2P website. There are support groups, activities, self-referrals and information. SSP2P implements proven, strength-based activities to support and foster family and community. "Everything we do impacts the community," affirms Kim. Discover ways to utilize the support from SSP2P.
South Sound Parent to Parent
2108 Caton Way SW, Olympia
360.352.1126
Sponsored