South Sound Parent to Parent (SSP2P) is launching a transitional preschool, called Growing Learners for children aged 3-5, at their Olympia location. The transitional preschool will offer services to children that have graduated from the early intervention program and did not qualify for ongoing special education through the school districts at age 3. But who are still in need of educational support before kindergarten. This program will also be available to peer models from the community to promote learning at all levels. The Give Local campaign is one way to support the Growing Learners program.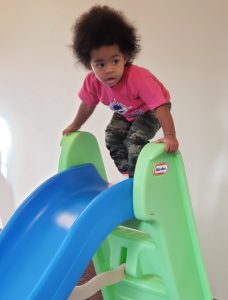 Give Local runs its two-week online giving campaign from November 8 – 19. It is hosted by The Community Foundation of South Sound to boost support for nonprofit organizations around Thurston, Lewis and Mason counties. The Community Foundation celebrates philanthropy and wants to maximize donations that people make to their favorite causes and organizations.
What is especially important about making your donation through the Foundation is the matching Bonus Fund of $100,000 provided by The Dawkins Charitable Trust. Upon completion, donated amounts are tallied, and each agency gets a percentage of the Bonus Fund based on the amount that was generated. For example, if SSP2P raised 5% of the total funds donated, the agency would receive an additional $5,000, quite an amplification of the total, and a huge benefit.
Currently, SSP2P provides valuable services, including early learning, to families caring for a loved one with special needs. SSP2P implements proven, strength-based activities to support and foster family and community. The agency is the early intervention provider agency for services in Thurston, South Mason, and Grays Harbor counties. Currently, 396 families are receiving EI services.
Early childhood education, like Growing Learners transitional preschool program, will be more than preparation for elementary school. It aims at the holistic development of a child's social, emotional, cognitive, and physical needs in order to build a solid foundation for lifelong learning and wellbeing. The spillover effects of investing in children at an early age have been linked to a stronger economy, increased caregiver job stability and a reduction in the cost for special education, healthcare and criminal justice spending later in life.
In Fall 2019, one-third of the children in our region started their first day of kindergarten unprepared. Gaps in knowledge and ability between children with developmental delays and their more typically developing peers open up long before kindergarten. These gaps tend to persist throughout life and are difficult and costly to close. Also, families in our community have expressed that most existing preschool options present barriers due to cost, income eligibility requirements, and are in high demand resulting in wait lists. South Sound Parent to Parent will strive to support the Growing Learners program through other sources to be able to provide a sliding fee scale ensuring affordability for the community.
The first few years of a child's life is a period of great opportunity for learning. Early childhood is a critical time when a child's brain is highly impacted by the contexts and environments that surround them. The cognitive and social-emotional skills that children develop in these early years have long-lasting impacts on their later success throughout schooling and adulthood. SSP2P believes high-quality early education promotes children's development and learning while narrowing inequalities and promoting family self-sufficiency.
Programs such as SSP2P's transitional preschool are more effective and economically efficient than trying to close the gap later. As children go forward in school and life, they are less likely to need special education services or be held back a grade and are more likely to graduate and go on to continuing education.
An investment in early learning supports innovative strategies for young children that:
Strengthen families in their role as their child's first teacher
Improve the quality of early learning environments like preschool and childcare, and expand access to those programs
Promote prevention and early identification of health problems that can impact learning later
The program will be taught by special education and general education certified teachers who are supported by therapeutic specialists, behavior specialists, and those with autism expertise. Children currently receiving early learning support will be eligible to enroll, based on testing for school districts and recommendations from Early Intervention providers at age 3. Growing Learners will have designated placements for peer model enrollment from the community. The personalized approach at the school will allow focus on individual needs within small groups. Children will have support to reach the necessary milestones for kindergarten.
Donate now to ensure children with these needs have access to pertinent and adaptable early childhood education. South Sound Parent to Parent is pleased to have generous sponsors for Give Local 2021 including Rhino Linings of Olympia, JT Painting Co., The Sportstech Company and Scott Drapeau Wellness.
2108 Caton Way SW, Olympia
360.352.1126