Adam Brooks immediately started placing calls to his teammates. The message was simple and direct. "I told each of them we were having a football season this year," the Northwest Christian High School senior stated. "I didn't care what we had to do. We weren't going to lose this season."

Up to that point, Brooks's high school football journey had been non-typical to say the least. Because Northwest Christian did not offer the sport during his freshman year, he played at Capital High School. The next year football returned for the Wolverines, yet to field an 11-man team Northwest Christian was required to join forces with Tacoma's Life Christian Academy.
More changes came the following year with the Wolverines, due to a thin roster, dropping down to eight-man football. The team went a disappointing 0-4.
"Last season was rough for us," Northwest Christian Coach Kyle Dunn said. "We were on the wrong end of a running clock in all four of our games last year. That experience showed us how difficult it is to win high school football games, regardless of what level or classification the competition is in."
Two weeks before the start of this season, Brooks, who was an all-league offensive lineman as a sophomore, and his Wolverine teammates practiced in a jamboree where the team lost starting running back Cooper Walker to an injury. This led to a chain reaction with several players opting not to play, leaving the squad with just eight players and forcing the school to cancel the season.
"Initially, the decision was to pull the plug and allow NCHS would-be football players to play football for the public school that is closest to their residence," Dunn said. "This decision was difficult and gut-wrenching. Letting the players know that their season was cancelled was the toughest team meeting I have ever been a part of. My heart was especially broken for our seven seniors. Knowing how hard they had worked over the offseason and how excited they were to represent Northwest Christian High School."
Brooks, however, had other ideas. "The idea of playing six-man football was sort of floated out there in passing during the meeting where they cancelled our season," Brooks said. "All I thought about was how we needed to do this. We need to do six man. I just want to play football for Northwest Christian. As long as I get to put on a blue and teal jersey and get to hit someone, I'm in. It's not ideal. Of course, I'd rather be playing 11-man, but I'll embrace it if it means we still get to play."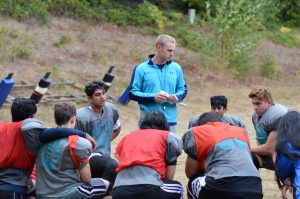 That's just what Brooks did, rallying the team in support to turn the Wolverines into a six-man program.
"After talking with each of the players, each of them told me they had no intention of playing football for any other school besides NCHS," Dunn said. "This prompted me to see if there was anything I could do to get into the newly formed 1B Coastal 6-man Football League. Thanks to the help of the league organizer we were able to get in. Our season was revived."
Within a week, the Wolverines installed an offense, with Brooks being converted to quarterback; figured out the rules of the newly-formed six-man football league; and headed into the new season with high expectations.
"This is something new for everyone," senior Junior Babber said. "It's a little weird to only have six players on the field, but at the end of the day it's still football."
Dunn and his Wolverines proved to be quick studies as they won their first game of the season, defeating Lake Quinault, 33-18, in their opener.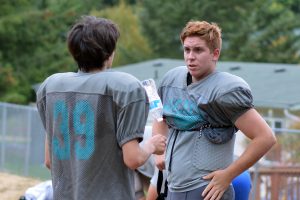 "The atmosphere was electric following our first win," Dunn said. "We got beat pretty badly in every game last year. We were just used to losing. We had no idea what it felt like to win football games. Although we had a great offseason in the weight room, the team still didn't know if they had what it took to pull out a win. In our first game it was a one score game into the fourth quarter. It was an 85 degree afternoon in Lake Quinault, we were hurting and gassed but still managed to pull out the win. This was so validating and satisfying for the players. Not only did the hard work they put in over the summer pay off but to get a win just three weeks after the season was seemingly canceled was incredible."
The wins didn't end there as Northwest Christian went a perfect 6-0 during the regular season, including a 73-0 victory over Wishkah Valley.
"I give the players so much credit for how they have adapted to the 6-man game," Dunn said. "They had to basically learn a new offensive scheme, a new defense scheme, and an entirely new game in just a couple of weeks. They embraced the new schemes and rules from the start. They actually approached it as a second chance for a season."
A second chance that could end in being crowned the state's first ever six-man football champions as the Wolverines clinched home-field advantage throughout the playoffs this year.
"More than the wins, I've been impressed with the attitudes of the players," Dunn said. "They've gone through so much this season between the season almost being cancelled, to coaches bailing on them in the middle of the season, and going through constant schedule changes their positive attitudes have always been present."