Tell anyone where you live, and chances are someone will blurt out, "It's The Water!" That iconic slogan began in 1902 thanks to Olympia Beer but has stuck around the Sound ever since…for good reason. Our waterfront is a stunning example of all the Pacific Northwest has to offer and now students at local and regional high schools can learn to conquer it – and their competitive spirit – thanks to open tryouts for Olympia Community Sailing's fall race teams.
Looking for High School Sailors, No Experience Required
Try-outs for Olympia Sailing's high school teams takes place after school on September 15 and 16. Any high school-aged student interested in being on the team is welcome, says Executive Director Sarah Hanavan. "Capital and Olympia are our biggest teams," she adds. "Sailing is more than a sport, it's a lifelong pursuit; it teaches self-reliance, confidence, and athletes in who have graduated from our program have been transformed into bold, adventurous and self-reliant adults."
To RSVP for tryouts, registering online or email info@olympiacommunitysailing.org.
All students who register are guaranteed a spot on the junior varsity team so try-outs in September are simply to place the varsity-level participants. Attendees are strongly encouraged to attend both days. The program is co-ed and men and women compete equally, says Hanavan. "The community and friendships are lifelong, and it is a great addition to college resumes because college coaches can pull sailing athletes," she adds.
Sailors on the team must be at least 14 years old or in the 8th grade to sign up and the entire 8-week season costs $399. Boats are provided, says Hanavan, and scholarships or payment plans are available through the club.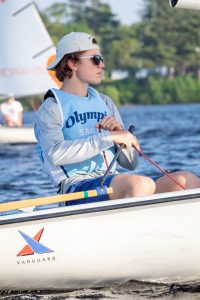 High school can be an emotionally stressful time for many children. But participating with a team or group provides an instant group of friends both inside and outside the classroom. Studies show that when kids spend time outdoors it "increases students' physical, mental and social health [and] research has documented increased standardized test scores, enhanced attitude about school, improved in-school behavior, improved attendance and overall enhanced student achievement when students learn in  
Olympia Sailing: Training the Next Generation to Conquer Puget Sound
During the two-month sailing season, teams don't just glide around our neighborhood harbors and waterways. "There are a number of competitions in the fall and spring, they are called regattas," Hanavan explains. "Local regattas are all around the Puget Sound in beautiful venues: Orcas Island, Seattle, Bellingham and Oak Harbor. Travel competitions down to Portland, Los Angeles and San Diego also occur."
And our local teams show up ready, willing and able to win, says Hanavan. "Olympia High School has won state championships three years in a row and attended multiple nationals," she adds. "They are ranked in the top 20 teams in the USA. The OCS High School program has existed for over 20 years but has seen tremendous growth in the last 7 since converting to full time coaching and program staff. Olympia Community Sailing is even working towards a capital campaign to create a Community Sailing Center."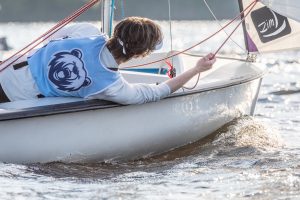 For children under 13, Olympia Community Sailing offers Opti Race Team in the fall and spring. They can also attend regattas and practice.
Olympia Sailing Information
If parents have questions about the high school sailing team, classes or lessons, Hanavan suggests registering online and attending Orientation Night on September 19. You can subscribe to their newsletter and ask questions through the website or email info@olympiacommunitysailing.org for details.
JV practices will take place Wednesdays from 3:30 p.m. to 7:30 p.m. and Fridays from 4 p.m. to 7:30 p.m. The Varsity team practices Tuesdays and Thursdays from 4 p.m. to 7:30 p.m. These run the months of September through November with regattas taking place through early November before the weather gets too cold.
Want to help support these young sailors? Consider donating directly or via the state employees Combined Fund Drive. You can also join SOCS's 100% volunteer team of fundraisers and hardworking behind-the-scenes assistants. For more information visit the Olympia Community Sailing website.
This September, bring your high schoolers down to the Olympia Yacht Club to learn more about OSC's competition teams. Everyone is welcome and it's a great way for the next generation to discover for themselves that timeless truth: It's the water!
Sponsored