Despite the early spring chill on that February night in 1938, Lincoln Elementary School students and their families gathered for a PTA carnival. The theme, however, was a warm one: a campfire in the desert. Before the party started, students gave a play about a carnival troupe that had broken down on the trail and been helped by a group of cowboys. To thank them, the troupe held a carnival for the cowboys. The school carnival that followed the play included games, fortune telling, motion pictures and a hot dog booth.
While German immigrants had brought sausages with them to their new home in America, it took some time for the "hot dog" to become popular. Remembering picnics in her youth, Olympia resident Elizabeth McElroy Allison recalled that she never saw a hot dog until she was in high school, in the 1910s.
But while slow to become popular, hot dogs – also called frankfurters, franks, wieners and weenies – were adopted as a quintessential American treat. They became common at picnics, baseball games, circuses, scout meetings, camping trips and other outdoor events. While some people might complain that there were too many hot dog stands, they persisted as favorite places to eat, including a stand at Millersylvania State Park.
Hot dogs became even more popular during the Great Depression in the 1930s because of their affordability. "Picnic again and what outing is complete without the well-known 'hot-dog?,'" wrote a columnist for "Doing the Markets with Helen" in the Daily Olympian on July 31, 1931. "At the Safeway Market one secures these celebrated wieners with real flavor and desirability—that is, they desire accompaniment of mustard and toasted buns."
Hot dogs were so well liked that hot dog roasts became a Thursday night tradition at Olympia's USO Club during and after World War II. Smiling GIs eating hot dogs were popular symbols in wartime Coke-Cola ads.
As the years rolled by, hot dogs found their way from snack stands to sit-down and quick service restaurants. When Small Fry (318 Fourth Avenue East) opened in November 1956, they celebrated with music and displayed what they claimed was the world's largest hot dog, "the daddy of them all." This claim was never verified.
Prices remained low. A 12-inch hot dog cost a dime at the Fourth Avenue Cafe next to the Evergreen Market in 1938. Costs had barely risen by the time South Sound Center in Lacey was in operation. In September 1977, for example, Orange Oasis sold 8-inch hot dogs for 75 cents and 1/4-pound hot dogs for a dollar. Each came with an orange oasis drink.
Hot dogs proved popular with children and were put on kids menus. In 1980, a child could get a hot dog with fries – or a baked potato – and dessert for $1.39 at Ponderosa Steakhouse on Olympia's Westside.
Hot dogs also became popular on school lunch menus, served often, strangely enough, on Wednesdays. In December 1967 Olympia school district students enjoyed "wiener winks" with buttered rice, buttered and parsleyed carrots, apple-pineapple-lettuce salad, milk and a frosted cinnamon roll. Things had not changed that much in May 1980 when Olympia schoolkids ate hot dogs on buns with mustard and relish alongside tater tots, "vegi stix," fruit compote and chocolate milk.
Businesses realized that hot dogs could attract customers. The Court Market (Ninth and Capitol Way) offered free hot dog sandwiches at their grand opening in July 1929. Decades later, the Flying A Service Station (420 Fourth Avenue West) kept the tradition by offering a hot dog cooker as a prize at their opening in May 1960. Other businesses added hot dogs to their events, such as when Cascade Northwest Brokers promoted their new County West development on Fairview Road with a wiener roast in 1980.
People also learned that hot dogs could be used to raise money for groups and causes. The Woman's Relief Corps sold hot dog sandwiches at the circus in 1922. And with their undeniable connection to baseball, hot dogs were a logical choice to sell – with a Pepsi for a dime – at a National Little League Foundation fundraiser at Safeway in June 1959.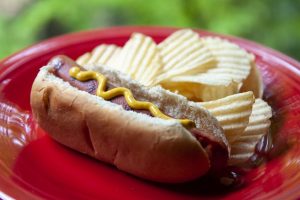 But people also ate hot dogs at home, whether grilled on the patio or cooked in the kitchen. Hot dogs were an inexpensive and common ingredient in recipes published in the local newspaper, celebrated for their versatility, including as leftovers. "Even a leftover hot dog, sliced up, can add interest and flavor to scrambled eggs or soup," wrote an "Inflation Fighters" columnist on March 28, 1979.
Recipes over the years included things such as sauerkraut and frankfurter with dumplings, bean-pickle stuffed frankfurters, hot dog and cheese toasties, frankfurter kabobs, cheesy hot dog roll-ups, Coney Island Casserole, and hot dogs in blankets with cream sauce. There was also a June 27, 1979 article that offered ideas for making aloha, taco, cheesy, barbecue, Bavarian and Swiss "dogs."
Hot dogs were also featured on sample menus published in the Daily Olympian. A lunch menu from November 13, 1936 suggested "split pea soup with frankfurter slices, toasted cheese crackers, baked apples, ginger bread, coffee, milk."
Hot dogs remain an American classic. There are even vegetarian and vegan options now. But wherever and however people eat them, they remain a favorite food. Past Olympians would not have been surprised. "The noblest of all animals is the dog," wrote an anonymous columnist for the November 18, 1957 Daily Olympian's "Chuckle," "and the noblest of all dogs is the hot dog. It feeds the hand that bites it."