Financial institutions provide many of the same services, but few come with the heart of Olympia Federal Savings (OlyFed). This long-standing banking institution is founded on principles of community and prosperity, which have become core values in their staff and leadership. Josh Deck has served OlyFed for over 11 years as Vice President, Senior Vice President, and finally Executive Vice President & Chief Operating Officer. Through his commitment to the OlyFed mission, he has now achieved the role of President and CEO as longstanding President Lori Drummond transitioned into retirement and the role of Board Chair at the end of June.
Josh has been involved in the world of finances for his entire professional career. He originally worked as a bank examiner for the Department of Treasury within an agency called Office of Thrift Supervision . "I was traveling around the country and performing examinations on banks similar to OlyFed," he explains. "After a couple years of traveling, my wife and I got married and talked about starting a family, and my schedule wasn't really great for that." Josh decided it was time for a career shift, and as a local to the Tacoma area graduating from Franklin Pierce High School, he knew he wanted to set down roots somewhere in the South Sound that would feel like home.
It was at that same time that Olympia Federal Savings was searching for a new Vice President within their organization. "I had come to OlyFed a few times to do examinations, and saw that everything they do is what makes a great bank," Josh recalls. "I saw they had similar values with what I would want, especially with the culture and people I would be working with." With the opportunity available, Josh took the leap and was hired on as the Vice President of Risk and Compliance, which was a new division within OlyFed.
After serving in this role for five years, Josh was promoted to Senior Vice President and Chief Risk and Compliance Officer. He continued to support the newest addition to the OlyFed mission and operation, and found true purpose in his work. Another five years of diligent service resulted in another promotion to Chief Operating Officer, which has been Josh's role for the last two years.
In recognition of his efforts to both OlyFed and the community, Josh was honored with the South Sound Business Magazine 40 Under 40 business leaders award in 2020. In fact, Josh serves on the board of directors with both the Community Foundation of South Puget Sound and the Community Bankers of Washington; not to mention he coaches his boys' baseball and basketball teams.
Josh's continued efforts to the OlyFed mission have been instrumental in the bank's continued success and community involvement, so when current President and CEO Lori Drummond announced her retirement, Josh was thrilled to carry on her legacy of leadership. "I have had Lori as a mentor, and she is someone who I believe is not only a true leader here at OlyFed but throughout the community through her service to a host of different nonprofit organizations," Josh shares. "She really instilled what true servant leadership is with our teams and community."
Josh officially started in this position as of July 1, and is honored to have the privilege to serve the community in this new role. He has every intention of upholding Lori's legacy as well as all past OlyFed presidents. OlyFed strives for longevity and commitment to service in the community, which is exemplified through their long-term leadership team. "OlyFed started in 1906, and I am only the 8th President in 116 years," says Josh. "It is an honor to have this opportunity to continue to move OlyFed into the future."
Within the walls of OlyFed, it is more than just the leaders that carry that promise to community and service. For Josh and his past Presidents, everything that OlyFed accomplishes and provides is thanks to a continued team effort. "We are nothing without every single person that is a part of the OlyFed team," Josh shares. "I really value family and taking care of those around you, and I truly look at OlyFed as a part of my extended family. You really feel that sense of family when you are walking through one of our branches."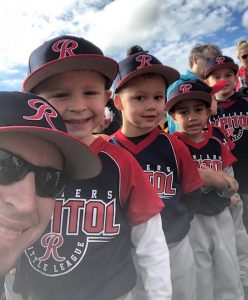 As Josh looks toward the future, he sees the potential opportunities to grow and better serve the community he loves. "I think it is important that a financial institution does not outgrow its community and that we grow with our community by working together," he says. "We are dedicated to continuing to be a partner in the community and identifying ways to help improve the quality of life for everyone around us."
Under Josh's leadership, OlyFed will continue to put community first and prioritize the needs of our local economy over all else. "I was fortunate to have so many education and development opportunities growing up in this region, to play college baseball at William Penn University and to return and be mentored by so many caring and thoughtful people. I want to ensure we continue to be innovative and compassionate in how we support our community to ensure all our neighbors who call the South Sound home can grow, prosper and thrive."
Sponsored