There is nothing like horseback riding through the Capitol State Forest with lush ferns, moss-covered trees and foxgloves as tall as your horse. Summer trail riding with your horse at Margaret McKinney Campground affords all this and more with access to the equine trail loop. So, what are you waiting for? It's time to hit the saddle!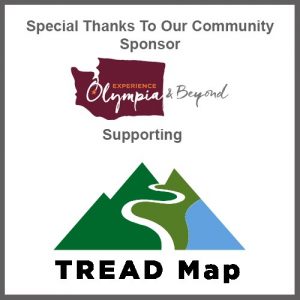 Margaret McKinney Campground, located in the Capital State Forest, requires a Discover Pass for parking. Once you have one, you are good to go, whether for a day or a weekend of trail riding fun.
Camping With Your Horse at Capitol State Forest's Margaret McKinney Campground
If you decide to camp with your horse and trail ride, you will find the amenities nice at Margaret McKinney. The campgrounds are open for summer trail riding, from May 1 to October 31. You can make reservations by emailing mckennyreserve@gmail.com. Make sure you give you them all the information they need including:
First and last names
Number of people
Mention you have horses!
Site you want to reserve – for horses this is the B-Loop sites: B-4 and B-6
Check in and out dates
Whether you would accept another site if the one you want is not available
Total number of vehicles
Size of RV if you have one
Total number of people
Reservations need to be made at least 3 days in advanced and give them 48 hours to respond to your email. Maximum stay is seven days in a year. Check-in with Camp Host for reservations and campsite status when you arrive. If you arrive same day and there is an empty campsite, it will be available at 7 p.m., first come, first served for one night.
Nestled among the fir, pine, maple and other trees, the picturesque horse campsites at Margaret McKinney include wood corrals and manure bins. Please clean up after your horse! This includes hay that's been spread around. Speaking of hay, make sure you are feeding weed-free hay while camping with your horse. It's required. Stock water is available.
Along with corrals to keep your horse safe at night, the campsite offers a vault toilet for human use.
For those coming to ride just for the day, Margaret McKinney also has a large day use parking area, with manure bin—remember to leave no trace in the parking lot—and mounting block.
Horseback Riding at Capitol Forest's Margaret McKinney
One of the biggest draws for summer trail riding with horses at Margaret McKinney is access to the equine loop. The 4-mile loop is for hikers and horses only, so no mountain bikes. You do have to use the public trail out of the campgrounds that is open to all non-motorized traffic, and there is a bridge to cross as well as a rather steep climb on the other side. However, the equine loop itself is a nice easy ride with plenty of wildflowers and trees to enjoy. While the loop is open year-round, horseback riding is only allowed in the Capitol Forest from May 1 through October 31 to avoid damage to trails during the rain.
Along with the Equine Trail loop, horseback riders are welcome to explore the other Capitol State Forest trails as well, just be aware you will encounter mountain bikes as well as people walking with dogs, etc. You may decide to take the 13-mile loop on the McKenny and Mima Falls trails—a personal favorite—or the roughly 16-mile McKenney and Lost Valley Trail. Those with horses in good shape may also enjoy the Greenline/Wedekind Loop that climbs up to the top of Capitol Peak. This trail can be more challenging for green horses, with speeding mountain bikes going down the hill fast. It's best to ride it counter clock-wise, so the mountain bikers are coming towards you when they are going downhill, instead of coming up behind you.
The trails have good signs that let you know which trail you are on as well as what you are headed towards—like back to the Margaret McKinney campground—along with the length of the trail. Cell service is pretty good on most of the trails too.
How to Get to Margaret McKinney Campground
Take exit 95 off 1-5. Turn west onto SR-121 North, toward Littlerock. In .3 miles, turn Left onto Maytown Road SW toward Littlerock. Turn right to stay on Maytown Road SW. In 3./6 miles, turn right onto Waddell Creek Road SW. In 2.4 miles the destination will be on the left. Look for the Margaret McKinney Campground sign.
There are sometimes unexpected alerts and closures, depending on weather or any maintenance work that needs to be done on the trails, so it's a good idea to check out the Washington State DNR website for these notices before heading out. Also, there are sometimes events like group rides or competitive mounted orienteering happening at Margaret McKinney that will be posted on the DNR site as well. Be aware that these groups do not always put signs up at the actual campground and it can be a mess if you find yourself in the middle of an orienteering race. So, be sure to check the DNR website first.
Get more information about outdoor activities by visiting: Outdoor Activities in Olympia & the Pacific Northwest | Experience Olympia.
Sponsored