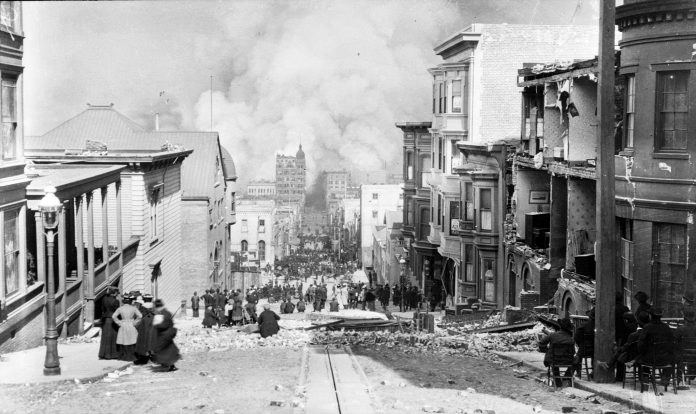 At 5:12 a.m. on April 18, 1906 San Francisco, California was rocked by a massive earthquake. During the destruction and fire that followed over 3,000 people were killed. News of the disaster shocked the country. And the people of Olympia rushed to aid San Francisco.
People in Olympia flocked to the Union Postal, Telegraph and Telephone office hoping to receive or send messages to relatives and wait for news to slowly filter in. As news bulletins arrived, manager M. O'Connor posted them in the office's window. These handful of documents spoke of great destruction and fire.
Washington State Governor Mead issued a proclamation the next day, urging everyone to aid disaster victims. On April 20, Olympia's mayor called for a mass meeting in the city council chambers to organize relief efforts. "San Francisco," Mayor P. H. Carlyon was quoted in the Morning Olympian, "has always been one of the first cities to aid others in time of trouble and it is especially fitting that she should be helped now." An Olympia Relief Committee formed.
Meanwhile, more news from the disaster zone arrived as survivors began to send letters and telegrams. People were relieved to hear that their loved ones were safe, even if many of them had lost all. "Everything, ma, that you saw, is burned" wrote Milton and Leo to their mother Mrs. J. H. Morf from a tent. S. G. Mahlum, proprietor of Olympia's Emporium was grateful to receive the message "We are all safe" from his family members. Their store in San Francisco had been burned. "The loss of the store is a small matter," Mahlum told the newspaper, "as long as my family is safe."
Sadly, at least one person from Olympia died during the disaster. Ted Wilson, son of Eugene Wilson, passed away from heart problems during the quake. Others barely escaped. Joseph M. Easterday of the state tax commission had just arrived in San Francisco from Byron Hot Springs the night before the quake and checked into a hotel. Unable to sleep and with a premonition of disaster, he checked out and went back to the hot springs. The San Francisco hotel was destroyed.
Olympia Aids San Francisco After 1906 Earthquake
The Olympia committee met daily at the city hall. They were able to raise a large amount of money in a short period of time, over $3,000, mostly in small amounts. Donors were listed in the newspapers. They included businesses, clubs and many individuals. Included in the list was German-born artist Edward Lange, who gave $2. During the midst of the 1890s depression, he had drawn panoramic views of San Francisco.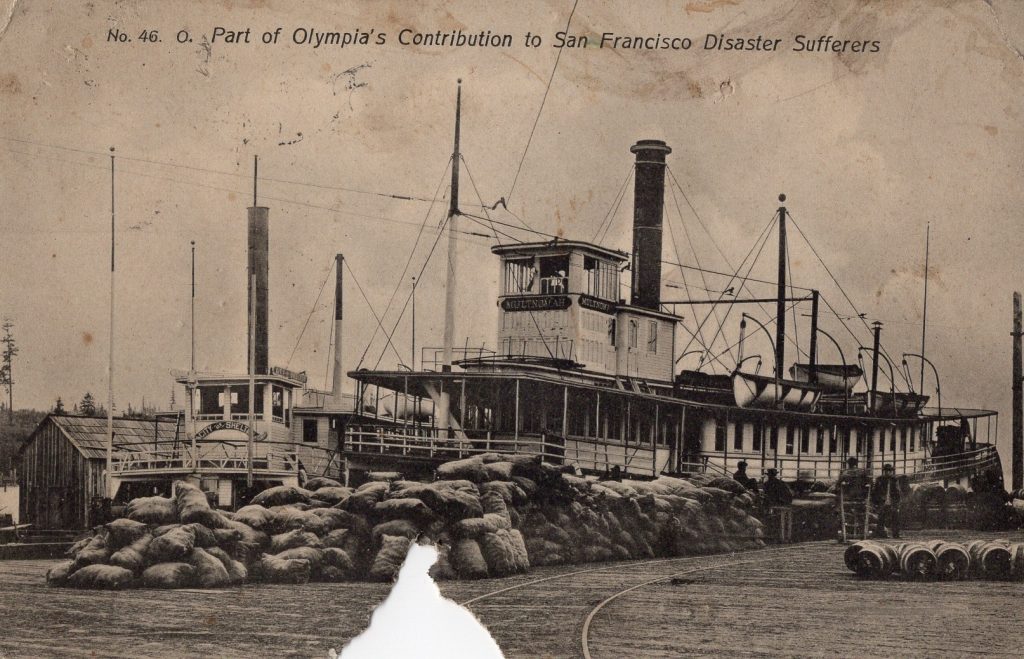 But people also gave goods to meet the immediate needs of the California city. The 10th carload of donations was sent on April 24, filled with 28 tons of potatoes, 2 boxes of medicine, 2 tons of clothing, 8 large cases of bread and 2 cases of eggs. A total of 147 tons of potatoes had been sent from Thurston County so far. This train car, loaded in record time, left town attached to the Grays Harbor passenger train with a banner on the end reading, "Tenth car load from Olympia, 1856-1906" to honor San Francisco's aid to them during a time of difficulty.
One major donor was the Olympia Brewing Company, who gave $500 to the relief fund. The company had a plant in San Francisco where they bottled beer brewed in Tumwater. This facility was undamaged by the quake and continued operations. Paul Schmidt, nephew of company founder Leopold Schmidt, went down to see the plant soon after the quake. Other breweries were destroyed by the convulsion and taking advantage of the situation, Leopold built his own Acme Brewing.
Other groups raised funds as well. Local Catholic churches collected special donations and clubs hosted fundraising events. The Shingle Weavers Union held a benefit ball while the Elks gave $85 from their baseball game on April 22.
Olympia High School girls hosted a benefit dinner at the local Grand Army of the Republic's hall on April 28, netting $50. Decorating the hall with dogwood flowers, they served baked beans, meat and cake. A homemade candy booth also raised money.
As San Francisco began to rebuild, interest in the disaster did not wane. In early May, a series of lectures was held in Olympia by H. A. Van, illustrated with lantern slides. J. Louis MacEvoy, a vaudeville performer, sang "Home of the Pioneers." He and his wife had lost their residence in the disaster, escaping in their nightclothes and raincoats.
Memories of the disaster still linger even to today although the disaster passed into history. The efforts of everyday people to help made a great difference. This included the assistance coming from Olympia. Echoing these ideas, Dr. E. R. Willis of San Francisco wrote secretary Rev. F.A. La Violette of the Olympia relief committee. Quoted in the Morning Olympian on June 3, he stated that "We are very grateful, I assure you, to the good people of Olympia for their magnanimous outflow of sympathy…San Francisco can never forget its big-hearted sister, the capital of your great state."