The Pacific Northwest has arguably the strongest coffee culture in the United States. But while the quality of coffee is still important to enthusiasts, there is a growing demand for fast and convenient ways for one to get their morning brew. The first drive-thru coffee stands—no bigger than an average bedroom—opened 30 years ago. The idea caught on quickly, solidifying drive-thru coffee as a staple within the Thurston County community.
The First Drive-Thru Coffee Stand
A restaurant called Red's Giant Hamburg in Springfield, Missouri created the first drive-thru in 1947, coinciding with the rise of motor vehicle ownership. After that, drive-thrus started appearing throughout the 1950s and '60s, predominantly at fast food restaurants. It was not until much later that coffee shops started opening their own drive-thrus.
Although there are no formal records of the very first coffee shop that adopted a drive-thru, Motor Moka in Portland, Oregon is credited to opening one of the first in 1990. Co-founder Jim Roberts came up with the idea from observing people running through the rain and waiting in long lines just to get their drink. He thought that whoever could make the whole process the easiest would surely garner the most business. At its peak, Motor Moka owned between 10 to 15 drive-thru coffee shops.
Drive-Thru Coffee Comes to Thurston County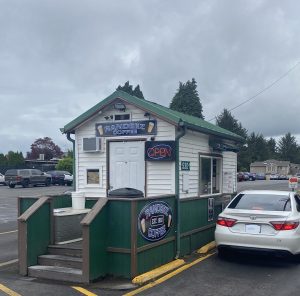 In Thurston County, there are dozens of drive-thru coffee stands. RANDEEZ COFFEE, just off Yelm Highway SE in Lacey, was started in 1992 by Randy Chamberlain and is the oldest drive-thru coffee stand in Thurston County.
Before opening RANDEEZ COFFEE, Chamberlain and his former business partner Tom Craibil entered the coffee business through coffee carts, which were placed outside storefronts and in malls. The pair grew their cart business to over 20 different locations. Eventually, Chamberlain parted ways from Craibil to start a drive-thru coffee stand, the first one in the area.
In its 30 years of operation, Chamberlain noticed some changes in the business, from the equipment used to the types of drinks served. "Red Bull has become a coffee stand favorite for the younger crowd, from high school kids and up until people in their 30s," Chamberlain says. "A majority of us old-timers drink coffee in whatever format we can make it, which is usually espresso shots and adding everything in but the kitchen sink."
There was no worry about how successful a drive-thru coffee stand would be in the Thurston County area. "Drive-thrus are popular for McDonald's, drive-thrus are popular with any food service item, so there was never an issue that it wasn't the best model for coffee and to get it out to people in a hurry," Chamberlain says. "They want to get something in the morning, and to get in and get out."
Stir Krazy is a coffee stand beside College Street SE that opened its window in 2007. Owner Rannae Cooper bought the small space and believed that drive-thru coffee would be the most sensible business to run.
Cooper states that running a coffee stand has its ups and downs; the convenient model allows for employee efficiency and the absence of a lobby helps limit distractions, but the stand's small size becomes an issue when the stand becomes busy. "We are a fairly busy stand and oftentimes lack storage space for the things we need to carry," Cooper says. Stir Krazy's customer base ranges widely in age, as they are located near public schools, and have several regular customers.
Thurston County Coffee Stands Flourish
Today, you can find a drive-thru coffee stand in Thurston County on almost every corner. And they are all busy. Hot Shotz Coffee in Tumwater is an example of a local coffee stand with a large customer base, including a sizable social media following. With nearly 1,000 Instagram followers, the stand posts regular content of their variety of products, from aesthetic drinks to pastry items.
Other coffee stands in the area include The Royal Bean, Gravity Coffee, Avenue Espresso and Capital Perks Espresso. These smaller, locally-owned stands have seen success through their convenient locations, regular patrons and quick service.
One of the largest and most successful coffee stands is Dutch Bros. Coffee. Started in 1992 — the same as RANDEEZ COFFEE — founders Dane and Travis Boersma began with a single double-head espresso machine, 100 pounds of coffee beans, and a barn in Grants Pass, Oregon. Now, the drive-thru coffee company has over 500 locations in states all along the West Coast, including three in Thurston County.
Drive-thru coffee stands have not only created an easy way for patrons to get their coffee but have also become a very popular business model. So next time you are in the mood for some java, check out a local coffee driv-thru. Whether you like straight up espresso or a half-caf double mocha with hazelnut and toffee syrups and almond milk, you can get your fix without ever leaving your car.