Thai food is one of the best comfort foods. A bowl of warm pad Thai or filling curry not only fills the belly but feeds the soul. If you are looking for a local place that serves all your favorites, you don't have to look far, there are plenty of Thai restaurants close by that offer dine in, take out and even delivery. Here is where to get Thai food in Lacey.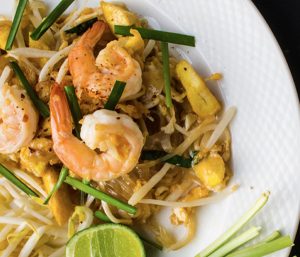 Jasmine Thai Lacey
4315 6th Avenue SE, Lacey
360.923.4511
If you've driven down 6th Avenue, you've probably missed this Thai food restaurant in Lacey. It's tucked away right next to the transit center. Jasmine Thai is worth looking for though! A personal favorite of mine, order the panang curry with extra lime. And save room for dessert, they have black rice pudding! Their restaurant is intimate with nice décor and your food is presented well, making it a great date night spot. You can order takeout directly off their website, or dine in.
Bangkok Thai Restaurant
700 Sleater Kinney Road SE Ste C2, Lacey
360.459.3732
Another Thai food restaurant in Lacey, Bankok Thai serves up fresh Thai food with quality ingredients. Diners love their cashew chicken, Tom yum soup and the fact they have some Chinese items on the menu as well, in case everyone in your group is not digging Thai that night. They have dine-in, takeout or delivery via Grubhub
Pattaya Thai Restaurant
3731 Pacific Avenue SE, Lacey
360.451.9108
If you are a pad Thai lover, you should try Pattaya Thai Restaurant in Lacey. Diners claim they have the best around, so try it and see for yourself! The owner was born and raised in Thailand and came here to share her authentic Thai recipes with Thurston County. What started as a food truck has become a full-fledged restaurant. They specialize in gluten-free options (though many Thai food dishes are naturally gluten free). You can order on their website for takeout and delivery, or dine-in.