Lacey Spring Fun Fair is back after a two-year hiatus due to the pandemic and the team that pulls off one of the City of Lacey's largest events could not be more excited! The annual, two-day fair features dozens of free, family-friendly activities from Kids' World to local school and area bands performances to the fan-favorite car show. There's truly something for everyone! This year's event takes place Saturday, May 21 (10 a.m. to 6 p.m.) and Sunday, May 22 (11 a.m. to 5 p.m.) at Saint Martin's University.
As delightful as that sounds, Fun Fair is more than just local highlights and games. It's something deeper. As the event coordinator tells it, the fair's absence has highlighted the importance of bringing communities together. "Last summer when we were able to bring back our concerts and movies in the park, families were so excited to have the chance for their kids to experience live music and get to be around other kids and families. As humans, those connections are just so important to us," says Jeannette Sieler, the City of Lacey's recreation supervisor.
Fun Fair definitely offers opportunities to make connections. Representatives from many area clubs and organizations will be there to provide information about their groups. "A lot of families really felt this was the catalyst for them getting connected to their community," Jeannette explains. "They can check out the booths to find out about local football groups, karate class, or that kind of thing. They can make a connection and sign up for programs or join a dance studio while they're at the festival."
Jurassic Lacey
This year's fair includes something new that's sure to draw in the crowds: dinosaurs! Well, life-like dinosaurs … but it may be hard to tell the difference.
DinoCrew Northwest's computerized dinosaurs are a big hit wherever they go. Jeannette points to the City's Children's Day event three years ago, where the dinos were on display. "That event typically draws 2-3,000 folks for a three-hour event, I mean it's real popular," she says. "But, in 2019 when we had the dinosaurs – and that was the only addition we made to the event – we had 6,000 people show up for the day. They're super popular for all ages."
One Word: Free
One of the best things about the fair is that it's free. No cost to park, no entry fees, no tickets required to go on the rides, nada. "All you have to do is wait in line. Kids can go on all the rides and do all the activities they want and it's all free! Most of the people leave with a bag full of crafts that the kids have made or goodies they've won playing different games," Jeannette says. "The only thing you'll have to pay for is if you choose to buy something from one of the food vendors or one of the commercial or arts and crafts vendors."
Even though on-site parking is free, it can be a bit limited. To help with this, you can catch one of the free shuttle busses that leave every 15 minutes from the Flag Pavilion/Civic Plaza at the South Sound Center to the fair. It's easy and convenient.
Highlighting Electric Vehicles
Another big hit of the fair is the car show, which will take place on Sunday, May 22 from 11 a.m. – 4 p.m. There can be anywhere from 50 to 150 entrants showing off their four-wheeled treasures. Prizes are given out in 19 different categories, such as the favorite engine, favorite paint, favorite hot rod, and of course, the show favorite.
This year there will finally be entries in the 'alternative power' category. "Many years that trophy goes unclaimed because most of the classic cars are powered by gas," Jeannette explains, "but this year we had a group reach out and they're bringing a variety of electric cars. So, with the price of gas this day and age, this might be something else people may be interested in checking out."
People who want to show off their rides should note that there is no pre-registration required this year. Instead, anyone can show up and enter their vehicle for $20. The first 100 entrants even get a goody bag.
COVID-19 Precautions
Over the last two years, event organizers have gone to great lengths to design a fair that will be fun while also being mindful of some people's concern about safety. One of the biggest considerations was what type of games and activities to offer. "As we selected the rides and attractions, we chose things that were more of a pass-through activity like an obstacle course versus a bounce house," Jeannette says. "We aren't doing the pony rides this year since that requires a bit more interaction between the people staffing the activity and the kids. We are very excited to bring the community back together while being sensitive to what people may or may not be comfortable with."
In addition, there will be fewer booths at the fair to allow for more space between them. In addition, the seats at the performance areas will be spaced further apart. The fair will also have multiple hand sanitizing stations available. Jeannette adds that the fair may need to adjust its precautions, if any local or national health and safety requirements change.
Get Involved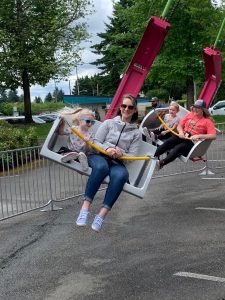 Large community events always depend on volunteers, and the Spring Fun Fair is no different. "It truly takes a village and we encourage folks who are interested to sign up for a shift. We also invite groups that want to volunteer together to sign up. It's a lot of fun," Jeannette says. "We need help in a variety of areas, from our information booth, to set up and clean up, and even assistance with helping keep the ride area safe for everyone."
There are numerous spots available for anyone who is at least 15 years old. You can sign up with friends, family, or others in an organization. Head over to SignUpGenius to find out where and when volunteers are needed.
The Lacey Spring Fun Fair is held at Saint Martin's University. It runs from 10 a.m. to 6 p.m. on Saturday, May 21, and from 11 a.m. to 5 p.m. on Sunday, May 22. To get more details, visit the Lacey Spring Fun Fair website.
Sponsored