It's no secret Rainier High School has one of the nation's elite male discus throwers in Jeremiah Nubbe, who's mammoth throw of 205 feet, 2 inches earlier this season is the country's top mark in 2022 by an amazing 14.5 feet.

But the Mountaineers' roster also features one of the state's best females in the event, as well, in Isabella Holmes, a Central Washington University-bound senior who is one of the leading contenders to capture the Class 2B state championship.
"Between her and Jeremiah, it's been a lot of fun," said Josh Frunz, who coaches the Rainier throwers. "I've been spoiled." That he has, as the Mountaineers could pull off a rare dual state titles in the discus this year.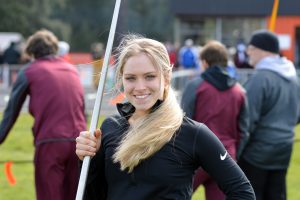 Just like Nubbe, who will compete next year at the University of Texas, Holmes is also the school record holder in the event, establishing the new Rainier benchmark by winning last year's District IV 2B championship with a throw of 127 feet, 8 inches.
"She's just great to be around, great teammate, a lot of personality, always works hard," Frunz said about Holmes. "This year she got off to a slow start. She's a little rusty. She's been playing a lot of basketball, but once she gets her timing down she'll be back in prime form. She ended last season breaking our school record that had been in place for about 15 years. So, it had been around for a while."
Her top throw last year not only broke the school record, it also was the best throw among all athletes in the 2B classification, and no one has got within nine feet of the mark this year.
"Discus has just been a really exciting time for me all four years here. I never would had thought I was going to go to college for it," said Holmes, who along with fellow senior Faith Boesch was a first-team all-league selection in basketball after helping the Mountaineers advance to the state tournament. "It was very unexpected when I threw my farthest PR last year. I had been averaging 111 feet, 109. Then districts came along and I hucked out a 127. It really showed me that I am completely capable of throwing farther."
As a freshman, Holmes advanced to the state championships, placing fifth in the event, making her the only 9th grader that year to make a trip to the podium by cracking the top eight. She now looks to successfully defend her league and district crowns while adding state champion to her resume.
"State is definitely what I am driving towards," Holmes said. "I went there my freshman year and it's like no other meet. It's just an awesome opportunity to finally get a season back after COVID."
However, Holmes won't be alone when she makes her way to the state championships this May at Eastern Washington University. She will likely be one of several members of the Rainier team to make an appearance at the meet as the Mountaineers have several athletes currently ranked among the state's best.
In addition to Holmes in the discus, Rainier, despite having a smaller than normal turnout in the girls' squad this year, also has Boesch (3200), Autumn Kenney (shot put), Anna Champlin (pole vault), Acacia Murphy (high jump), Ella Marvin (pole vault) and Selena Niemi (200, 800, 1600 and 3200) all ranked in the top 10 in the 2B classification, while Rainier's 4×400 relay team, which is comprised of Boesch, Niemi, Marvin and Ella Mathson, holds the state's fourth best time.
"It's a small group of seniors. Faith is out for the first time ever and just doing fantastic at two miles. Isabella's our number one discus thrower and Selena is everywhere. She just loves to run," Rainier coach Rob Henry said. "That's our core. It's a small, but fantastic group of kids. Between them and the managers, it's without question one of the best groups I've ever had."
Last year the group led the Mountaineers to a district title and would have been positioned to challenge for the overall team state championship had the meet not been cancelled prior to the start of the season.
They will get their chance this year.
"We came into this season knowing what we would be able to do," Henry said. "We don't have a lot of bodies, but we have a lot of quality."
The Mountaineers will attempt to defend their 2B Central League title when they host the league championships on May 13. Districts will follow on May 20 with the state meet being held May 26-28.
"The season means everything to us. We've been together since pre-school," Holmes said about her senior teammates. "It's definitely a really important season being our senior year. It's our turn to shine."