Planning any big event is daunting. There are checklists of checklists to make sure you remember linens, silverware, food, drinks and options for last-minute, unexpected mix-ups. Then you have the menu. And managing the guest list. And entertainment, decorations and music. It's a lot. Instead of stressing about your upcoming wedding, family reunion, office shindig, anniversary or birthday, let the catering and event staff at the Olympia Country and Golf Club (OCGC) transform your wish list into a stress-free celebration.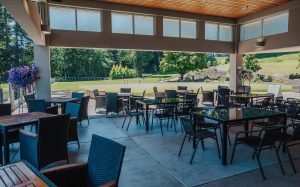 Even if you are not a member, don't worry, you can still book an event at OCGC! If you are looking at joining the club, now is the best time. Members receive discounts and perks when booking events on-site and thanks to their current special you can join between March 1 and May 31 to save thousands. With the springtime membership drive and a one-year commitment, they'll waive initiation fees for all social and golf membership categories.
Club staff can gladly handle parties of up to 250 and are happy to work with you every step of the way. Food and Beverage Manager Heather Wilson strives for a quick response to any inquiry, offering details about their Banquet Packet and current menu options, calendar availability and answers to any initial questions.
If your desired day is free, the team jumps into action. "If the location and date are available, we can get them set up immediately," says Wilson. "My staff and I are ready and can usually pull it off right away. One benefit of being a catering company that has its own space and a full-time restaurant on premise, means that we have plenty of inventory to be able to turn up an event quickly."
Unless the client has specific requests up front, Wilson will walk them through a sample menu of seasonal items and current specialties. This can then be tailored to dietary needs, food allergies, preferences and the event's overall budget.
Even budgeting is anxiety-free thanks to their package rates and individualized pricing. "In our Banquet and Wedding Packages we include the room rental, house white table linens, all service ware—plates, glasses and silverware—chairs, tables, set-up, break-down and cleanup," says Wilson. "There are fees for bar set-up and break-down, food and beverages. I gather information and then start the client with a menu and real proposal for each event."
Beyond weddings and golf tournaments, the Club hosts a variety of social activities. "Each summer we also have several class reunions, retirement parties, graduation parties and sadly celebrations of life," shares Wilson. "Throughout the year, we do annual meetings, retreats and office parties. Pre-COVID, we had several groups that come monthly and weekly; we are starting to get back into that again slowly." They can occasionally arrange events at a member's home or office but are not a full catering company so are limited in what they can do off-site.
With their spectacular views of Mount Rainier and Puget Sound, the Club also offers boat dock parking for aquatic fun. Their main ballroom, the Rainier Room, recently had doors added for event privacy. This reduces distractions from deliveries, other Club members or comings and goings via the front doors.
Typically, the most lavish events of them all are weddings. "Brides tend to book further in advance than other events," explains Wilson, "so by nature the process is different. Since we have more time, brides usually take a whole lot more preparation than other clients. Some require step-by-step planning with me from start to finish and rely on me to help plan flowers, photographers, cake design and more."
"Other brides come with all of that taken care of and just rely on me for the final touches, food and beverage," she continues. "Our Wedding Packet includes all of the planning required as well as tastings, tours, as many as they want, and chaperones for photographers and family to tour the golf course for photo backdrops."
To get started planning your next party, fill out the Club's information form on their website under the weddings and event tab, email Wilson at heather@olygolfclub.com or call 360.972.9958 today.
If you have questions about membership, reach out to Club CEO Josh Bridge or General Manager Jason Reehm. They can be reached at josh@olygolfclub.com or jason@olygolfclub.com. You can also call 360.866.7121 and follow the prompts for membership options.
Sponsored