A high-octane, quick-strike offense capable of scoring from anywhere? Check. Development of a loyal fan base? Yes. Strong home field advantage in a unique environment? Absolutely. The Oly Town Artesians indoor soccer women's team is definitely checking all the right boxes in their first full season, hoping that it will all lead to their ultimate goal.
"Our expectation is to continue to build off our games to progressively get better, and I believe that we have grown a lot from the first game," Oly Town head coach J.J. Olson said. "Our goal hasn't changed, we want to be in the final."
The Artesians will continue their pursuit towards a Northwest Premier League Indoor Soccer championship when they host the visiting Oly-Pen Force at The Evergreen State College Pavilion on Saturday, March 19 at 7 p.m.
And what should fans expect while attending an Oly Town match this season?
"Goals and lots of them," Olson said. "Our field is a little unique in its size. This means that the game is fast and exciting. I would encourage everyone to come to our games as they don't disappoint."
The Artesians' offense has been nothing short of spectacular during the first half of the regular season as Oly Town is the league's top scoring squad, and by quite a sizeable margin.
Through four games, the Artesians have found the back of the net 35 times, which is seven more goals than the next team (Tacoma Galaxy) and more than twice as many as the other three teams in the league.
A dozen Oly Town players have already registered at least one goal this season, the most among any franchise, with the Artesians sporting the league's top two scorers in Kailey Utley and Lily Dose.
Both players' early season efforts have already been recognized by the NWPLi with Utley, a University of West Virginia grad who guided the Mountaineers to an Elite Eight appearance after scoring a hat trick in the Sweet 16 during the 2015 NCAA Tournament, was named the league's offensive player of the week during Week No. 2, while teammate Dose, who is a sophomore at the Pacific Lutheran University, received the honor during Week No. 4 after her three-goal performance in the Artesians' 14-7 home victory over the Whatcom Waves.
"These two are such intelligent players," said assistant coach Joshua Dube about Oly Town's two leading goal scorers. "We implemented a shift in our formation last week to ensure our playmakers are able to find the ball in areas where they can attack the defense. Lily and Kailey spearhead our attack, but the entire team has done a great job of creating goal scoring chances through their movement and hard work. There is not an ounce of selfishness on this team, which is why we've had 12 different goal scorers through four games."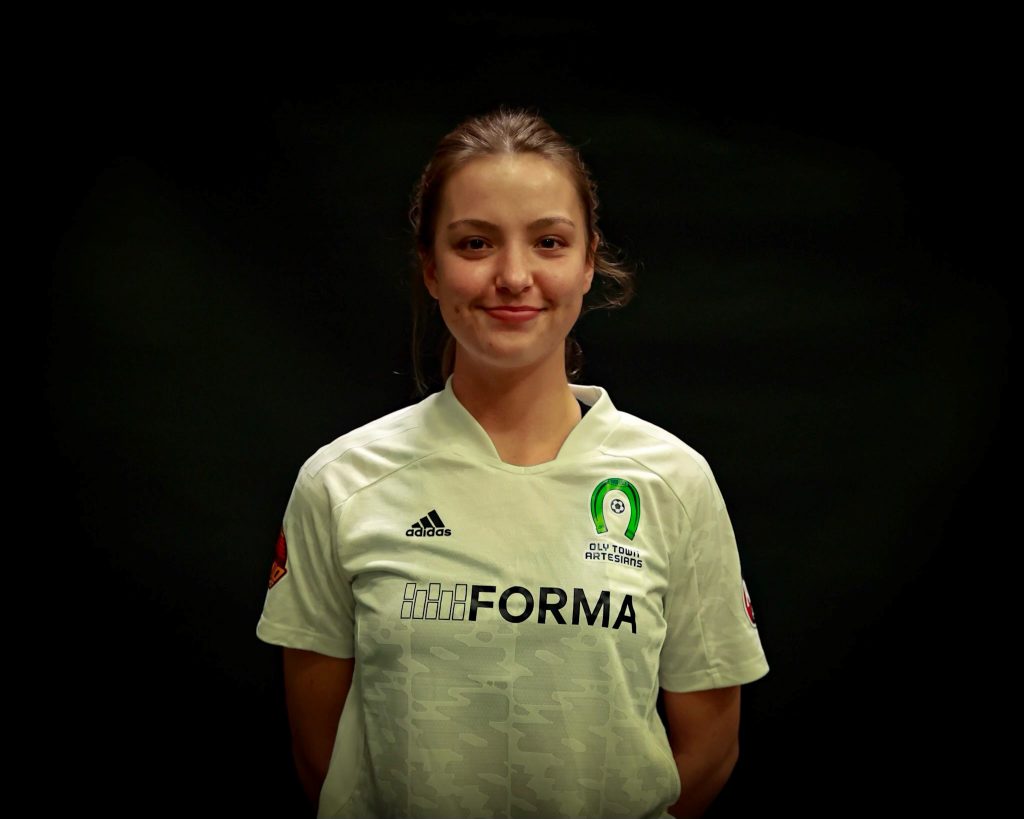 You can credit that selflessness, as well as the rest of the team's personality, as a direct byproduct of the invaluable leadership team captains Niki Covert and Julie Hass bring to the organization.
"Niki and Julie bring experience and composure on the field," Olson said. "With them both being defenders, they have shown their leadership on the field in their play with their ability control the chaos that happens at indoor soccer games. Then off the field, it shows that the other girls feel confident to seek them out for any question that they may have. They both have been very involved in the local soccer community for so long that they are respected by their teammates and that really shows."
All of that has led to success for the Artesians as they look to continue to build on one of the better home advantages in the league.
"The Evergreen Pavilion is such a unique arena. It's the smallest field in the league, so fans can expect to see a lot of dangerous scoring opportunities from your hometown Artesians," Dube said. "For anybody out there who doesn't watch soccer because of the lack of goals, remember that these ladies had 72 shots and scored 14 goals in their last home game. Their level of play makes this some of the most exciting soccer you can watch in the region."
Following its home match against visiting Oly-Pen Force, the Artesians will play three more games. Oly Town will play at Snohomish County on March 26 and travel to Oly-Pen on April 2 before closing out the regular season by hosting Snohomish County at the Evergreen State College Pavilion on April 9.
"Playing in the Pavilion is a blast. It's short and fast there is no down time," Olson said. "Anyone who can make it to our games won't regret it. We have our beer garden with great Well80 Beer that is an upgrade from the past. We also have great seating to watch our games. With the Pavilion being the size that it is, there isn't a bad place to watch the game."
Sponsored