It's hard to believe it's time to start thinking about Valentine's Day, but it's going to be here before you know it and planning ahead is essential as reservations fill up. Whether you are looking for a dinner out, heading to see a show, want to staycation or go on a hike with food to-go, you have plenty of options for a great date night. Here are some things to do for Valentine's Day in Olympia and throughout Thurston County.
Couples Valentine's Sip and Paint
Top Rung Brewing is celebrating Valentine's Day early with a Couples Valentine's Sip and Paint on February 8 from 6 p.m. to 8:30 p.m. Hosted by Artvana, your artists coach will guide you step-by-step while you create a beautiful masterpiece titled, "Couples Coast." Couples will create the piece on adjoining canvases! To sip, Top Rung will have a lineup of craft-brewed beers and a few wines, as well as some non-alcoholic options, all at a 10% discount. Reserve by emailing info@artvana.life.
Bertoglio's Pizza in Yelm is also doing a Valentine's Date Night Paint and Sip on February 16.
Running 4 Love Virtual Race
If you're looking for something active to do on Valentine's Day that also supports a good cause, try the Race 4 Love virtual race! There are 5K and 10k run/walk options. Complete one to receive your medals—a matching set of a heart and a key—and help others while doing it. 15% of every registration goes to Heart to Heart International, an organization that distributes hygiene kits to throughout the United States for those in quarantine or unable to leave their homes.
You can complete your race any day during the month of February, but the 14th is a great choice! Sign up at the Moon Joggers website.
See a Show at The Washington Center for the Performing Arts
Going to a live performance is always a fun date night for Valentine's Day. The Washington Center for the Performing Arts has a live event each night of Valentine's Day weekend, so no matter which night you decide to celebrate on, there is something to see.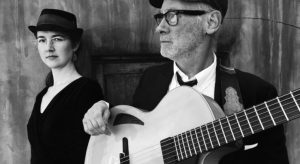 February 11: "Black Box Jazz: Max Hatt and Edda Glass"
Sway the night away with a romantic evening of jazz vocals and guitar that will definitely put you in the mood. Max Hatt and Edda Glass give an intimate performance with a unique sound you won't want to miss.
February 12: "The Daily Show Writers Comedy Tour"
If you are looking for a Valentine's Day date night that will leave you in stitches, the good kind, then get your tickets now for "The Daily Show Writers Comedy Tour" on February 12. It's a great date night to give you some relief from all the stresses daily life brings us.
February 13: "Olympia Symphony Music Director Finalist Concert #1: Alexandra Arrieche"
Those who want to treat their significant other to some beautiful music should get tickets to the "Olympia Symphony Music Director Finalist Concert #1: Alexandra Arrieche," on February 13. They will be playing a few classical music favorites, including Beethoven's "Coriolan Overture, Op. 62," and Tchaikovsky's "Symphony No. 5 in E minor, Op. 64." It will be a night to remember!
Have a Staycation
You don't have to go far to get away from it all for a bit. The Marie Bed & Breakfast is one great option for a staycation that can help you relax without going too far. The quaint Victorian home is romantic and offers a wonderful breakfast after a peaceful night's sleep.
On February 11-12, The Marie Bed & Breakfast will also be having their annual "Galentine's Day Brunch." The Brunch will feature their will feature their famous eggs benedict (including vegan and gluten free options) or chocolate hazelnut French toast (can be vegan but not gluten free ). New this year will be there Marie Mimosas, made with champagne and their signature brunch punch. Bookings for this event should be made by phone or email to the Marie Bed and Breakfast. Hello@mariebnb.com and 360.915.8039. All dietary needs can be discussed with staff upon booking.
Another great option is to get out of the city and head to Yelm. Stay at the Prairie Hotel, explore the Yelm-Tenino Trail, take in a movie at Yelm Cinemas, and then have your Valentine's Day dinner at the Uptown Lounge. It's a vacation that is sure to relax and rejuvenate your love for each other.
Get a Couple's Massage
Speaking of relaxing, nothing is better than getting a massage to relax those stressed-out muscles. For Valentine's Day, why not relax with your special someone? Bellaura Wellness Spa offers couple massages in many forms, and Valentine's Day is the perfect time to try one out. They have Infrared Sauna Therapy as well, something that pairs great with massage and will leave you both feeling refreshed and less stressed—sounds like the perfect date night!
Keep it Simple
Maybe you just want to go on a hike with your doggy valentine or a bike ride with your loved one, or entire family. An outdoor Valentine's Day is always a good option, rain or shine! Be sure to pack a lunch with you, or get a meal to-go. And since you can't have Valentine's Day without something sweet, be sure to pick up Thriftway's famous chocolate covered strawberries.