Submitted by Ballaura Wellness Spa
With Valentine's Day fast approaching, you might be feeling stumped about what to do to celebrate your love and commitment with your partner. Luckily, even in the age of COVID, there are safe and satisfying ways to relax, recover and reconnect.
One of the most popular gifts for couples is a couples massage because it's a great way to spend time with your partner, bond with them, and truly celebrate the relationship you share.
Couples massage is not only great for your relationship, but it's a way to experience healing and all the personal benefits of individual massage that come along with it. We all know it's important to take time out of our day-to-day responsibilities to connect, to do something intentional and personal with your significant other. Valentine's Day is the perfect excuse to do something extra special with each other. During massage, your body releases chemicals such as dopamine, serotonin, and oxytocin, which boost your levels of calmness, happiness, and affection for each other. As we all know, these are key ingredients for helping an intimate relationship thrive.
At Ballaura Wellness Spa in Olympia, you can experience an exceptional couple's massage without worrying about hidden fees or markups. Plus, the team is genuinely focused on helping couples feel relaxed and reconnect with each other. Ballaura focuses purely on massage, so you and your partner will benefit from their expertise.
While Ballaura focuses on massage therapy, they have added a service this year that is a natural complement to massage. It's called Infrared Sauna Therapy. During a 45-minute sauna session, couples will benefit from less fatigue, pain, stress, and general inflammation. They'll boost their circulation, sleep quality, and overall energy. Booking a sauna session before a massage allows you to melt into the spa atmosphere and take in all the benefits of massage.
Infrared saunas are different from traditional saunas. They are a soothing, healthy heat that's been clinically proven to be beneficial for your health. The infrared wavelengths are the invisible, harmless part of the sun's spectrum. During a sauna session, you experience a deep, detoxifying sweat without the overwhelming feeling from wood-fired or steam saunas. In fact, infrared sauna therapy is the exact same gentle heat that hospitals use to warm newborn infants.
At Ballaura, couples can experience the infrared sauna along with their couples massage. That way, you can boost the results of an exceptional massage, all the while enjoying the company of your significant other.
Maybe only one of you is comfortable with receiving massages. Or maybe you're both inexperienced with massage therapy. Either way, Ballaura is a great place to start because of their massage team. Each team member brings a unique set of skills and energy to their work, and they are passionate about matching people with massage therapists that best fit you and your partner's individual needs.
Since Ballaura focuses solely on massage, they offer many techniques to every client at no additional charge. You can learn about and ask for advanced techniques and modalities when you book. They specialize in a multitude of techniques, including cupping, gua sha, Lomi Lomi, craniosacral, myofascial release, trigger point therapy, and many, many others. Their front desk staff is skilled in recommending options that would be right for you and your partner.
While life in today's world is hectic and uncertain, taking time out to enjoy each other's company and intentionally relax together is even more important. Ballaura offers a 60- and 90-minute couples massage that includes all the add ons that other spas charge extra for, including a table warmer, hot towels, warmed oil, dry brushing, and transdermal magnesium. All the products at Ballaura are cruelty-free, organic, vegan and nut-free.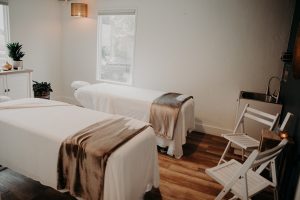 If you can't make your schedules work, or if one of you truly won't feel comfortable receiving a massage, consider giving a gift card (presuming, of course, that your partner would be excited about it!). Ballaura offers gift card options ranging from 60 minutes to 2 hours. You can also choose your own amount for a gift card. But if you're open and feeling a little bit adventurous, trying something new together, like a couples massage, brings you closer through a shared-life experience.
Nicole Chryst, the founder and owner of Ballaura, recommends planning time after your couples massage too.
Here are some tips for making the most out of your experience together:
Bring a bag of comfortable clothes to change into after your massage.
Schedule or prepare a nice meal with each other afterward.
Drink plenty of water before and after your massage.
Be present with yourself and your partner during your massage. Enjoy the moment and soak in the relaxation.
Consider extending your relaxation together when you go home. Light a candle, play soft music, enjoy a hydrating drink together.
Ballaura has invested a lot in making massage safe. They follow strict COVID-19 protocols to keep their staff and clients safe, including scheduling extra time between appointments to deep clean rooms, limiting wait times in the spa, and limiting talk during massage sessions. Their staff is also either vaccinated or tested weekly.
Couples massage is popular at Ballaura, so we recommend booking an appointment early. There is free parking for customers behind the building, which can be entered from Eastside Street and a ramp to the door. Read more about available services and tips on making the most of your massage on the Ballaura website or Facebook page.
Book your couples massage now!
Ballaura Wellness Spa
1017 4th Avenue E. Olympia
360.539.7726
Sponsored