Some of the strongest partnerships blend diverse individuals who share the same over-arching goals. Working together, these unions maximize each party's specialized background and skills for the greater, long-term good. This is true when looking at all of the unique members who make up the Thurston Economic Development Council's current Board of Directors. These civic leaders have very different journeys but work hard to build up our region's many businesses. For Jace Munson of FORMA Construction, that means starting from the ground up each and every day.
Munson is FORMA's Vice President of Risk Management. The company has an amazing portfolio of work including schools in Centralia, Seattle, Enumclaw, Grays Harbor and Saint Martin's beloved Cebula Hall. They have also worked on fire stations, SeaTac Airport expansions and even habitats at Woodland Park Zoo. Not many builders can count tigers, sloth bears, otters and penguins amongst their satisfied clients.
In 2004, Munson was recommended for the EDC's Board by former Executive Director Dennis Matson. This was the same year Michael Cade took his seat as current Executive Director. Munson understands well that the EDC has what businesses need. "Private sector businesses have needs that are in alignment with the EDC's mission," Munson says. "The EDC recruits and retains new and existing businesses in Thurston County. This helps to create a strong and sustainable economic environment, which provides opportunity for the private sector, along with a stable tax base that allows local governments and public sector organizations to provide necessary services."
Working with the EDC, especially through their many events, classes and training workshops also "helps to develop a skilled workforce, which helps us, and the greater business community find the employees that allow us to succeed," says Munson. "Also, the integration of public and private sector goals and objectives is enhanced at both the Board and staff level at the EDC."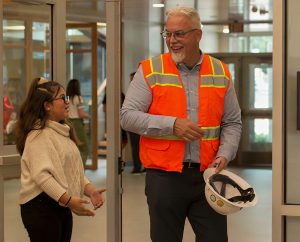 But any good builder is always looking towards the future. As with his work on our county's economic outlook, Munson hopes regional leadership will "continue to be progressive in its approach toward the development of new and existing opportunities for economic development and managed growth, while continuing to maintain the underlying culture and fabric that makes Thurston County a unique and special place to live and work" every step of the way.
When not at work, Munson spends time volunteering with youth development organizations like the Boys & Girls Clubs of Thurston County and local branches of the South Sound YMCA. He believes in donating his time and efforts to groups like these because "it's an opportunity to support and give back to the local community and an opportunity for personal growth by listening to and understanding the perspectives and needs of others that I would not otherwise be aware of."
To learn more about offerings like the upcoming 13th Annual Thurston EDC Real Estate Forum on October 7, 2021 or Resources for Small Businesses Impacted by Coronavirus, call the Business Resource Hotline at 888.821.6652 or the EDC office at 360.754.6320. You can also contact the EDC online and someone will direct your question to the appropriate department.
If your organization is looking to build, expand, or establish additional storefronts, reach out to FORMA Construction via info@formacc.com or 360.754.5788. Note that they recently closed their Tumwater offices of 35 years and have moved to downtown Olympia's Port Plaza. They're now nestled between Percival Landing Park and the Farmer's Market at 500 Columbia Street NW, Suite 201.
You can follow FORMA Construction on Facebook, Twitter or Instagram and find the latest EDC events and updates on Facebook and Twitter. FORMA also has subcontracting opportunities for small, disadvantaged, minority, woman and veteran-owned businesses. They are always looking to build partnerships which can be mentored and grow well into the future.
You've probably heard that where we come from isn't as important as where we're going. But both make us who we are and impact who we choose to become, as individuals and as a region. The journey of a small business shares many exciting events with the lives of its founders, employees, customers and neighbors. Thanks to builders like FORMA Construction and the civic guidance of the Thurston Economic Development Council, our county is growing into a strong, vibrant, resilient area. It just takes time, dedication and the tireless know-how of individuals willing to do their part.