The Thurston Economic Development Council (EDC) relies on its volunteer board members to continue to serve the community. Kidder Mathews Real Estate Agent Evan Parker has been serving on the board for the last decade and has thoroughly enjoyed connecting with community partners and businesses. As a lifelong Olympian, Evan finds it hugely rewarding to contribute his skills to support this exceptional organization and the community he loves.
Evan has lived in Olympia since he was just a year old. His father worked for the Olympia Brewing Company and had a great passion for golf. This love of the sport prompted him to later opened the Tumwater Valley Golf Course where he served as the golf pro for 26 years. "With my dad being the golf pro, I was there a lot," Evan recalls. "I grew up playing golf and wanted to follow suit." After graduating high school, Evan went to San Diego State University on a golf scholarship and played golf there for one year. He then returned to Washington and pursued a Bachelor's of Arts degree at Washington State University in a hybrid program that emphasized business and hospitality.
After earning his degree, Evan started working with his dad at Tumwater Valley Golf Course in 1991. He worked as the golf professional alongside his father for 5 years before they decided to sell the course to the City of Tumwater. "I liked golf and business a lot, but my favorite part was working with my dad and running our own small business," Evan shares. "When it sold, I took that as an opportunity to go do something different." Evan began working in sales for a variety of companies, including Sysco, General Electric, and Qwest (which later became Century Link). In 2005, he stumbled upon an opportunity to work in real estate with Kidder Mathews, and has been there ever since.
Kidder Mathews has been a wonderful place to be for Evan. He has found that their platform allows him to successfully market and grow his own real estate agency while having the support and comradery of fellow agents in the business. "It is so nice to have somebody you can ask for help," he says. "Our business moves pretty quick and it is easier to have a team for things." As a contracted real estate agent, Evan has the freedom to operate as his own business under the well-recognized and trusted brand of Kidder Mathews. He has been able to serve Olympia's commercial real estate needs for the last 15 years, and envisions continuing to support new and existing businesses with finding the right space for them.
"When I got into the business, I was relatively tied into the community because of how long I had been here," Evan says. "I still felt like I needed to get more involved in business-related activities and associations." Evan started going to different events to meet fellow professionals in related industries, which is where he first encountered the Thurston EDC. After learning about their mission and services for the business community he knew it would be a great place for him to get more involved. "I really liked and still like what the EDC is doing," he shares. Thurston EDC Director Michael Cade extended an invitation to Evan to join the board, which he gladly accepted.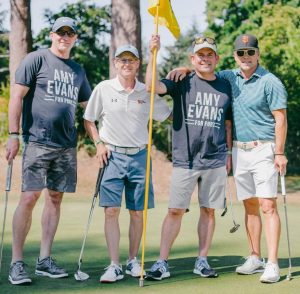 Evan served on the board as a board member for about 5 years before switching over to the executive committee. "We serve as sounding boards and are asked for guidance on more of the detail type stuff that is going on," Evan explains. As a group of industry experts, they can help the Thurston EDC make the best decisions and find the necessary resources to continue to serve and support small and large businesses in Washington. Evan has really enjoyed getting to know the other people on the board and hearing their different perspectives. "There is such a wide range of talent and professionalism on the board," he shares. "It has been great to be more involved and understand what some of these other companies in our area do."
Outside of his professional life, Evan is a very active father. He has two children that he is exceptionally proud of. Max, his son, recently graduated from the University of Portland with a degree in mechanical engineering and is taking a job with JE Dunn Construction, a construction company out of Kansas City. His daughter Ella recently graduated from Black Hill High School and has been accepted into the nursing program at Saint Martin's University. "Both of them are awesome young people," Evan says. "Now that they are older and out of the house, we don't spend as much time together, but we still try to have family trips."
From his career to his family to the Thurston EDC, Evan has expressed gratitude for all of the wonderful opportunities and experiences he has had in his life so far. "I am super lucky to work with the folks at our Olympia Kidder Mathews office," he says. "And Michael Cade is a great leader, so I love working for him and his organization." With such supportive and passionate people around, Evan is eager to continue to serve the business community as both a commercial real estate agent and a Thurston EDC executive board member. He knows that through their teamwork and hard work, he can continue to make a difference.