We need different things from our homes at different phases of our lives. Just starting out, any apartment will do so long as it's yours. Then we long to settle into something bigger, perhaps with a yard or extra bedrooms for a growing family. But after the kids are grown and you tire of endless maintenance and renovation, it's time to think about the next phase. Some refer to it as downsizing but at downtown Olympia's Harbor Heights, it's a perfect opportunity to rightsize.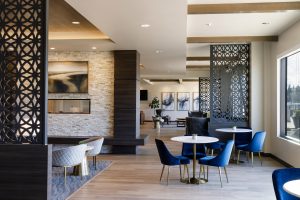 From studio to three-bedroom apartments with Sound, mountain, and/or cityscape views, Harbor Heights is living made easy. Located at 500 Columbia Street NW, it's just steps away from waterfront boardwalks, the Olympia Farmers Market and Port Plaza.
General Manager Desiree Stinson is proud of their brand-new building with expansive outdoor areas. "It's a very elegant space with a lot of accessibility and diversity. It's a luxury high-rise feel." The 116-unit, 55+ building opened in September 2020 and is already receiving tremendous word of mouth and filling up fast. Most of the apartments are one-bedroom with corner units that captures lots of light. With a walkability score of 78, you don't even need a car to get around.
Between Thurston County's hot real estate market, life changes, or the fact that more Americans are maintaining a career well past traditional retirement age, empty nesters and urban professionals alike are choosing to rightsize their housing situation. "With many of us living to 100, 55 truly is the new 35," laughs Stinson, so why not choose to live with all the amenities Harbor Heights has to offer?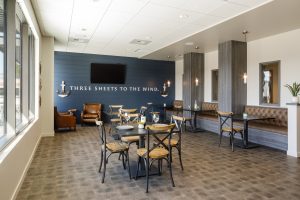 Amenities like a game room and movie theater, lounge, outdoor terrace, coffee bar, gym, craft room, security system, high speed internet, attached parking garage, and on-site concierge to name a few. Stinson herself comes from a strong hospitality background and plans to host events and programming as Coronavirus restrictions allow.
These include a meet and greet happy hour where prospective renters can mingle with current residents and chat about bustling downtown living. To learn when these activities will take place, follow Harbor Heights on Facebook or visit their website to download their May newsletter.
Other, perhaps less obvious, amenities happen behind the scenes. Staff arrange for only two move-ins on any one day to keep chaos to a minimum. And the building itself has an electric vehicle charging station, secured bike room, and secured mail and package services.
"The owners also heavily invested in technology," says Stinson, "and we really go above and beyond." All utilities are included in rent except for electricity. Housekeeping and maintenance services are available at a low hourly rate to help with painting, hanging wall-mounted TV's or tackling your least-favorite chores. Concierge staff is on-duty six days a week and their "concierge culture" includes partnerships with movers and other professionals as needed.
For example, a couple was recently moving from their large, family home into a smaller, easier Harbor Heights unit approximately one-third the size. Stinson arranged for a contractor to help measure their existing furniture and help determine which pieces would fit best in the new location.
"Most people coming here have not lived in an apartment since their 20s," admits Stinson. "We take the time to identify your needs alongside you and answer any questions." For some, safety is paramount, especially if they're moving into the city after many years in the suburbs. "Our residents feel very safe, we have security cameras and living spaces start on the third floor."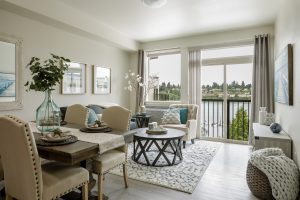 Harbor Heights offers 44 floor plans to meet every need. Have older kids or visiting relatives? Their one bedroom plus den option makes a great solution; consider a Murphy bed to convert it from home office to spare bedroom in seconds.
The Global Coalition on Aging explains that there are four principles to an "age-friendly city: infrastructure and transportation build out that will address the needs of citizens of all generations; housing to enable aging in place that promotes independence, choice and freedom; access to community health programs with innovative technology and excellent medical interventions; and opportunities for continuing work, education, arts and recreation."
At Harbor Heights, those are all at your doorstep. Intercity Transit offers clean, free buses and Thurston County is full of activities galore. Residents can continue to work from home while enjoying million-dollar views or choose to relax fireside on the Sky Terrace with friends and neighbors.
Want to schedule a tour for yourself or on behalf of parents, in-laws or friends? Call Stinson and her team at 360.227.6800 to make an appointment. Staff can often arrange a same-day visit or work to find the best date and time for your schedule. Now is the time to choose elegance, comfort, quality, and the rightsized home for this phase of life.
Sponsored