For over five decades, South Puget Sound Community College (SPSCC) has invested in educational programs that prepare students for employment in high-demand career paths like manufacturing, computer-aided design and dental assisting. The application period to join the Dental Assisting Program at SPSCC is open through May 1. In a clinical setting, dental assistants carry a wide range of duties, from taking x-rays, to checking a patient's vital signs. And through the Dental Assisting Program at SPSCC, students work alongside experienced dental professionals to gain the skills they need to provide quality patient care.
Since the 1960s, the Dental Assisting Program at SPSCC has been preparing students for a career path in the dental field. SPSCC is also a host to one of three Expanded Function Dental Auxiliary (EFDA) programs in the State of Washington. The EFDA program prepares students for additional responsibilities in the dental field and is available to students who have at least three years of prior experience as a dental assistant.
For SPSCC graduate, Natthanik "Bee" Hall, attending the Dental Assisting Program at SPSCC was the first step toward a new career in the dental field. After graduating from the SPSCC Dental Assisting Program in the summer of 2014, Hall became a dental assistant in the South Sound region. Recently, Hall started a new position as a dental assistant at the Affordable Dental Care clinic in Tumwater.
Hall says that when she was a teenager, an emergency dental visit served as the original inspiration for the patient experience that she strives to create in her current work as a dental assistant.
"I was born and raised in Chiang Mai, Thailand, where oral health was not given as much importance to many of us back then," says Hall. "My parents would not take me to see the dentist for checkups if there was nothing obviously wrong with my teeth. When I was a teenager, I chipped my front tooth in an accident. My dentist was able to see me right away. Her care shown to me shaped my feelings about dentists for the better. I knew back then that I wanted to create the same type of experience for others."
In 2003, Hall moved to the Pacific Northwest with her husband and worked in a Lacey grocery store for several years before deciding to make a career change by attending the Dental Assisting Program at SPSCC. Once enrolled, Hall was able to complete the program in 15 months, and now enjoys helping to treat patients who visit her clinic.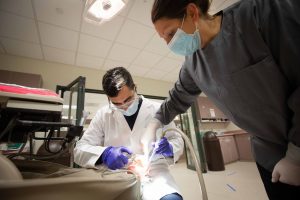 "I am so happy that I get to help people with their dental needs every day," says Hall. "It gives me a great sense of accomplishment when someone comes in with a toothache or other problem and leaves pain free."
Looking to build upon her previous experience, Hall has plans to return to SPSCC and attend the Expanded Function Dental Auxiliary (EFDA) program. The EFDA program would help Hall to earn her EFDA license and would further prepare Hall for additional patient care duties.
Leading the SPSCC Dental Assisting Program is Program Director Dr. Dana Larson. With over two decades of experience as a dentist, Larson understands the vital role that dental assistants play in patient care. To help meet the demands of employers, Larson has sought out feedback from dental providers within the local community and incorporated in-demand skills into the program.
"Employers seek our externs and graduates because our graduates have not only all of the knowledge and skills that employers want and need, but our graduates are also quite efficient," explains Larson. "And this means that they won't slow down the employer's production or take time away from the other staff members to get trained."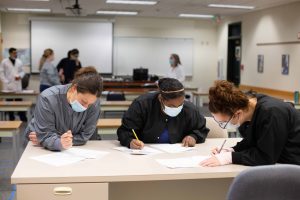 Providing crucial knowledge and hands on experience, the dental assisting program helps students to develop a wide range of skills that they may practice in a dental office, including taking x-rays, polishing teeth, creating temporary fillings or checking a patient's vitals, in addition to proper chairside and infection control protocol. In the EFDA program, students can learn how to place permanent fillings.
As a student in the Dental Assisting Program, Hall participated in courses that have helped her in a clinical setting. Hall was taught best practices for patient-related services, in addition to skills related to organization and time management.
"SPSCC teaches all the specific skills needed to be successful in the health industry during lectures and practical exercises," says Hall. "Once you decide to make a change and pursue a career in dentistry, then SPSCC is a great place to receive your training and certification. For me, it was obvious that Dr. Larson and all the other faculty members really wanted each student to learn every skill needed to have a successful career. SPSCC focuses on hands on learning with real patients throughout the program including externships. I highly recommended the program."
According to Larson, almost all graduates from the Dental Assisting program find employment, and almost half of students are hired before they complete their externship. Within the career field, dental assistants have the choice to work full-time or part-time, or to work in certain specialties like orthodontics. As dental assisting becomes an increasingly in-demand field, Larson says that wages are often competitive.
Due to the COVID-19 pandemic, the program has permanently moved certain courses into an online format, providing a more flexible schedule for students with additional career or family obligations. As a part of the program, students will still have opportunities to learn practical skills in a real-world setting through the SPSCC Dental Clinic, which treats both students and members of the community. Due to the program's versatility, Larson said this program can be a good fit for students from a variety of educational or career backgrounds.
"We have students from right out of high school and Running Start, to those changing careers in their 40s or even 50s," says Larson. "Anyone who is interested in healthcare, enjoys helping others, and likes to use their creativity, could find dental assisting a great career or steppingstone in their pathway."
To learn more about the Dental Assisting Program and apply, , visit the South Puget Sound Community College website.
Sponsored