Ask anyone and they'll tell you, 2020 was one for the books. Very few aspects of daily life fell into the same old routines of years gone by. Work, school, shopping, dining and entertainment were suddenly contained within the four walls of our (now claustrophobic) home sweet home. We learned about social distancing, community phases and vaccine rollouts. Fancy clothes went the way of the dodo, but we replaced them with a favorite mask for every day of the week. To celebrate our region's many resilient individuals, small businesses and unique destinations, the NorthAmericaTalk team put together the ThurstonTalk 2020 Yearbook.
Dan Jones, founder of parent company NorthAmericaTalk and its many regional media organizations, explains that the 2020 Yearbook "represents the community during 2020 really well. The articles in the book were selected by Talk readers through engagement and statistical analysis—thus our readers drove the content of the Yearbook."
Design and printing were done in partnership with Centralia's Gorham Printing. "Gorham brought home a 10-year-long vision for ThurstonTalk and we could not be happier to be working with them," says Jones. "The Gorham team were a pleasure to work with and made the project simple and smooth."
"The team is thrilled to be partnering with ThurstonTalk," says Colin Keane, Gorham's marketing director. "ThurstonTalk has been a community staple for as long as I can remember. We see this yearbook as a celebration of some of the great businesses and people that make up Thurston County."
The idea for a book like this was a true team effort. Gorham's owner, Kurt Gorham, "is a big local history enthusiast," explains Keane. "While browsing ThurstonTalk's history section, he had the idea of compiling some of the articles into a book. We reached out to ThurstonTalk, who brought some of their own ideas to the table. Over time, the project broadened to include articles about the community and local businesses."
From concept to cover, this literary journey took five months. The idea first emerged in the fall of 2020 and final printing took place March 2021. The Yearbook includes 45 articles, selected by online readership statistics, which were written by a variety of local authors. Topics cover everything from restaurants and small businesses to hiking trails and local sports teams. Reading through it provides suggestions on where to dine, explore, shop and stroll away the afternoon, rain or shine.
"We hope people enjoy the book enough to make it a yearly printing," says Keane. "We'll be able to include more stories in future yearbooks. We may even try to expand into other Northwest counties. We'd like to thank our designer, Kathy Cambell, who did the cover and interior design for the book.  She's been designing books for over 25 years, and it really shows in this yearbook. We'd also like to thank Dan Jones for being such a pleasure to work with."
Want to know more about the writers behind the scenes? The 2020 Yearbook closes with an author index and you can find photos and team bios through the website. With unique backgrounds including teachers, librarians, Holistic Health Coaches, and podcasters, these writers hail from all over the country but love calling Western Washington home.
The 2020 Yearbook can be found on ThurstonTalk's retail platform.
NorthAmericaTalk: Connecting Community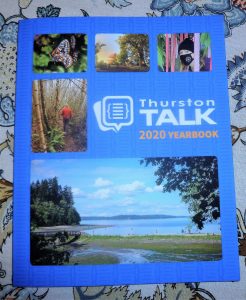 Since starting in 2011, NorthAmericaTalk has expanded to more than 15 regional platforms. With more than 2 million search requests and a user reach approaching 400,000 people, their Community Social Networks have become a vibrant voice throughout Washington.
The ThurstonTalk Facebook page offers frequent updates and community information and Instagram is a beautiful slide-show of all Thurston County has to offer.
Have a book you'd like to publish? Gorham Printing can facilitate design, printing, shipping and more from their Centralia factory. From start to finish the work is done in Western Washington and they're happy to answer any questions. Simply call 800.837.0970 or send a message to info@gorhamprinting.com to get started.
With a little luck, a year like 2020 will be once in a lifetime. But now that we've come through to the other side, it's good to take a minute to process, decompress and be grateful for all that was overcome. Despite the turmoil, individuals, groups, businesses and organizations came together to keep our neighborhoods going. Keep an eye out for future ThurstonTalk annual yearbooks as a reminder of what makes this county special. For more information, visit the Shop ThurstonTalk website.