Olympia has its share of landmarks, community hubs and hidden gems. The new Harbor Heights and Columbia Place development at 500 Columbia Street NW promises to soon become a destination in its own right. With retail, office space, restaurants, 55+ apartment living and an upscale flair, come by to explore all it has to offer.
A recent industry study shows that "78 percent of U.S. adults would consider residing in 'live, work, shop, play' environments that have a variety of housing, workplaces, dining and recreational outlets for entertainment all within close proximity to one another…the top reason to reside in 'live, work, shop, play' environments is the convenience/efficiency of being close to almost everything, followed by easier access to amenities."
Harbor Heights and Columbia Place are both experienced at partnership and welcoming community. All told, the site will include Harbor Heights, with 55+ residential opportunities, managed by Columbia Hospitality and General Manager Desiree Stinson, as well as Market District shopping and dining galore.
"Throughout my career I have been fortunate to work with some of the most creative and passionate people around the world," says Stinson. "Drawing from my career in diverse luxury service industries, I look forward to building meaningful and memorable relationships and experiences for our residents and team members on what matters most; quality service and personalized care."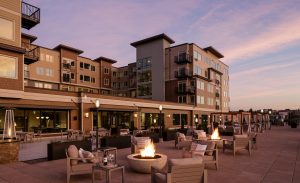 One such tantalizing experience is on-site restaurant Cynara, sister to the westside's beloved Iron Rabbit. Named after the Greek word for artichoke, Cynara opened its doors on September 29, 2020 and hopes to become your go-to for local seafood, fresh produce and top shelf wines and cocktails.
"Cynara will be a place for locals and guests to gather, to be treated well, and to enjoy a surprise or two on the menu that they can't find other places," says owner Christian Skillings. Call 360-764-7326 or follow them on Facebook for current hours, delicious specials and current COVID-19 guidelines.
Adjacent to Swantown Marina, the blocks around Columbia Place have been rated as very walkable and most errands can be accomplished by foot. It is only a short stroll from Budd Inlet's waterfront trails and the Olympia Farmers Market as well as Batdorf and Bronson's fragrant Tasting Room and roastery.
"We are proud to bring such an incredible community for active adults to Thurston County," says Jeremiah McKinley, owner and founder of Cascadia Group.  "Our vision for 500 Columbia started with a mixed-use community anchored in the historic Market District where understated luxury and amazing amenities could intersect with convenient access to local activities. It is exciting to reenergize this block that has been a brownfield since 2012 into a neighborhood hub for Olympia that now includes Cynara, Muse Extension Lounge, Forma, Landau and continues growing every day."
You can take a virtual tour of available Harbor Heights apartments or watch an overview of their many amenities and perks. During the Coronavirus outbreak, Harbor Heights promises to maintain Columbia Clean program guidelines. This includes frequent disinfecting using training and guidelines from the CDC. They have also included sanitation stations in common areas, entrances and high-traffic spots like elevators and lobbies.
They offer living space from studio apartments up to three bedroom, water-view units with access to outdoor seating areas and indoor lounges complete with a toasty fireplace. There's an on-site gym, movie theater and activity room and pets are welcome.
The average American commute is just under one hour per day, according to the Census Bureau. Combine this with Bureau of Labor Statistics projections "that by 2026, nearly 22% of people 65 and older will be working, with those 75 and older experiencing the fastest growth rate." Skip the drive and live/work/play somewhere you love. Analysts expect that COVID-19 will keep many jobs remote or online and those are much easier to do with a view of mountains, Puget Sound and the stately Capitol dome.
To learn more about Harbor Heights living, simply call 360-227-6800. Learn more about Columbia Place retail and office opportunities by contacting the Kidder Mathews team.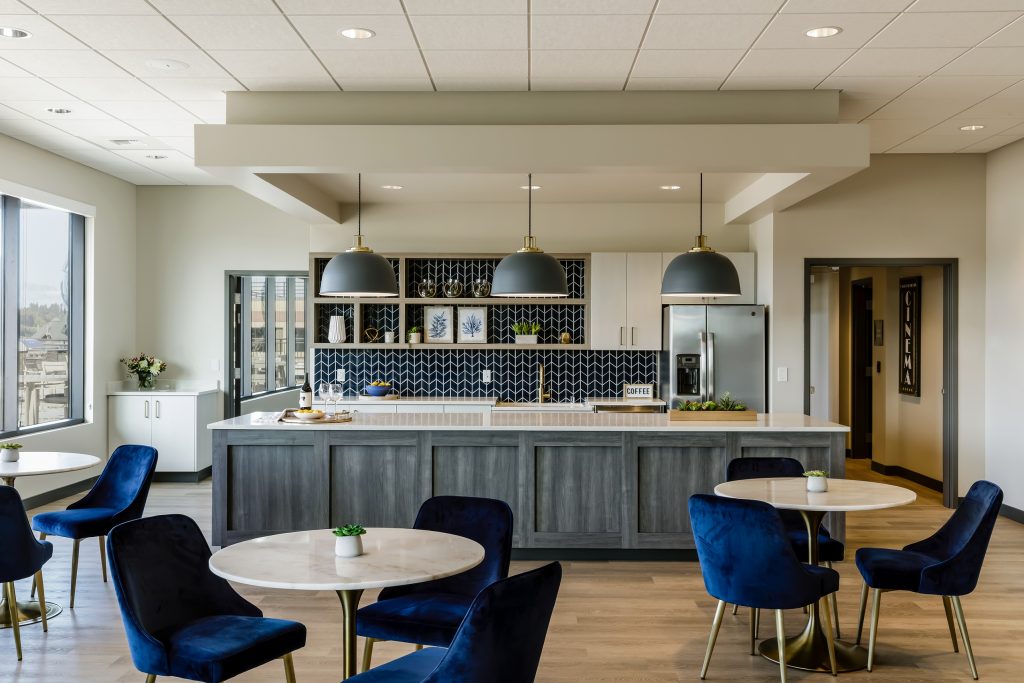 Sponsored