By Mary Ellen Psaltis
It's no secret. I am a particular eater. I look for fresh, thoughtful meals sourced responsibly. Just because I want health-minded entrees, I don't expect to give up a tasty dining experience. Yes, I want it all. You can, too, if you hop over to the Iron Rabbit Restaurant & Bar. Owner/operator Christian Skillings has been honing his craft for nearly nine years and continues to step up his game for your culinary satisfaction and sensibilities.
Skillings has noticed that, as time goes by, his guests are not only more educated about healthy food choices but are delighted to find that these choices can translate into deeply satisfying meals – not merely food to be tolerated. For example, the Iron Rabbit uses Painted Hills grass fed beef for its burgers. These animals are better treated, live without added hormones or antibiotics, and their meat is a healthier choice than typical feedlot beef. It's a burger with a conscience.
Both the salmon and the cod on the menu are wild-caught. Skillings refers to the Monterey Bay Aquarium Seafood Watch. They provide extensive information to help you decide which fish you want to eat. Their concerns are being ocean friendly, healthful and sustainable, to name a few.
Every meal is prepared to order in the all-scratch kitchen. That means whether it's appetizers or desserts, they are made on site, even their salad dressings like Bacon Balsamic or White Balsamic Vinaigrette. There's no MSG to be found. Only the ranch dressing is not made in-house. Sides such as fries and slaw are on the menu, but now you can pick apples instead. Kid friendly meals have the choice of apples or carrots.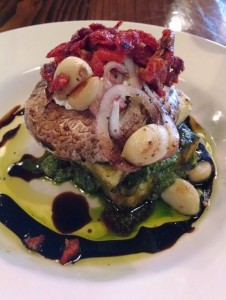 For my vegetarian leanings, I chose the impressive Polenta Portobello Tower stacked with roasted garlic, red onion, and sun-dried tomatoes then drizzled with olive oil and balsamic glaze. It was served with a giant steak knife, which proved helpful. The leftovers made a fabulous snack. I appreciate it when a restaurant's non-meat offerings go way beyond a side dish of steamed vegetables. Skillings recommended the Thai Coconut Curry for my next visit.
The Iron Rabbit cares about the source of their products. Their full bar has probably ninety different spirits from family owned distilleries. You will find Lattin's Cider, local honey and eggs. Some produce will come from local farmers through the growing season.
The Iron Rabbit also thinks about what happens when the meal is over. That means they are active participants in the City of Olympia's composting and recycling programs. Skilling's goal is to continue to shrink the restaurant's carbon footprint. "It matters," Skillings simply states. I think it does, too. They keep working to diminish the amount garbage and increase the amount recycling. Recyclable materials "cost more, but it's worth it."
Remember the Iron Rabbit has its own Rewards Program, which truly rewards frequent diners. You'll earn $10 for every $200 spent, and even more if you are a senior. This establishment also has a mission to recognize that everyone who enters its doors is important, and they intend to prove it. Skillings believes that a dining experience incorporates excellent food but also acts as a platform for conversations about anything and everything. I join him in keeping the conversations moving to deepen our awareness and commitment to sustainability, ecology and healthy eating.
Next time you are looking for high quality food in a casual atmosphere that welcomes friends, family and dear ones – stop in the Iron Rabbit. It doesn't matter if you are in a suit and tie or blue jeans; the menu is as diverse as the diners. Just be hungry or thirsty.
2103 Harrison Ave NW
Olympia, WA 98502
360-956-3661