Sometimes you just don't want to cook.  Or maybe you are celebrating a special occasion with a dinner out.  Or, you could just be running between gymnastics, soccer and ballet and not have time to head home for a meal.  Whatever the reason might be, families end up eating out.
But where to go?  Sometimes where you want to go (a quiet evening with a glass of wine on the waterfront) doesn't jive with where the kids are begging to eat (think large stuffed mouse….).  While your family may have their "go-to" spots, here are Thrifty Thurston's suggestions for local restaurants you may not have considered that satisfy all members of the family.
This is a family favorite for a quick meal that kids love without sacrificing quality of ingredients the adults are looking for.  Known for their "make your own pizza" for the kids, i.talia Pizzeria brings a pizza peel with dough, sauce, toppings and cheese to your kiddos allowing them to create their pizza before it's baked.  It's an activity, appetizer (of course you swipe some pepperoni) and entrée all in one.  For mom and dad, the "grown-up" wood-fired pizzas are delicious (including their gluten-free crust), and gourmet sandwiches, salads and fresh soups round out the menu.  Don't miss the gelato on your way out.  Wine and beer available for mom and dad, too.
Downtown and looking for a bite?  Look to the historic Spar Café.  This McMenamin's restaurant has a terrific kids menu with large burgers, creamy mac and cheese and hand-cut fries all listed on a coloring page menu.  And for a change of pace, don't forget about clam chowder as a dinner for the youngsters.  A big bowl satisfies on a chilly night.  Of course the menu for the adults has a wide variety of choices including vegan and vegetarian fare which can all be washed down with McMenamin's own beer, brewed on-site.
Another downtown option if you're in the mood for Thai-style food, Chopsticks offers tasty items, served quickly and by friendly staff.  Prices are reasonable and they offer a kid's combo served in a "bento box" style container including gyoza, rice, chicken satay and other kid favorites.  My favorite is the salad with flash fried rolls and their soups are terrific on cold days.  And….Bubble Tea.  Really, it puts a smile on everyone's face.
If you are on Olympia's Westside, don't pass up this hidden gem.  The Iron Rabbit boasts a menu full of organic and locally sourced ingredients combined with care by their chef.  The grass-fed beef burgers are fantastic (as are the locally sourced lamb burgers) and gluten-free buns are available.  Dinner entrees include seasonal specialties so check the special board.  And despite the sophisticated options, the Iron Rabbit is truly a family friendly restaurant at its core.  The kids menu will please the youngest in your party, but Iron Rabbit doesn't dumb down the palate or the quality of ingredients for the kids and includes standards like burgers and mac-and-cheese as well as char-broiled chicken breast with red quinoa jasmine rice.
Tucked in the back of a strip mall in Tumwater, the Ramirez Mexican store is well known for its fully stocked Mexican market and it's handmade, hot corn tortillas.  (We just eat ours in the car on the way home.)  However, this authentic market includes a fantastic restaurant and is a quick and delicious stop for the family.  The kids menu has all the favorites you'd expect, each for under $4, but even the quesadillas are elevated to a new level here, using the in-house tortillas.  It may not be fancy, but I promise it's good. Take out is popular here and don't miss the homemade pastries.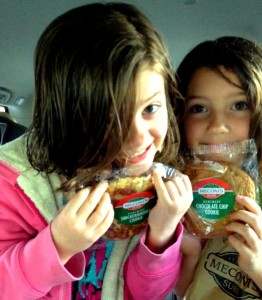 While Meconi's may not be "new," it makes the list for a few reasons.  One, there are now four newly built or remodeled Meconi's locations (Hawks Prairie, Lacey, Downtown Olympia, Tumwater) making it the perfect stop no matter where that inconvenient 6:00 p.m. sports event is being played.  If you are heading to Lacey's Regional Athletic Complex or Skyhawk's Park baseball fields, the new Hawks Prairie Meconi's, just over I-5, serves beer and wine, too.  But what makes a Meconi's Sub so good?  The bread.  It's baked fresh every morning in the restaurant's own bakery along with their delicious cookies.  This mama is gluten-free but I dig into the filling Italian Chopped Salad no problem. *Editors Note:  Meconi's now offers gluten-free bread.
This relative newcomer to the area just celebrated their first anniversary at their Martin Way / Meridian Road location.  And, true to their name, they serve nearly any kind of Macaroni and cheese you can think of.  Their cheesy basic recipe is sure to please kids and adults alike, especially when mixed with hotdogs (you know it sounds good).  Not in the mood for Mac?  Try their house made meatloaf burgers.  The menu also includes salads, sandwiches, a great kids menu and delicious shakes.  Fast and satisfying, this is comfort food at its best.  And, really, what kid (or adult) doesn't love a little Mac.
Thrifty Thurston highlights inexpensive family fun in Thurston County.  The weekly series focuses on family-friendly activities throughout our community.  If you have a suggestion for a post, send us a note at submit@thurstontalk.com.  For more events and to learn what's happening in Olympia and the surrounding area, click here.