It's been a rough year in the healthcare industry, but one local provider is meeting the challenge through expanded and streamlined services and cutting-edge technology. In just the last year, MultiCare Indigo Urgent Care clinics have grown by 30% statewide. Thurston County is currently home to three of those facilities and more may be on the way as the Tacoma-based nonprofit continues its expansion throughout the region.
President of MultiCare Retail Health Ryan Fix joined the company a little over a year ago and has played a role in developing consistent care across facilities. "Thurston County is one of those areas. As telecommuting has become more common and people continue to migrate south from Seattle, patient demand rises. "There's a convergence where some of those rural and suburban areas are filling in," says Fix. "We're watching very closely and figuring out where there's growth and where consumers, especially families, need access to convenient, same-day care."
Demand for telehealth has risen amid concerns over COVID-19, and MultiCare has responded by integrating online care with bot technology that helps answer questions related to COVID-19, such as whether to get tested and where to get tested.
"We were seeing double or triple the number of calls to our clinic. We wanted to be able to help people get the care they needed, but we also know it just didn't make sense for our skilled clinicians to be answering phones," says Fix. "We were able to roll out a bot that could give people instant information and drive down the calls to our clinics. This is also an example of us listening to our customers, who are in their 30s and 40s and are very familiar with bot technology and using tech in these sorts of cases."
MultiCare's clinics never shut down during the pandemic and today offer two kinds of COVID-19 tests. One is for symptomatic people and is done within the clinic. The other is for asymptomatic individuals who may need a test to travel or want to get tested for another reason. In the latter case, patients can start with an online visit.
"We've continued to evaluate testing services," says Fix. "There were a handful of COVID tests that hit the market very quickly, but the reliability didn't pass our standards. We've moved forward and, hopefully, in December we'll be deploying rapid point of care tests at several of our Indigo locations." By 2021, the goal is to have such tests available at all locations.
Occupational health is another arena where MultiCare has continued to make strides through a hybrid care model. Urgent Care clinics and Occupational Health clinics have different storefronts but are connected within one building. "We're playing with how to evolve care for workers and employers," says Fix. "Just as we continue to ask ourselves how can we make care better and easier for consumers, we're asking that same question of businesses we serve."
Part of that question revolves around timing. MultiCare's Indigo Urgent Care clinics are open every day of the year between 8:00 a.m. and 8:00 p.m. whereas their Occupational Medicine clinics are open five days a week. Indigo offers businesses and workers a convenient way to be seen for a minor workplace injury at an urgent care facility and then seamlessly become integrated into the occupational medicine side for follow-up visits. "It's similar to virtual health where they might start online and be transitioned into Occ Med," says Fix. "We want that handoff to be as smooth as possible for the worker and for the employer."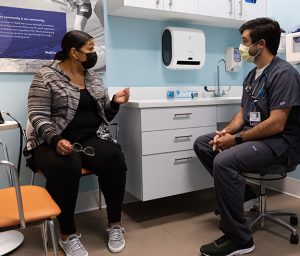 Yet another area where MultiCare has been innovating: prescription medications. In November the company began an initial phase of offering prescription medication delivery through a partnership with MultiCare Pharmacy and Phox Health, a delivery platform. For a fee of $10, patients can have prescriptions delivered to their homes or workplaces within a few hours of an urgent care or Occ Med visit.
As Thurston County continues to grow, Indigo intends to grow with it, adding more clinics and services as needed. "It's amazing to see how it continues to expand," says Fix. "That brings opportunities and challenges us to continue to grow and add services that are important to patients."
MultiCare Indigo Urgent Care has convenient locations in Lacey, Olympia and Tumwater. Schedule an appointment online or simply walk in for care.
Sponsored