The gift of a free, hot shower is available each Tuesday for anyone needing one. Build-A-Bus Home's Clean Up Bus & Shower Trailer (CUBSS) is being hosted by Unity of Olympia on the westside. Available from 10:00 a.m. to 4:00 p.m., the shower and hygiene stations provide safe, clean and welcoming facilities. The mobile unit is a trailer previously owned by DNR (Department of Natural Resources) that used to shower up to 1,500 firefighters a day. Lisa Gillotti, Build-A-Bus-Home's founder and director, is on-site with continuous organization and energy to advance their projects. James Osier, the dedicated operations manager, keeps all the mechanisms working.

After months of intense planning, preparation and fund raising, the mobile hygiene project opened in October in the parking lot at the Evergreen Christian Community. Lisa and James are supported by volunteers from the community to be greeters, screeners, shower aids and set-up/take-down helpers. Personal protective equipment is provided.
Build-A-Bus-Home owns the 53-foot trailer equipped with 12 showers at one end and 5 at the other. To provide appropriate physical distancing, the sides have been altered to 6 and 2 shower spaces, with alternating spaces being used for changing rooms. The two sides allow room for couples and families. Scheduling accommodates for gender preference or other needs is also possible.
The welcome area is set up in the breezeway at Unity, providing shelter from inclement weather. Guests are welcomed at the sign-in table where COVID-19 screening is completed. Then they are given a time depending on the day's number of participants. Each person receives a personal hygiene bag with a disposable towel, slippers to wear in the shower, a comb and toothbrush. Shampoo and soap are available. Usually there are also miscellaneous donated items including hygiene products, socks, scarves, limited canned food and hand sanitizer. There's some coffee and a few snacks, too.
The shower trailer has heaters, and the water is toasty, so even in cold weather, the environment is comfortable. Guests are asked to fill out a comment card before they leave.
Then each shower stall is cleaned, scrubbed, wiped down and disinfected.
Members of the Unity community make up some of the volunteers, but anyone in the community can use the web portal to become a volunteer and sign up for the job and times that work for you. There are morning or afternoon shifts.
Betty Bailey is a real estate agent and a member of Unity who is also serves on the church's Council of Trustees. She volunteers at the showers. "It is quite meaningful to do something that is so valuable to such an underserved population," says Betty. Deb Cacace is a Unity member and para-educator with North Thurston. "I saw a need filled, bringing hope to individuals," says Deb, adding, "It's making a difference in the community." Two friends, Vern and Ray, usually do a morning shift. They both said they volunteer to give back, each having experienced homelessness in the past.
The goal of Build-A-Bus-Home's Mobile Hygiene Infrastructure Program (MHIP) is to serve as many people as possible and make all services as barrier free as possible. The needs within our community are best addressed with compassion and preparedness. Problems don't disappear by being ignored. The purpose is threefold:
To improve the quality of life, health and self-esteem
To reduce demands on public and private services
To improve health, job, income, housing and service outcomes.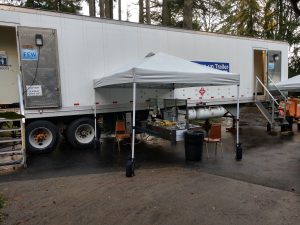 The project is generously supported by Briotech, a Woodinville-based company that manufactures pure hypochlorous acid formulations. Briotech is the world leader of HCOL production. The spray is proficient at killing bacteria and many viruses and is safe to spritz on your face and onto your hands and all other surfaces. Individual sized products are provided at no cost to the shower project.
A shower, a shave, and running water are givens for many, available all day, every day. For others in our community, it is a luxury. After the shower, one guest sat in a chair for a few minutes to simply enjoy the feeling of being clean and warm. The mobile shower is a pathway program offering a steppingstone on the challenging road of living an unsheltered life. "It is a way to return dignity," explains Lisa.
Build-A-Bus Home's nonprofit status is held through Angels for Angels. This organization works with leaders around the world to start community-led and sustainable social projects.
If you know of someone who could use a shower, walk-in times are available. It is fine to call ahead for a time to reserve. Rides can be arranged by calling 360-890-3133. You can help in many ways. Be a donor here, volunteer here and read more on their site.