As a winter frost rolls into the Pacific Northwest, and as long nights settle in, homes across the South Sound are illuminated with a wash of holiday cheer, familiar characters and rainbow colors. Icicles descend from rooftops, a candy cane forest lights up an extended walkway, Santa leads his reindeer across the horizon. For the wonder of young ones and enjoyment of entire families, the upcoming December nights will be filled with many opportunities to be merry and bright. Here is where to find holiday light displays in Thurston County.
Frazier Family Christmas Lights
1630 26th Avenue N.E., Olympia
A longtime Christmas showcase, the Frazier Family Christmas Lights delights visitors with lighted figures and familiar characters in celebration of holiday cheer. Through snowmen, a life-size snow globe, candy canes, icicle lights, and characters like the Smurfs, Big Bird and Rudolph, the magic of the season abounds.
Oly Lightstravaganza
1515 10th Avenue SE Olympia
In a local winter wonderland, Oly Lightstravaganza leaves not one inch of their property in the dark. Delivering a healthy dose of the holidays to Olympia's Eastside neighborhood, Oly Lightstravaganza boasts an enchanted forest of almost 100,000 lights. A magical sight from any angle, viewers can take in an extensive display of multi-colored luminaries, rainbow arches and majestical trees, in addition to sightings of familiar faces like Frosty the Snowman and Mr. and Mrs. Claus.
Traditionally a walk-though display, this year's rendition of Oly Lightstravaganza will look a little different. Due to current COVID-19 guidelines, visitors won't be able to enter the display, but they can view the lights from their car or from the sidewalk.
In addition to Oly Lightstravaganza, surrounding homes are setting up their own holiday light displays, allowing visitors to create their own neighborhood light tour on and around 10th Avenue.
Lakemoor Lights
2296 Lakemoor Drive SW, Olympia
Harmonizing holiday lights with nostalgic soundtracks, Lakemoor Lights invites visitors to enjoy a multi-faceted holiday experience. A display unlike any other, Lakemoor Lights features a full light show, matched to popular music scores, including Star Wars and Harry Potter. Visitors can enjoy the show from their cars from 4:00 p.m. to 10:00 p.m. each evening in December.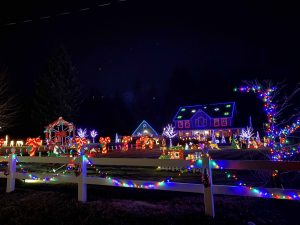 Candy Cane Lane at the Kelley Ranch
5410 66th Avenue NW, Olympia
Just off of Steamboat Island Road, Candy Cane Lane at the Kelley Ranch is a holiday oasis. Featuring a vivid front yard display of lights and familiar holiday figures, visitors can take in life-size candy canes, illuminated animals, a Christmas train, and a larger than life wintertime Ferris wheel figure. Candy Cane Lane springs to life the Sunday after Thanksgiving and runs through New Year's Eve. Lights will be turned on from 5:00 p.m. to 10:30 p.m. each night.
North Street
North Street, Olympia
Along North Street, near Olympia's Carlyon North neighborhood, those seeking out lights can find many homes decked out with holiday cheer. A highlight is on the cross street of North and Lenore, a home featuring several inflated figures, including Yoda, Minions and a holiday-themed swan.
Muller Family Display
2214 Nut Tree Loop SE, Olympia
The Muller family goes all out for the holidays! You may have visited their cool Halloween display, well know they have pulled out all the stops for Christmas with tons of lights and many lighted sculptures. It's definitely worth a drive-by!
New Bridge Community Church
812 Central Street SE, Olympia
Across the street from Oly Lightstravaganza, New Bridge Community Church will host an accompanying display of colorful lights on the trees lining their 10th Avenue parking lot entrance. A partnership with Oly Lightstravaganza, both sides of the street will now be decorated with holiday cheer.
Winter Wonderland at Westbrook Park
2203 Park Cir SW, Olympia
This fun display is on from 5:00 p.m. to 11:00 p.m. daily. They would love for you to come by and check it out! It's easy to find: when you enter the Westbrook Park neighborhood (next to Ken Lake), you can't miss the bright lights. It's the first left on the cul-de-sac.
Christmas Island
2920 Tierney Street SW, Maytown
Resurrecting a vintage Olympia tradition, Christmas Island is a life-size nativity that spans over 100 feet. Once floating on Capitol Lake each holiday season, Christmas Island is now displayed at the Maytown Assembly of God.
An extensive tableau, Christmas Island features traditional Nativity figures surrounded by illuminated trees, angels, animals and a grand star overlooking the entire display. Visitors are welcome to drive by, park, or step out onto the surrounding area to take in the views of Christmas Island. Running through December 26, the display will be illuminated from 4:30 p.m. to 9:30 p.m. each night.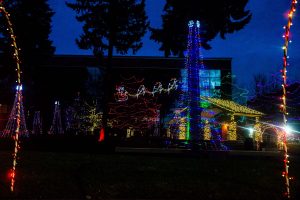 Thomas W. Huntamer Park
618 Woodland Square Loop SE, Lacey
Huntamer Park will light up The Hub at Lacey this holiday season, with an extensive showcase of lights, figures and illuminated trees. As the only light display hosted by the City of Lacey, the Huntamer Park Holiday Light Display allows local residents and famlies to take in the holiday lights while also tuning into holiday-themed songs and tales narrated by Santa. The display will be available each night, from 5:30 p.m. to 8:00 p.m., throughout the month of December. Read more about Huntamer Park Holiday Lights here.
Lights on Strikes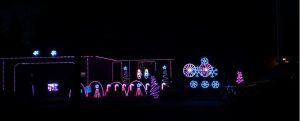 4609 Stikes Drive SE, Lacey
A display so big, it has its on website! The Lights on Strikes includes an RBG pixel display with over 4,000 lights synchronized to over 15 songs. Tune into 97.1 when you pull up. The show runs Sunday-Thursday from 5:00 p.m. – 9:30 p.m. and Friday-Saturday: 4:45 p.m. – 10:15 p.m. If you would like to pick the next song that they play, you can vote on the website.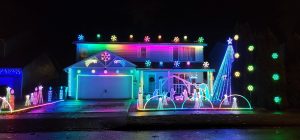 Epic Light Show
4819 50th Ave SE Lacey
This family's home is decked out in a rainbow of colors of the holidays. Tune in to 107.9 FM to hear music that the pixel light show is set to; you are not going to want to miss this house!
Brown Family Lights
3930 Southlake Drive SE, Lacey
In Lacey, the Brown family has a long tradition of setting up a display containing thousands of lights. Passionate about the Christmas holiday and accompanying decorations, the Brown family's light display premieres the day after Thanksgiving. Growing more elaborate each year, this year's display will feature about 9,000 lights and 10 different inflatable figures. Featuring Santa, a polar bear and a holiday flamingo, the display is topped with an American Flag made entirely from lights.
Yelm City Park
115 Mosman Avenue SE, Yelm
In the heart of Yelm, the City and the Yelm Chamber of Commerce will collaborate to host Yelm Lights at Night. At Yelm City Park, local businesses will sign up to create their own mini holiday light display within the park. Additional lights provided by the city will illuminate the rest of the park, including a Christmas tree and a lighted tunnel that will cover one of the park's sidewalks. The displays will be fully set up by December 5. Read more about Yelm Lights at Night here.