It's been six years since Sandstone Distillery first opened their doors, and although a lot has changed, their vision to produce high-quality spirits while partnering with local businesses and farms around the state has remained intact. With the many curveballs that 2020 has thrown, the distillery was excited to celebrate their business's birthday in a way that protected the community they value.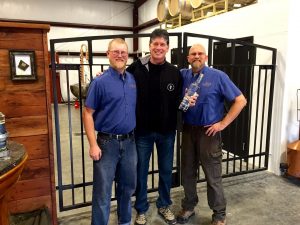 As Sandstone Distillery's sixth birthday on November 27 quickly approached, husband and wife John and Jenni Bourdon, their son Justin, and the rest of the team began celebration preparations that followed Governor Inslee's COVID-19 restrictions. With the party plans in place, excitement filled the air as they were set to gather and come together during what has been a difficult year for all. Then, the latest round of restrictions in late November hit and they were required to pivot once again, forcing their plans to need an overhaul.
Fast forward to the end of November and the Bourdon's were still in high spirits knowing that they had made it through the first, most strict, pandemic hurdles, and they were going to make it through this next phase. One aspect of their birthday celebration that was still in the works was the release of two very special spirits to commemorate the occasion.
Cranberry Apple Brandy
The first of the two spirits scheduled to be released in early December is their Cranberry Apple Brandy. Not only is the final product one to savor, but the accompanying story makes the brandy all the more unique. As John recalls, one day the distillery was closed to the public and a young local cranberry grower approached with long flowing hair and an aura about him that exudes ease. After a knock on the door and the invitation to come in, John showed the man around the facility including the production equipment. "Man," the gentleman excitedly yells, "this place is so cool!" John got a kick out his reaction and was happy to have shown him something of interest. The visitor then quickly throws out an offer to drop off some cranberries, and although John couldn't think of much use for them, he accepted the kind offer and the two said their farewells.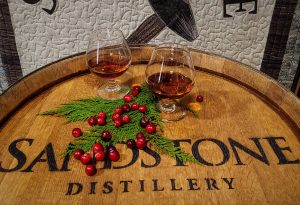 The following morning, the Bourdon's arrived at the distillery to find a massive delivery of 300lbs of cranberries waiting near the front door. With no way to contact and thank the mysterious man for his delivery, the Sandstone staff's next task was to figure out just what to do with a giant tote of cranberries. They first tried to grind up the cranberries like they do their grains, but quickly discovered that the berries were much too hard to get smashed between the auger plates. After some careful consideration, they decided to cook down the cranberries, and although they were greeted with a warm chutney smell in the process, the end result was much too tart and sour to be of any use in their products. Since the cooked down concoction wasn't a total waste, the decision was made to add in Washington-sourced frozen apple concentrate, some heirloom apples picked from their neighbor's nearly 100-year-old trees along with brandy yeast. Fermentation usually takes around five days, and although this batch took five weeks, the alcohol content began to rise providing a delightful result. The final phase of this complicated process was to put the brandy into a charred French oak barrel and patiently let it age for nearly four years (just in time for their sixth anniversary!).
Single-Malt (Irish-style) 100% Barley Whiskey
The second spirit that's on the docket to be released in early December is Sandstone Distillery's Single-Malt (Irish-style) 100% Barley Whiskey. "This whiskey is the first of our kind," explains Jenni. "It's another spirit that's nearly four years barreled and one our customers have been asking and waiting for." Crafted with grains grown less than 30 miles from the distillery, this whiskey is very similar to the Highland's scotches. It carries some smokiness but is not peaty. "Leprechauns helped make this single malt," jokes John. "It really tastes like the end of the rainbow."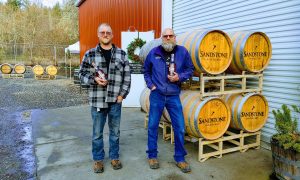 While the release of these two new spirits is something to be celebrated, Sandstone Distillery finds a great deal of happiness looking back on their six years in business. Everything that they've done has been focused on local. "Staying local makes sense for us because if we can help float our economy," says Jenni, "we're all better off. We have and still continue to partner with a lot of local grain growers. We have some really great farms and orchards nearby that we continually collaborate with, including Spooner's and Johnson's Berry Farm. It's something we take pride in."
In addition to their six years in business, Sandstone Distillery is also celebrating their Business of the Month recognition presented in October by the Lacey South Sound Chamber. This recognition can be largely attributed to their drive to give back to nonprofits and help organize fundraisers for those in need, including their recent fundraiser benefitting a local family who lost their home in this summer's Littlerock area fire.
Both of the new release spirits will be available until they're sold out. Customers can purchase these products and their many others, including their holiday specialty, Wild Heart Cranberry Sipping Vinegar, both online and in-store. Abiding with Governor Inslee's restrictions, the distillery is able to provide tasting experiences to private groups of four or less people from the same household in their heated and festively decorated outdoor canopies. Choose from one of their Five-Flight Spirits Tastings, complete with light snacks, chocolate and tasting notes. For those that don't feel comfortable doing a tasting or are looking for a great gift to give a loved one this season, pick up a to-go tasting gift box that can be picked up curbside.
"Looking forward," expresses John, "we hope to outgrow our building and continue our partnerships from around the state. We love our community and hope to be here for many more birthdays."
Book a tasting or learn more about this locally owned business at the Sandstone Distillery website.
Sponsored