Of all the industries impacted by COVID-19, hospitality has been one of the hardest hit. In the early stages, most restaurants shut down entirely. Owners have come up with creative ways to modify their services and keep their doors open through the pandemic. Amid concerns about health and safety, curbside pickup has become a popular option for many downtown Olympia establishments.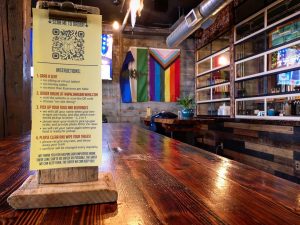 At Three Magnets Brewing Company, customers have multiple options starting with Blue Curb Pickup. "We had a curb that was not a parking spot, so we painted that blue," says owner Nate Reilly. "When you pull up to the curb, you sign in with your phone number and there are instructions for how to get a hold of us and we'll bring out your food."
Visitors to the Three Magnets website can choose between Blue Curb Pickup, dining in the covered outdoor patio area, or Garden Movement, a ready-to-cook meal service offered every Monday, Wednesday and Friday. "You can pre-order them," says Reilly. "If you live within 7.5 miles you get free delivery for orders over $80 or $5 delivery for orders under $80" Blue Curb Pickup is also an option for Garden Movement meals.
Three Magnets had an online ordering system up and running by the first day of the shutdown, and Blue Curb Pickup set up a few weeks later. "We had a lot of hiccups along the way because you're creating four new business plans on the fly," says Reilly. "We also do a beer delivery service, which utilizes liquor pickup, but that's branded differently. We mail beer all over Washington."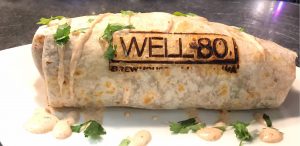 Like Three Magnets, Well 80 is known as much for its beer as the pub fare it serves. As a former warehouse for a fireplace company, Well 80 Brewhouse already had a loading zone in front of their building that is ideal for curbside pickup. "At the start of the pandemic we realized that we could do takeout food pretty effectively," says owner Chris Knudson. "People can place the order and let us know that you'd like curbside pickup, and we'll bring it right to your car. People can pull right up, and the loading area makes it easy."
Recently the staff added a new menu item, brown bag breakfast, all via curbside pickup. "It's a trial right now," says Knudson. "We have huge breakfast burritos. People can order them until 6:00 p.m. on Saturday and drive through to pick them up on Sunday. Then they can head home and watch football or whatever they want to do."
Customers have been appreciative of how seriously Well 80 staff takes the health and safety requirements from the state. Before the latest round of restrictions were enacted, those with medical conditions who could not wear masks could do curbside pickup, but were not allowed within the building. "We're being very stringent about mask-wearing," says Knudson. "There are a lot of people who haven't been comfortable with coming inside and we want to be able to take care of them. We're more than happy to accommodate people with curbside pickup."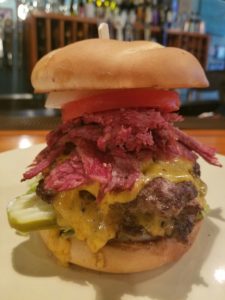 Down the street at Cascadia Grill, take-out orders have risen by 400 percent, according to owner Julia Dukes. "We have exponentially increased our takeout service," she says. "Until the latest shutdown, people were still coming into the restaurant, but we only had 50 percent capacity, so it was limited. The business has been funneled into this other direction."
Anyone ordering curbside pickup from Cascadia Grill can call in their order and pay over the phone or have the bill brought to them while they wait in their cars. The service is helping the bottom line, says Dukes. "We've definitely taken a hit," she notes. "I'm not saying that we're where we were before COVID, but we're still here and so far, we've been able to maintain our business."
Dukes also owns Juju's Iced Cream and Frozen Custard, a premium frozen dessert shop in the former location of Grandpa's Soda Fountain and Ice Cream Parlor. The shop also offers takeout options.
Reilly has a similar view. "The curbside pickup has chipped away at the losses," he says. "It doesn't remedy them whatsoever, but combing it with the PPP loan is ideal. The goal is to stay alive as long as we can."
Learn more about how you can support downtown Olympia restaurants by visiting the Olympia Downtown Alliance website.
Sponsored