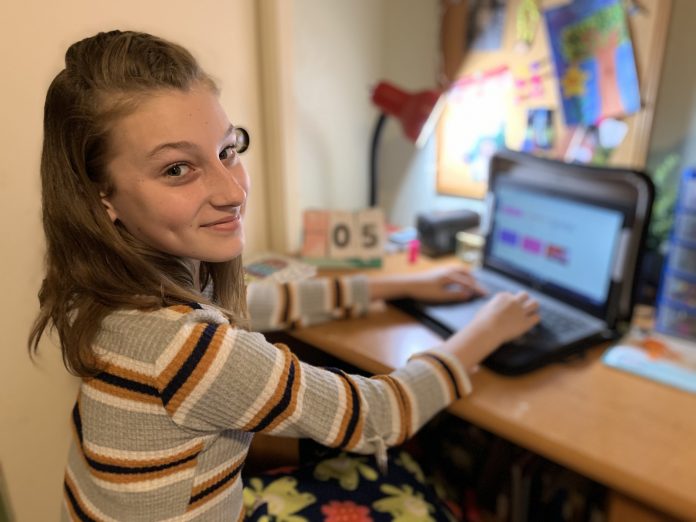 The face of family life has changed dramatically. Houses that used to be empty all day are making room for parents to work and children to go to school. Angie Farley teaches English at North Thurston's River Ridge High School. Two days a week Angie teaches from her classroom at River Ridge, and the other days she handles it remotely from her office at home. It's a similar change for her husband Matt Tuttle, a PE teacher at Chambers Prairie Elementary. He is at school when Angie is home. Their daughters, Olivia, aged 12, and Greta, 9, school from home. "It is nuts every single day, but, like everyone, we are all doing the best that we can," Angie succinctly sums it up.

There is rhythm and rhyme to the Farley-Tuttle household, but it a continuous juggling act for everyone. The girls are up at 7:00 a.m. for breakfast and morning routines. Olivia, their older daughter, attends sixth grade at Aspire Middle School and younger sister Greta is a fourth grader where her dad teaches. Fortunately, there is room at the house to provide each person a desk in a separate room. That's a luxury. There's a workspace in the kitchen, the living room, the bedroom and in the guest room. Angie is home on Wednesdays and Thursday while Matt is home Mondays and Tuesdays.
It was necessary to make accommodations for Matt's loudness. Afterall, it's his job to motivate kids to move. It's better for the rest of the family for him to be noisy from his location at the school, which turns out is actually the band room and not the gym. The gym is being used for Boys and Girls Clubs. Both parents work from home on Fridays. These are advisory and small groups days for students. "I use them for homework," says Olivia. "I'm pretty productive on Fridays."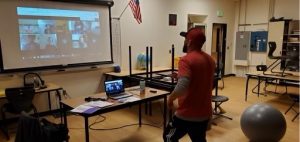 Olivia's school starts at 8:20 a.m., which is shifting to a half hour later. She'll welcome the extra half hour for sleep. There are two plusses about schooling at home, notes Olivia. "Sometimes I get to wear my pajama bottoms," she says. "And sometimes I can hold my guinea pig, Baby Ruth."
Greta checks into her classroom at 8:20a.m., a few minutes ahead of start time to see her teacher. Her guinea pig, Jellybean, also gets more attention these days.
New this year for Angie is teaching three 10th grade honors English classes and two senior AP literature classes. "It's a true blessing," she says. "It's a super positive experience to have an exceptional attendance rate with kids who are doing the work." One morning she was reading their essays and totally lost track of time. She has also taken over the National Honors Society club. Initially skeptical that students would not be interested, Angie is delighted that the applicant pool has doubled. These students want to have time together, even if it's via Zoom. The youth meet every other Wednesday at 8:15 a.m. to engage with each other. "We know people are hurting," says Angie, who knows how important it is for peers to connect.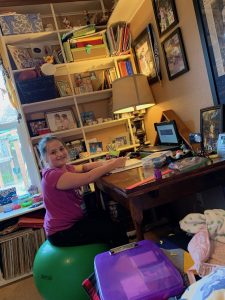 Teaching in front of a screen called for innovation from Matt, who has been accustomed to being with kids in a gym or on a playground. "I usually project a video or play games," he says. "I feel a little like a Richard Simmons and Jane Fonda." His job is to energize the heart rates, improve the muscular endurance of kindergartners through fifth graders and help them learn about the many values of good physical health. If you could see Matt working, he might be jogging in place and encouraging his students to move. "I am very fortunate," he adds. "People still want to go to PE."
After a full morning of classes and doing their lessons, the girls head to the kitchen for lunch.
Early afternoon is for homework and projects. The wi-fi gets shut down in the house about 3:00 p.m. when it's time for soccer practice. Both Olivia and Greta play. There have been limitations with COVID restrictions, but it is fun to see their teammates and be outside.
Usually, Matt and Angie make dinner with a little help from the girls. Afterwards they might watch a program together or play a game. Matt likes sports and is a happy Dodgers fan. "We bake a lot," the family admits and luxuriate in their desserts on alternate nights. "I'm grateful I like the people I'm in quarantine with," says Angie. They anticipate a time in the not-too-distant future where more time will be spent at school instead of at home. Just don't mention this to their dog, Radar. He loves his family being at home all the time.
The North Thurston School District's website is packed with information and support. Find out about Grab and Go Meals, learning support, hybrid-learning and ways to connect with other services and people.