Who's coming to your Thanksgiving dinner? Maybe your crowd will be smaller, but you still want to eat. It is easy to find all sorts of goodies to eat and drink that support local farmers and our community businesses. There are options for fresh produce, partially or fully prepared meals, drinks, snacks, desserts and other treats. It's time to pull out your favorite recipes, like Grandma's orange cranberry relish, or find a new one, then make your list and shop. It's easy to locally source your Thanksgiving in Thurston County.
The Olympia Farmers Market and Bayview Thriftway are two excellent stops to fulfill your Thanksgiving grocery list.

The Olympia Farmers Market remains open on Saturdays and Sundays in November and December, maintaining normal hours from 10:00 a.m. to 3:00 p.m. There are pleasant surprises on the produce tables even as fall heads to winter. Gorgeously striped squash and sweet pumpkins can be turned into pie, soup or my new favorite appetizer – roasted delicata squash. It's remarkably easy to prepare and the results are as creamy sweet as marshmallows. Staples like onions and carrots are fresh from the farm, such as Skokomish Valley Farms, and can be eaten raw or cooked or stored for later use.
This time of year, I am beyond ready to replenish my supply of cranberries, also found at the Market. Cranberries can be turned into jelly (whole or smooth) in about the same amount of time it takes to open a can. Chopped raw cranberries and oranges mixed together make a bright, tasty relish. "Ever since I started putting horseradish in my cranberry relish, I'm sticking with that," I overheard a market vendor admit. If you are a daily smoothie person, cranberries are a welcome change from your frozen berry supply. They keep well in the freezer and can be added to salads and stews. Cranberry apple crisp is a party-pleasing dessert whose vibrant red color is appropriately festive.
Burnt Ridge Nursery & Orchards sells apples and chestnuts. Other Market finds are fish, oysters, mushrooms and eggs. Remember to pick up a jar of OlyKraut, also versatile for the holidays. While you are making your way around the vendors, take your time to appreciate the quality the of jewelry, clothes, dishes and artwork. It's amazing. Parking adjacent to the Market is free, as usual.
You could walk the boardwalk from the Market to Bayview Thriftway to continue finding all you need. Bayview has all you might expect from a grocery store, plus there are many locally sourced edibles. Behold the spacious vegetable and fruit section and find green beans, Brussels sprouts and red cabbage. Wild Heart Sipping Vinegar from Tenino comes in flavors such as apple cinnamon or blueberry thyme. The micro batches are cold aged. You can add more interest and possibilities to your cocktails, spritzers, vinaigrettes, and sauces. Bayview also has an endcap for Batdorf & Bronson coffee with several roasts to choose from and a grinder, if needed.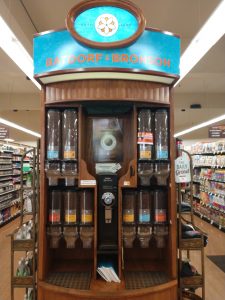 Both locations of the Olympia Food Co-op have thoughtfully sourced, local produce and meats. There's bread from bakeries around town like Blue Heron Bakery and prepared sandwiches if you get hungry on your shopping trip. Their buildings' sizes are modest, but every inch of space is maximized to supply you with wonderful products.
Local Thanksgiving Ready Made
Many local eateries offer prepared or ready-to-bake dishes. Phoebe's Pastry Cafe is putting together Thanksgiving meals plus fun things like cookie dough to bake at home or take-and-bake pasta dishes. Weekly meal kits from la petite maison might include soup, salad, bread, dessert with available wine pairings and optional side dishes.
I am grateful to live in Thurston County with a vibrant Farmers Market, many locally owned restaurants and an area filled with people who care about eating excellent tasting, thoughtfully made food. Take the time to enjoy your meals with the people and animals in your life, whether they are spaced at distances across long tables in your garage or at a Zoom table.  This is the perfect year to consider adding a few new recipes to your table. Happy Holidays.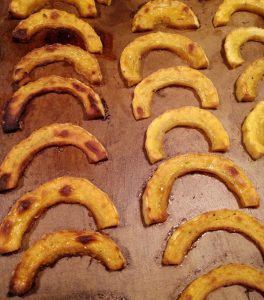 Roasted Delicata Squash (You'll be excited to be eating vegetables!)
Wash the skin because you get to eat it.
Slice the long way and scoop out the seeds.
Cut into evenly sliced half-moons.
Toss with olive oil, salt and pepper.
Roast at 425 degrees until nearly burnt.
They are as soft and sweet as marshmallows but certainly healthier. Serve as a warm appetizer. People will eat one to be polite and then go back for lots more because the taste is amazing.