A moonlit meadow peeking out from behind a family of birch trees. A Pacific Northwest landscape, its mellow hues forming blossoms and ferns, melting into the canvas. A smoldering jaguar, its golden eyes fixed to the horizon. Born out of an interest in nature, ecosystems, modern-day life and storytelling, the artists of Gallery Boom use their art to explore people, culture, and the natural world. A piece of art at Gallery Boom is not merely a commodity, but is a chance to see the world through a new lens.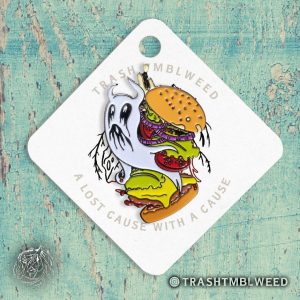 Although each piece of art originates from a different artistic background, each scene has found a home on Gallery Boom's walls. Created from mediums as diverse as a painter's palette, the artists at Gallery Boom find joy in creativity and developing their voice through their art.
Trash Tmblweed
Jules Venture is working to create a better world and a more just community through their art. A designer and activist, Venture is at the helm of Trash Tmblweed, a lifestyle brand that aims to shed light on racial, economic and LGBTQIA+ issues in the South Sound. Through Trash Tmblweed, Venture designs clothing, silk patches, paintings and stickers, combining mediums and utilizing repurposed materials. Proceeds raised through Trash Tmblweed are channeled into nonprofit work and community causes.
"My queer friends inspire me," says Venture. "For all of November, Burial Grounds will be hosting a window installation highlighting admirable voices we've lost this year, giving us space to honor the dead while we fight like hell for the living. I invite you to take a walk, see the leaves, and enjoy a warm beverage while keeping these fallen comrades in mind."
Diana Teachout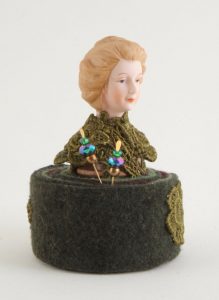 Whether exploring fiber arts or collage, Diana Teachout is always creating.
Not confined to any one medium, Teachout stitches, weaves and assembles an assortment of sculptures, wearable art, and a series of "snarky" greeting cards. Also a professional photographer, Teachout finds inspiration through fellow artists and from living in the Pacific Northwest. Rather than sewing patterns, or traditional instructions, Teachout says she prefers to immerse herself in the work of her peers, then creating renditions with her own unique voice and flair.
"My hands are happiest when they are working with fibers and needles," says Teachout. "Whether they are sewing, knitting, crochet or weaving needles is not as important as being able to create slow stitch projects that make others happy. My mind is happiest while making my original collage cards. Using scissors, recycled card stock and glue sticks along with images from vintage magazines and once loved books helps express my feelings about what is going on in the world around us."
Alice Liou
After a career in state government, painter Alice Liou began to pursue a lifelong interest in nature and art, capturing natural landscapes and wildlife through watercolor, brushstrokes and Sumi ink. Exploring the allure of moonlit scenes, cherry blossoms in full bloom and geese taking off against a waterfront sunset, Liou paints to evoke a sense of serenity and connection with the natural world. Liou is active in the local art community as a part of the Northwest Watercolor Society, Puget Sound Sumi Artists, the Olympia Art League and Pacific Gallery Artists.
"I love to share the beauty of nature and wildlife with my viewers, so they can also feel the peace and harmony from my paintings," says Liou. "I'm always inspired by other great artists and my viewers, because they constantly encourage me to be more creative in expressing the quality of my art."
Maranda Cromwell
Maranda Cromwell, says painting is spiritual, helping her to solidify a connection with the natural world. A multimedia artist from Allyn, Washington, Cromwell explores the natural world, including, ecosystems, animals, ritual and nature-based spirituality through her paintings. Using acrylic paint on reclaimed wood, Cromwell's vibrant creations serve to foster community between humans, animals and nature.
"Exploration with paint is very soul-satisfying," explains Cromwell. "My natural curiosity about the natural world fuels me: I love exploring and learning about ecology, animals and plants, ancient history, psychedelics, mycology, gardening, raising animals, and evolution. As an emotional creature, I hope my work communicates the strong feelings I have for reconnecting with the planet."
Benjamin Saucier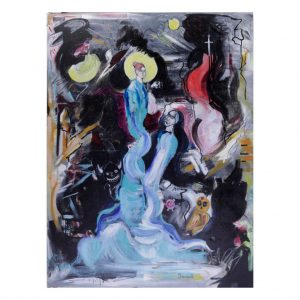 From Florida to New England, and New Mexico to around the globe, artist and illustrator, Benjamin Saucier, found a home in the Pacific Northwest in 2016. Studying the subjects of storytelling and journalism at Hampshire College, Saucier then sought out further artistic studies during his cross-country and world travels. Compelled by the theme of modern-day life in the United States, Saucier says his work explores topics like politics, spirituality, and the collective unconscious.
"I am inspired by my imagination, the natural world, and by my Ashkenazi Jewish heritage, including the work of Artists like Ben Shahn and Marc Chagall," says Saucier. "I am motivated to make art that engages with ideas, memories, and emotions. I seek to make images that inspire thought and stimulate the imagination. I find it both challenging and rewarding to distill complex issues and ideas into a single image."
Dragonfly
Since a young age, Colleen Weston has been immersed in the world of clothing design, using fabric to construct costumes and wearable art. Weston carried her love for costume design into adulthood, working in the design field for over four decades. After setting up shop as a costumer, Weston worked with semiprofessional theater groups, operas and circuses, creating ensembles for a range of productions.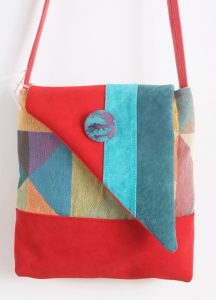 Now retired, Weston has not only continued to hone her designing craft, but also take up the practice of sewing. Through her business Dragonfly, Weston creates wearable art pieces, including a range of hats and handbags. Weston says her theatrical costume experience has also inspired her to create leather masks that are adorned with acrylic paint, beads, fur and feathers.
"Designing and creating with fabrics has been with me since I was 9 years old in my mother's 4-H group," says Weston. "My mother used to look at a garment such as an evening gown or wedding dress or accessory in a store and then recreate it with multiple patterns or her own pattern. She was my inspiration in creating my own one-of-a-kind bags and hats out of fabric and leather. I also lovingly give my creations a female name in honor of my mother."
To learn more about the artists and collections available at Gallery Boom, visit the Gallery Boom website.
Gallery Boom
201 Wilson NE, Olympia
360-259-3412
Make appointment via email at galleryboomolympia@gmail.com
Sponsored