As many aspects of everyday life remain affected by the COVID-19 pandemic, maintaining creative connections is more important than ever, especially for the Big Brothers Big Sisters of Southwest Washington (BBBSSWW). Through their mission to "ignite the power and promise of youth," BBBSSWW is continuing to facilitate safe and healthy meetings between Big and Little matches, while also providing additional educational and enrichment programs.


BBBSSWW will share their mission during the virtual BIG Night In on October 24. As BBBSSWW's largest fundraising event of the year, Shahan and her team hope to convey their community impact and their matches' stories throughout the remote program.
"What we know for sure, with the research that Big Brothers Big Sisters has done over and over the years, is that having that one person is all it takes to see some really wonderful outcomes with behavior, social, academic and family engagement," says Leslie Shahan, the vice president of operations at BBBSSWW. "We're huge proponents of mentoring and we really love what we do. We provide that service to hundreds of kids locally and want to continue to be able to do that."
Using a one-to-one model, Big Brothers Big Sisters works with children from underserved communities to cultivate professionally-monitored mentorship opportunities. Helping kids to reach their full potential academically and beyond, BBBSSWW pairs adult volunteers, the Bigs, with kids, the Littles. This type of mentorship provides children with a positive role model, while the continued relationship can also help children avoid risky behaviors and ensure academic success. Shahan says that throughout the COVID-19 pandemic, matches have still found creative ways to catch up, including remote and socially-distanced meetings.
"We know that kids, now more than ever, need a friend," explains Shahan. "Some of our matches are still meeting virtually. We also have some matches that are meeting in person in a socially distanced setting. They're meeting in a park and playing frisbee, or something that they can do distanced. As an organization, we are also providing some resources and activities that are virtual, as well."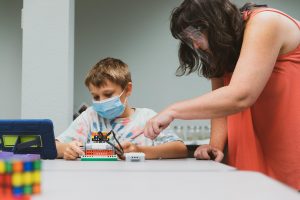 In addition to their main mentorship program, BBBSSWW also operates additional education programs, including the My STEAM Learning Lab, where kids can participate in a range of science, technology and engineering-based activities. In Phase 3 of Governor Jay Inslee's Safe Start Washington, Shahan says there are plans to increase drop-in hours and allow for socially-distanced recreation within the lab.
A Night In of BIG Fun for a Good Cause
The BIG Night In will kick off with a virtual cocktail hour. Attendees looking for a drink to accompany the cozy night at home can pick up a craft cocktail kit from Chelsea Farms Oyster Bar, created especially for the event. The evening will continue by showcasing stories of Big and Little matches, in addition to a recap on the BBBSSWW educational programs. The program will also include an overview of auction items that are available, as well as a range of desserts that can be bid on and delivered the night of the event. In the week leading up the BIG Night In, attendees can learn more about Big Brothers Big Sisters programs while also viewing silent auction items.
Uniting forces to help local families, Shahan says the Big Night In is not only a celebration of the Big Brothers Big Sisters mission, but also of the community working together to better the lives of children. Throughout the pandemic, Shahan and her team have collaborated with fellow nonprofits, lifting one another up to help underserved communities in the South Sound. Partnering with organizations like the Boys and Girls Club of Thurston County and the Family Support Center of South Sound, these local nonprofits are helping families to work toward a brighter future.
"This is a time where it really does take a village," says Shahan. "And we can provide that piece, that additional adult or high school mentor. We have lots of programs, schools and sites that are also trying to pivot and utilize their resources to match high school students with little kids. So, supporting the places that you've always supported even if it has to be in a different capacity is paramount to our success and then the health of the community."
Although Shahan and her team wishes everyone could be together in person for the BIG Night In, they hope this virtual event can still bring the community together to share in the Big Brothers Big Sisters mission of supporting these local children and families.
"The friendships and mentorship that is happening for the youth here in our community is only possible because of so many generous volunteers, donors and advocates," says Shahan. "It's a village ensuring that kids are empowered to realize their full potential, even in these unprecedented times. We are grateful for the continued support and cannot wait to 'see' everyone at the BIG Night In!"
Although there is no cost to attend the virtual BIG Night In, it is recommended for attendees to register prior to the event. Registration will allow guests access to the virtual event and will simplify the bidding process for auction items. To learn more about the BIG Night In, or to register for the event, visit the Big Brothers Big Sisters of Southwest Washington website.
Sponsored