This past high school track and field season wasn't just going to be about winning state championships for Northwest Christian Academy's Garrett McSheffrey.
Sure, McSheffrey, who had placed at state a combined seven times during his first three years, was most likely going to enter his senior season as the favorite to win the 800, 1600 and 3200 in the Class 2B ranks, but an even greater priority was to earn a college scholarship.
Odds are McSheffrey's resume was already impressive enough to accomplish that, but the gifted runner wanted to use the season to showcase his skill set to cast a wider collegiate net.
The cancelation of the spring sports season due to the COVID-19 pandemic put an end to that, leaving McSheffrey wondering if the college offers would be coming at all.
"I was very concerned about where I would go and how much scholarship I would get considering I was depending a lot on my senior season to set big PRs and accomplish big things," said McSheffrey, who also placed in the top 10 at the state cross country meeting three times. "The awesome part is that God had a plan for me all along despite the tragedy of losing my last season of track."
While it would have been easy for McSheffrey to rest on his accomplishments in hopes that things would simply worked out for the best, he decided to take a more proactive approach – training the entire summer and putting up trial times that drew the interest of several high-profile track and field programs.
"Garrett needed to continue to train to race because he hadn't yet pinned down a college choice and faster times of course get more attention from colleges," Northwest Christian Track and Field Coach Mike Michael said. "The dedication to training and the mental toughness to be able to run these times in trials rather than being able to race was very impressive. Any runner knows it's much more difficult to run good middle-distance times without an actual race."
In the end, McSheffrey may have lost out on a state title or two, but through his unwavering dedication and hard work, he is now heading to Arizona State University where he will be a member of the Sun Devils track and field and cross country teams.
"My recruiting process was not like any normal recruiting process. Because of the pandemic, I was not even able to go on a visit," McSheffrey said. "Most of the process was my family and I exchanging calls with ASU Coach Cory Leslie. After about one month of deliberation, I decided Arizona State was best for me."
McSheffrey becomes the second consecutive Northwest Christian graduate to join the Arizona State University track and field and cross country programs, joining 2019 graduate Ava Shackell, who capped her high school career by winning three state titles (800, 1600, 3200).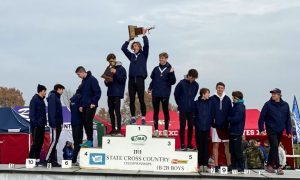 "I have talked a lot with Ava about ASU and their program," McSheffrey said. "She answered a lot of questions I initially had about the program. Ava's improvement at ASU during cross country and indoor track seasons helped give me confidence that I could fit in well as a Sun Devil. Having Ava at ASU already gives me a lot of comfort because I can go and feel a part of the team since I've already had her as a teammate."
"Any college would have done well to have Garrett join their team and ASU is fortunate to have been Garrett's choice," Michael said. "They will see a hard-working driven athlete, a natural leader and a young man who exhibits his faith in all that he does."
Even without his senior season, McSheffrey heads to Tempe with a gaudy list of accomplishments. He finished second in the 800 and third in both the 1600 and 3200 at the state meet during his junior seasons.
He was poised to have a huge senior season for Northwest Christian, potentially claiming state titles in all three races as he was the top returning athlete in all three events.
"When the season was cancelled, we decided to continue to train to run time trials and video these for potential college choices," Michael said. "The added challenge of social distancing made it even more difficult but Garrett has trained with our program in the off seasons for six years beginning in seventh grade and this was his final year and he was determined to record times that he had worked so hard for."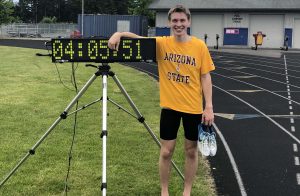 Following the end of the regular WIAA scheduled season McSheffrey ran a 1500-meter trial by himself with electronic timing and broke Lucas Graham's 2012 school record by running 4:05.51.  As he went through various trials, some event distances and some off-distance trials, McSheffrey also posted a 3:10 in a 1200-meter trial, a 2:54 in an 1100-meter trial that was set up to run a 1500 meter simulation without the final lap.
McSheffrey will now look to parlay that success into his college career.
"I could not have asked for a better program to be a part of for my high school career," McSheffrey said about Northwest Christian. "Cam Nielsen, Noah Phillips, and Ryland McCullough really pushed me to improve this year. Cam, Noah, and I have spent four years grinding workouts together and molding each other into the great athletes and individuals we've become. I'm also very grateful for my Coach, Mike Michael, for mentoring, shaping, and influencing me to be an honest, hardworking runner and more importantly, man of God."