It seems like a no-brainer. For small businesses and startups, what could be more helpful than advice from experts, workshops focused on everything from finance and marketing to system development, plus ongoing support to stay on track – all for free? And yet, many companies around Thurston County still don't take advantage of the abundance of resources at their disposal through the Thurston Economic Development Council's Center for Business & Innovation.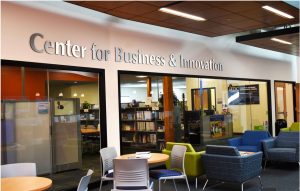 Now through funding from the CARES Act, two of those programs has added new services to serve our business community during these trying times. The Washington Center for Women in Business (WCWB) is one of the programs to have received the funding, which was then used to create Scale Up Consulting, a supplement to the three-part ScaleUp training series the EDC offers to local businesses to gain skills in system development, financial management and marketing. "We saw a real need for accounting when a lot of people who want to apply for federal grants and other funding sources didn't have their taxes in order to be eligible for funding," says Kaylee Purcell, COVID resource manager. Scale Up Consulting provides multiple CPAs to help clients file taxes and covers the filing fee as well as accounting systems set up using Quickbooks.
The free program helps clients create e accounting systems. "A lot of these small businesses don't have sophisticated accounting systems in place to track cash flow and pull standard reports easily," says Purcell. "We are excited to support businesses around budgeting and cash flow planning which can make or break a business; especially during a time of crisis."
With many operating remotely now, the CB&I team also saw a need for new ways for businesses to reach their clients online.  "If you weren't already selling online, the WCWB will cover the cost for an e-commerce website to help these businesses boost sales and enhance their online presence now that people are shopping online more than in person," she adds.
While the new offerings are focused on helping businesses weather COVID-19, the EDC and CB&I already provided a slew of resources through a collaborative system unlike any other in the state. Within the same building located at South Puget Sound Community College's Lacey Campus, the Thurston Economic Development Council, Center for Business and Innovation (CBI), Washington Center for Women in Business and the Small Business Development Center (SBDC) all operate alongside one another. "We have such a great collective collaboration," says Jennifer Dye, director of the SBDC. "We're launching a website specific to the Lacey SBDC because it's unique to have us all in one place." The SBDC also received CARES Act Funding and they are teaming up with the WCWB to create awesome resources that don't compete but instead complement one another.
For clients, that means free, one-stop shopping if they're looking for accounting support, including budgeting; tax filing; setting up an accounting system; QuickBooks classes; hospitality consultants; human resources consultants; excel classes; marketing classes; and health and safety regulations training. Soon the SBDC will be launching a website featuring short video training sessions on the services they provide and frequently requested topics of training.
Still, many businesses remain unaware of those services or wary about using them. "I think there's a distrust of free resources," says Dye, "because there is so much out there in the form of predatory advertising where the initial consult is free but then it's ridiculously expensive. I hear all the time from my clients, 'I can't believe this is free.'"
Both Dye and Purcell started as SBDC clients years before becoming staff members and therefore know firsthand the difference these programs can make. "They taught me how to do cash flow planning and it changed the way I do business," says Purcell. "It forever changed the way I see finance. SBDC advisors are so well-trained in that."
Now she's helping others do the same. "I love helping people see possibilities," she says, "and showing them an easier route to move from where they are to where they want to go."
Dye joined the SBDC after working in higher education and owning a business. "I joke that I made every mistake you could make during 22 years of having my own business," she says. "I want to be able to pass that experience on to my clients. But I also look at it as a learning opportunity because, with each new client that comes through my door, I learn about their industry and best practices. It's a very rewarding job."
One recent client stands out in both of their minds as an example of someone who took full advantage of SBDC resources to pivot their business in a way that helped them survive the shutdown. "This was a local manufacturer who went through the ScaleUp program," says Dye. "We connected them with Impact Washington a local nonprofit manufacturing consultant for free. They used all the resources available to them and be proactive about switching their business plan and they were able to maintain operations by getting really creative in the way they reacted to this crisis. It's been inspiring to see."
For more information visit the Washington Center for Women in Business website, the Washington Small Business Development Center website or call 360-754-6320.
Sponsored