Late spring in Washington is known for more than cherry blossoms, lilac scented breezes and days growing longer by the hour. It's also when we start to get restless for the outdoors, especially in 2020. With long weeks of quarantine bookended by winter and spring rains, we've all got cabin fever. But now that the weather's settling down (a little) and Thurston County moved to Phase 2 of the Governor's Safe Start Reopening Plan, it's time to get back on the water with the Port of Olympia.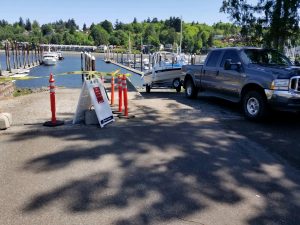 Statewide reopening guidance explains that outdoor recreation must include physical distancing, personal protective equipment (PPE), and the frequent hand-washing and sanitizing we've all grown accustomed to indoors and out. With this in mind, Port of Olympia staff have compiled a list of Swantown Marina updates and safety protocols for boaters, live aboard residents and aquatic guests.
Senior Harbor Manager TJ Quandt is excited to see folks returning to the water. But, he admits, with only one boat launch site open, "it's a choke point so we put in a staging area so people can keep their distance. On docks, be patient, let others pass and avoid crowding."
Also important, says Communications, Marketing, and Outreach Manager Jennie Foglia-Jones, are face coverings and masks when a six foot distance can't be maintained. This is in accordance to Thurston County Health Officer Dr. Diana Yu's masking directive issued during the last week of May. As a reminder, new signage is being added to all Port properties and their team is "constantly evaluating and making changes" as county and statewide regulations evolve, says Foglia-Jones.
The Port's public restrooms are open, but Quandt reminds boaters to "plan ahead, fuel up and bring provisions" as Port offices are closed to the public, the fuel docks now only accept credit cards, and many nearby restaurants and cafes operate on restricted take-out hours and menus.
Though Port offices are currently closed, staff are available and on-site to help everyone boat responsibly. "We want people to get out and enjoy boating," says Quandt, "Because it's the water that draws people outside in the Pacific Northwest and if it's done responsibly it's a safe distancing activity."
"Definitely come enjoy the sunshine and the facilities," echoes Foglia-Jones, "But be safe!" Taking safety seriously is especially important since Harbor Patrol for Olympia Harbor and Budd Inlet is currently suspended.
"If you're on the water and you have a problem, just call 911 or contact the Coast Guard via Marine Radio channel 16 or VHF channel 65A," says Quandt.
As with the majority of everyday life during quarantine, situations change on an almost weekly basis. Port offices will re-open during later phases of the Safe Start Plans and Guidance for Reopening. Though most all Port-sponsored events and festivals have been cancelled for 2020, "It's the water that is special, and we are happy that we can provide access," says Quandt.
If the water isn't enough to bring you to Swantown, maybe the fact that Swantown Marina & Boatworks was recently voted the Best Marina in both the Olympian newspaper's Best of South Sound and South Sound Magazine's annual Best of South Sound competition will draw you in. "It is an immense honor to be awarded South Sound's favorite marina and we truly appreciate the recognition," says Quandt.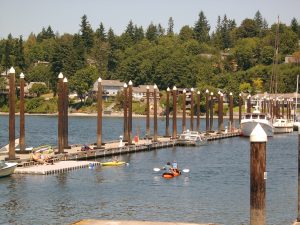 Being outdoors is more than just recreational. Studies show "strolling through an outdoor green space quiets the mind and lessens brain fatigue." This brain fatigue is a very real part of quarantine, say physicians: "In the current crisis, well-established routines have been completely upended and we are more isolated from our friends and family, many of whom are also struggling. We are also juggling more and new responsibilities, such as working remotely while managing virtual learning for our children. Add in a few sleepless nights and it is easy to understand why we might need reminders for things that we once recalled with ease."
Until we regain our footing and some degree of normalcy, these same doctors suggest stress management techniques and allowing yourself to "be patient and allow our active minds some rest." What better place to do this than on the water?
Whether for a long walk or afternoon sail, mid-week kayak or paddleboard picnic, enjoy the best Washington has to offer via the Port of Olympia's docks, launch, walking trail or benches and tables along the water. Plan ahead, pack your mask and don't forget sunscreen.
Follow the Port's Facebook page or Swantown Marina and Boatworks portal for current fuel prices, facility updates and coastal forecasts.
Sponsored