The Genetic Support Foundation (GSF) in Olympia is the only nonprofit genetic counseling service that assists people in their quest for genetic information. And it is located right here on the west side of Olympia.
Need help navigating your genetics? GSF is geared up for doing just that. In a world of growing awareness about our DNA and family history, a resource such as this one is priceless. Genetic testing means looking closely at your DNA for a variety of reasons. Often, it is done to look for mutations that can indicate a predisposition for diseases and cancers.
Whether it is sorting through new facts from a mail-in DNA test or a journey to discover the right treatment for a recent diagnosis, an independent, unbiased guide in the medical industry gives people a clear perspective. GSF is not affiliated with any commercial genetic testing laboratory. Its mission is simply to improve health by way of providing current information on genetics to providers, patients and organizations. Their aim is to facilitate people in learning about and understanding their options so they can make informed decisions.
"My hope for Genetic Support Foundation is that we will be a trusted resource for information about genetics and health for both patients and healthcare providers," says Katie Stoll, executive director and genetic counselor for the Genetic Support Foundation. "I believe we can help people cut through the marketing-hype and misinformation about genetics so that they can make informed decisions for their health and for their families."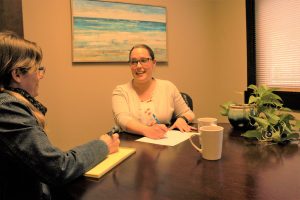 Clients connect with GSF either through a referral from their provider or from self-referring. The service provides discussion of personal, family genetic history for a range of purposes. Someone may wish to learn more about the results of a DNA test that they did through an online company. Genetic counselors can assist with interpretations of those results. They can counsel clients in pre-pregnancy planning and discuss genetics in relation to difficulty conceiving. Another common topic is walking patients through test results regarding certain genetic markers for hereditary cancers such as the BRCA 1 and BRCA 2 mutations. A client may want help pinpointing the most effective treatment based on those genetic markers or discovering that family history in the first place.
Consultations are available in person or electronically. That means clients can speak with counselors from the comfort of home or other remote location through video conferencing. Whether your visit is in the west Olympia office or through telehealth technology, you will be met with warm smiles. However, the office location may have the kettle on for tea.
The team at the nonprofit foundation is made up of counselors who are not only trained in the field of genetic counseling but also are supported by their education in the science field. In addition to being a firsthand, listening ear and resource, the foundation provides additional, electronic access to a wealth of information. Through their website, a resource library is filled with topics related to many genetic subcategories. The library includes a blog with current events in the genetics field such as DNA testing and personal stories. Video links that explain prenatal genetics are available in English, Spanish and Swedish languages.
The support goes further too. Meeting with others about hereditary genetic cancer risks can be a value to clients as well. GSF also offers a support group for those who wish to gather and discuss topics and share thoughts. Follow them on Facebook and signup for their newsletter to learn when meetings take place. .
The first thing people often seek assistance with is processing their newly acquired medical information. They may arrive with the results from a mail-in DNA test, with test results from their physician or simply a yearning to know how their family's medical history may affect them. Genetic counselors at GSF can help sort through the details.  Next steps may include considering further testing and what further testing could provide. After sifting through family history details and discussing newly unleashed thoughts and questions, the clinic offers further direction. They can help answer insurance coverage questions and give advice on how to talk to your family about your genetic information. They can enlighten you to preventative measures regarding your health and help with contacts for those services. When it is time to go forward, clients leave with a full, written summary of their visits.
The Genetic Support Foundation, the only nonprofit counseling service of its kind, is located at 201 Caton Way SW, Suite 102 in Olympia.
Perhaps your query starts out of curiosity. Perhaps it's in preparation for a pregnancy. Maybe a medical diagnosis inspires you to learn more about your particular genetic make-up. GSF's goal is to provide insight and resources and to help clients make informed decisions.
Sponsored