It's now become part of Brandin Riedel's pre-game routine, right up there with the essentials like tying his shoes and putting on his jersey.

Recently, before every Capital High School boys basketball game, Riedel, the Cougar's talented 6-foot-7 forward, will slide a couple nasal plugs into his socks, knowing they will be called upon later.
Against 3A South Sound Conference rival Timberline, it was early in the fourth quarter. After receiving an incidental elbow to the snout while scrapping for a rebound, Riedel made a rare game exit, rushing over to get cleaned up by the trainer before retrieving the item from their storage.
He popped one in, stopping the bleeding, and was right back on court, setting up shop in the paint on offense and altering shots on defense.
Life can be physical in the post. Elbows and shoulders can be unforgiving when they find their mark. None, however, have slowed down Riedel this season.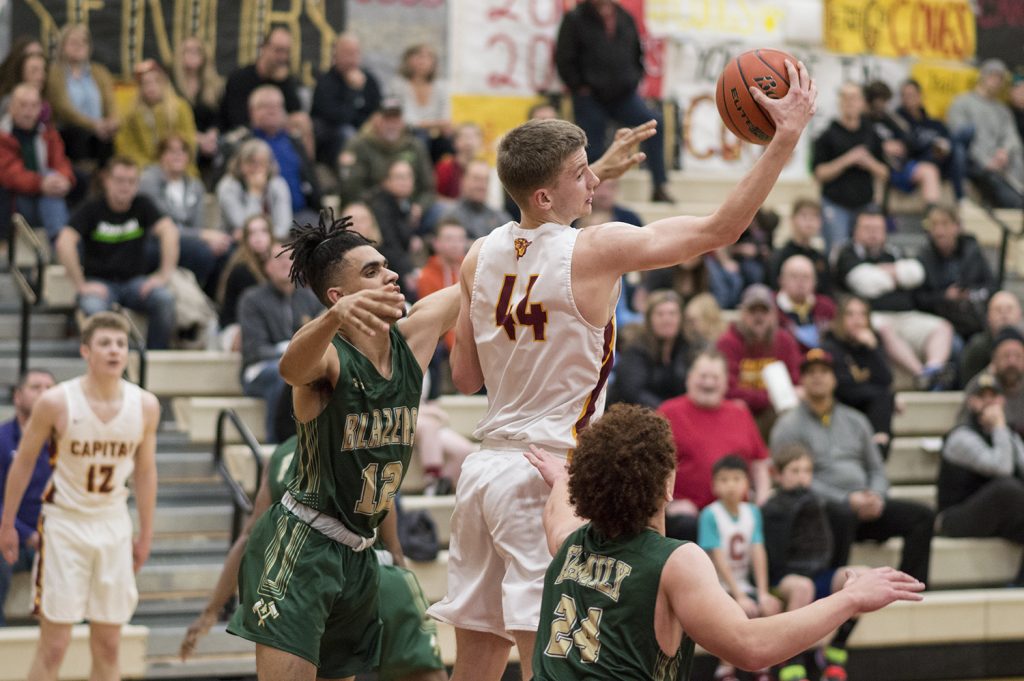 "The last couple of practices we've really been going at it and I've got a bloody nose every time," said Riedel about his decision to have the nosebleed remedy at the ready. "I don't want to be out of the game for very long. So, I need to be ready no matter what."
Capital, which has won at least a share of the South Sound Conference title two out of the last three seasons, has once again positioned itself for a title run despite suffering major turnover from last year's team.
Graduated from a squad which advanced to the state playoffs for just the third time over the last 23 years were standouts Chris Penner, the program's all-time leading scorer, and Grant Erickson, last season's conference defensive MVP.
Riedel is a large reason why Capital is yet again eyeing another conference championship.
"Brandin played behind Grant and Chris the last couple of years, but by the fourth game this year he was demanding the ball and he stepped up as a leader," said head coach Brian Vandiver. "He embraced that role, and we needed him to do that for us to be successful."
Labeled an "old school" player by his coach due to post moves on offense and physical play, Riedel is averaging 16 points, 10 rebounds and 4 blocks a game this season, leading the team in all three categories.
"He just gets the game," said Vandiver, who has led the Cougars to a 70-23 record over the last four seasons. "Offensively, his footwork is really, really good and he's smart. He's a very cerebral player."
A heady player in the paint, indeed.
Take shot blocking for example. Reidel is about as clean and technically sound a player as you'll find, smartly using his length with perfect timing and rarely being whistled for a foul. He doesn't swat, he extends, making the shooters' task difficult even when he doesn't get a piece of the ball.
He credits former player Erickson for helping him understand that aspect of that game among others.
"Playing against Grant taught me a lot," Riedel said. "He taught me to secure your spot on the block. He took it to me at practice, but it made me a better player."
Becoming a physical player down low has been a transformation for Riedel, who entered the program as a freshman weighing 160 pounds – 45 less than he weighs today.
"I was just all bones my freshman year," Riedel said. "It was a big learning experience playing JV when I was a freshman. They just bodied me. I knew I had to get into the gym and work hard and get bigger. It's an aggressive game, especially being a big man. Getting pushed around the key, you can't let that happen. You have to push back."
Now it's Riedel doing the pushing.
"He's improved so much over the four years. When he came in, he was super skinny. You look at him now and he's broad shouldered. He knew he had to get in the weight room and get stronger and he dedicated himself to that," Vandiver said.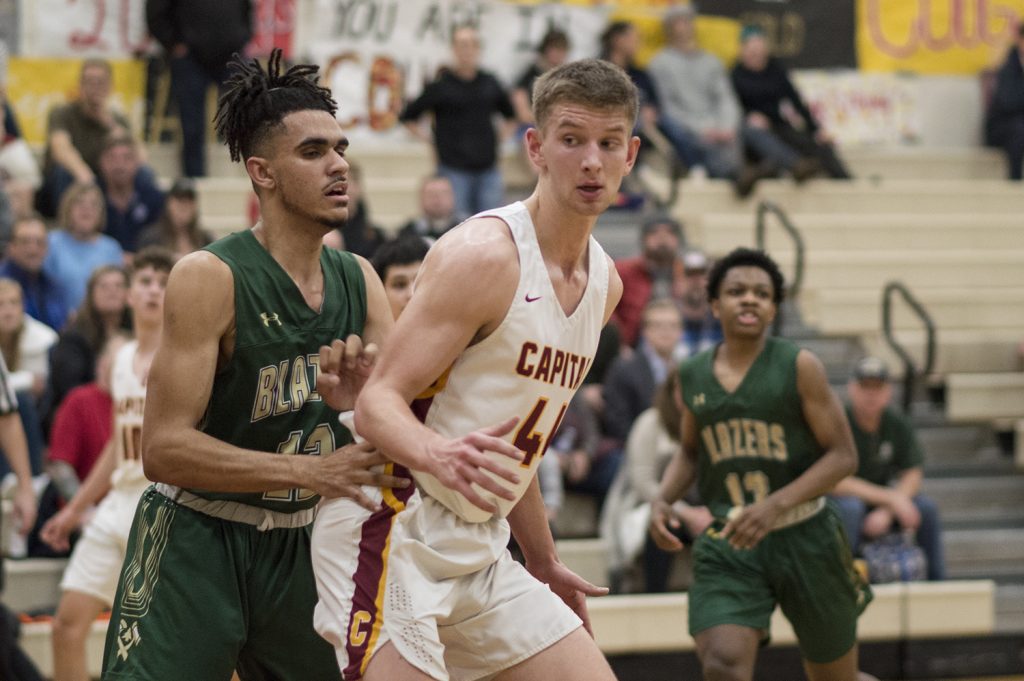 "He works extremely hard at his game. He embraces coaching, which not all kids do. He excepts constructive criticism and because of that he's grown. He's just a joy to coach. He's doing everything we need. He's the type of guy you want in your program."
Riedel is one of seven seniors on this year's roster. He is joined by Jake Brandsma, Jared Davis, Clayton Grady, Spencer Halstead, Payton Newman and Connor Potkonjak.
The Cougars will look to secure a district playoff berth in the final two weeks of the regular season. A top six finish at districts would give the program consecutive state playoff appearances for just the second time in history and the first since 1996.
"Our starting lineup is all seniors so we need to do everything we can to carry the tradition of winning a league title and being a winning program," Riedel said. "We want to drill into each other to work hard and have passion."