Submitted by Thurston County Storm and Surface Water Utility
Water shapes and sustains Casey Kramer's life, just as it shapes and sustains the land across Thurston County, where he calls home. Now, he works hard to return the favor.
"I grew up in the Puget Sound region," Kramer says. "Some of my fondest memories are camping, hiking, and fishing for trout and salmon in freshwater streams with my dad in the Cascades."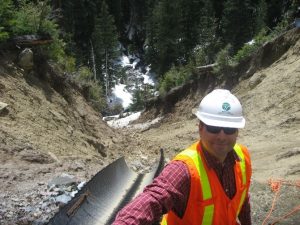 A connection with water was born in those early days for Kramer, which later grew to a realization that clean water was the key to this quality of life and the means to providing future generations with similar connections and experiences. He later built a career around working with and protecting water.
As a hydraulic engineer, Kramer's passion is finding solutions for how best to help water interact with the landscape and our community infrastructure (think water drainage off and under roads, through pipes, culverts and bridges, and through river corridors). He has led hundreds of engineering projects, worked on public projects and policy and led projects to improve stream habitat and flow. After he moved on to be a principal engineer for a private consulting firm, he found a new way to continue serving the public and protecting water—as an appointed volunteer member and recently-elected chair of Thurston County's Storm and Surface Water Advisory Board.
"Board members represent the interests of Thurston County citizens and help make recommendations to the County Commissioners on stormwater utility rates, construction projects, policies, and programs," Kramer says. "The goal is to bring a diverse perspective to the process and inform decision making to help protect our communities from stormwater flooding and pollution." Board members also include a shellfish farmer, a lawyer, and an environmental advocate.
Despite his impressive resume and public service, Kramer emphasizes that most everyone has what it takes to serve in this way. "You don't need to have any special skills or qualifications to serve on this board other than being passionate about our watersheds and wanting to learn and help. You bring your life experiences to the table, and you combine that with those of others." In fact, Kramer encourages anyone interested in serving on this advisory board to consider applying at any time, as Commissioners make appointments as vacancies emerge.
Kramer shares that advisory board members "get to learn about things you might normally take for granted, especially about how local government works and what it takes to get the job done. You get to think about things from different perspectives and hone your leadership skills in listening, public speaking, and building trust and collaboration with others."
What does Kramer hope to accomplish before his board term expires in a couple years? After thinking in silence for a few moments, he offers a compelling vision: "We need to understand how pollutants are entering our streams, take action to minimize that, and treat the water that's already polluted to make sure we have clean drinking water and healthy lakes and streams for people, fish, and the other aquatic organisms in the food chain. I want to help make sure that the County is on track to do that and is a leader in protecting water resources with cutting edge programs that are consistently improving."
If Kramer—and other dedicated volunteers like him—continue working on behalf of our communities' water-related needs and priorities, that outcome just might hold water.
To learn more about the Thurston County Storm and Surface Water Advisory Board, dig into meeting minutes, or to apply to serve as a board member, visit the Thurston County website.