On a blustery and chilly January morning in Seabrook, as construction crews power through development projects with summer bustling days full of tourists in mind, a small bike shop warms Front Street with undeniable style.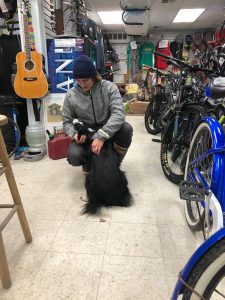 Buck's Bikes has been a mainstay of Seabrook since 2016 after Buck Giles moved into a virtually empty space on one of Seabrook's main drags. With Buck's vision and tenacity in hand, he converted the blank canvas into a functional repair and rental shop. The size of the shop may seem deceptive, as the layout is versatile and includes a watershed that holds kayaks, surfboards, and other watersports gear, as well as an adjacent field turf just outside the storefront that accommodates a canvas skimboarding pool as the warmer weather moves in. This allows for a bit of instruction before patrons take to the waves on the beautiful beaches below. Inside the shop, a wall of tools indicates that this is a place where a bike can find new life, while vessels for adventure—with two wheels or one board—literally fill the space from floor to ceiling. Just around the corner on Main Street, more water sport merchandise can be purchased at Buck's other business—and another absolute staple in Seabrook—Red Cedar Surf Co.
Buck has always loved the outdoors, but ultimately found a passion for bicycle repair while working in a bike shop when he was away at college in Utah, studying engineering. "Working in a bike shop was my Zen," Buck recalls, "It was the release—I was able to turn off my brain and just solve a problem that was directly in front of me with my own two hands."
After returning to Washington, and while working in construction, Buck decided to continue his bicycle repair work on his own terms, by investing in a 1970 Chevrolet P30 he calls a "shop on wheels."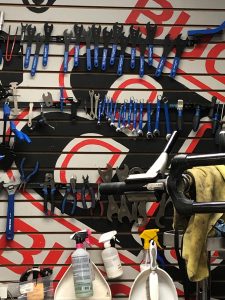 "This'll feed my habit, and we'll see if it goes anywhere," Buck remembers thinking to himself about the day he finished adding the vinyl to his box truck full of tools.
Although the intention was to operate his mobile business primarily out of Ocean Shores, Buck was quickly approached by Seabrook Founder, Casey Roloff, requesting his services to repair the many rental bikes that were experiencing extensive wear and tear, as they were at the time inadequately stored in a tent. As the vacation destination grew, and with it the potential for more outdoor recreation opportunities, it became clear that Buck needed a permanent storefront. When the Front Street space became available, he was ready to move in.
Everything from the layout of the shop to the sign hanging out front was designed by Buck, and that vision has spilled over into other projects throughout Seabrook, particularly within its iconic forests. Buck has always been an advocate for outdoor recreational tourism. He saw the investment Seabrook had already made in the surrounding land to accommodate a couple of mountain biking trails and took inspiration from another Washington town to the northeast to continue that progress. "A perfect example is Darrington, Washington," Buck says. "It's an area similar to Grays Harbor, where you have a timber industry, but Darrington is right outside where the Oso landslide tragedy happened. They picked themselves up and pursued one great thing they had going for their town, and that was recreational tourism."
Darrington partnered with Evergreen Mountain Bike Alliance, a nonprofit that creates and maintains mountain biking trails in the state of Washington. One of the major keys to the organization's success in areas like Darrington has been its ability to work in coordination with the Department of Natural Resources to source land and build public trails with respect and sustainability in mind throughout every step of the process.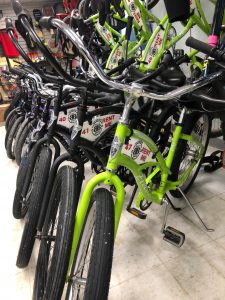 "I've been beating the drum of recreational tourism for as long as I've been here, and as much as I'd like to go to every County Commissioner meeting, it can't always be that way," Buck says. "Early on, Seabrook saw the potential and hired Evergreen Mountain Bike Alliance, and they've come in and placed more trails along Seabrook property. As I'm riding through the forest, I can't help but look for more opportunities to add trails. There is a parcel of land that we found, and it is owned by the Department of Natural Resources, and it's public trust land."
Buck serves as the Southwest Regional Representative for the Olympic Peninsula Bicycle Alliance (OPBA), a nonprofit that aims to set the Olympic Peninsula apart as a "premier cycling destination."
"Through OPBA, we signed an Adopt-A-Trail Agreement with DNR to essentially take management of the land," explains Buck. This means the land will soon be home to even more public trails, accessible to everyone. Buck wants to make sure people don't look at Seabrook's trails as exclusive to Seabrook residents alone. "Especially this DNR land, this is public land. It's for everyone to enjoy."
Tips for Those New to Mountain Biking
Mountain biking can seem quite overwhelming for those whom have never tried riding off the beaten (or paved) path. It can be hard to know where to start. Buck recommends leaning into the social aspect of riding, for those just starting out. He suggests finding group rides where all levels of experience are honored, like the MTB Montesano Group rides on Wednesdays at 6:00 p.m. and Saturdays at 10:00 a.m. at the Lake Sylvia State Park. "It's great because it is a no-drop ride," Buck explains, "so no one gets left behind." Buck also hosts Saturday morning group rides from Memorial Day to Labor Day starting at 9:00 a.m.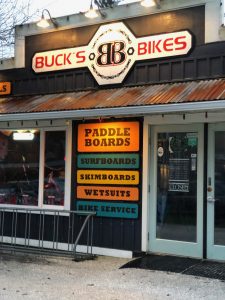 New adventurers can also take advantage of Buck's guided Copalis River kayak tours every Saturday at 10:00 a.m. or 2:00 p.m. There is a minimum group requirement of at least two participants, so it's a great opportunity to try a new adventure sport with a group of friends in a breathtakingly beautiful location.
Buck Giles's expertise and passion for outdoor adventure reminds residents and tourists to Seabrook that pursuing this kind of fitness is not only good for the body and soul, it's good for the community too! For more information, visit the Buck's Bikes website.
Buck's Bikes
30 Front Street, Pacific Beach
360-986-0325
Red Cedar Surf Co.
219 Market Street, Pacific Beach
360-712-0363
Sponsored