The Seattle Seahawks have named Tumwater High School football coach Bill Beattie as its 2019 NFL High School Coach of the Year for the state of Washington.
Beattie, who took over the Thunderbirds' program three years ago from long-time coach Sid Otton, guided Tumwater to a perfect 14-0 record this season, culminating with a 48-34 win over Steilacoom in the Class 2A state championship.
The award, which is sponsored by UnitedHealthcare, was presented during a pre-game ceremony at CenturyLink Field during the Seahawks game against the Arizona Cardinals on December 22.
"UnitedHealthcare is delighted to celebrate with 2019 High School Coach of the Week honorees and the 2019 Coach of the Year, Bill Beattie," said Claire Verity, CEO, UnitedHealthcare of Washington. "The work of high school coaches is incredibly impactful, not just in coaching the game, but encouraging youth in our communities to live healthier lives."
As the Coach of the Year selection, Beattie and the Tumwater football program received a $2,000 grant from the Seahawks and $10,000 grant from UnitedHealthcare.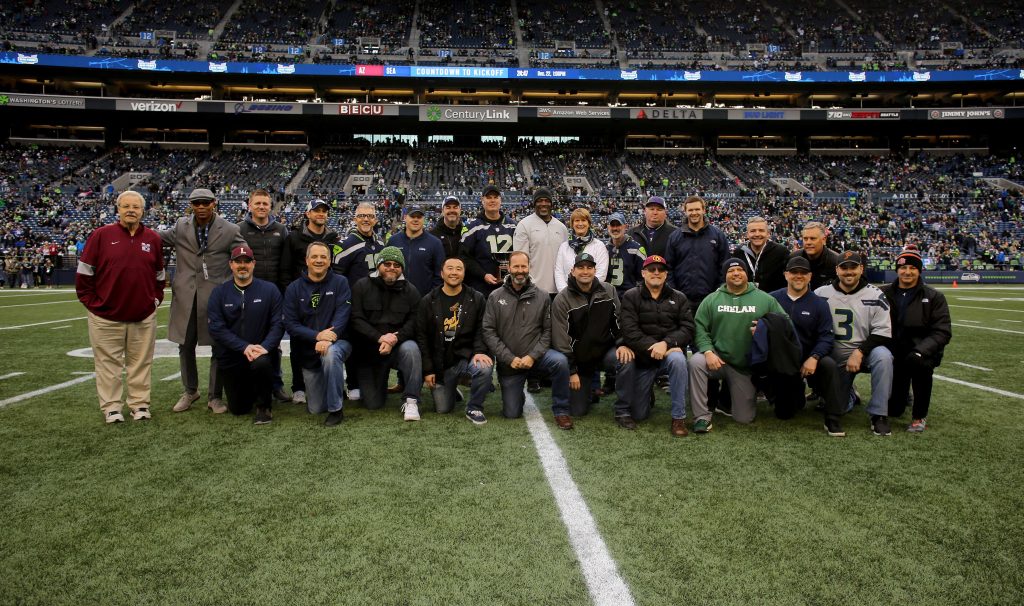 "It's really an award that represents our community and our school, and our players and coaches," Beattie told Seahawks.com.
Beattie is 35-5 during his three-year run at Tumwater and has a career record of 234-101 over his 32 years as a head coach, which also include 22 years at Olympia and seven at Elma.
It marked the sixth state championship for the T-Birds, and the first under Beattie. The team joins the 1989 and 1990 squads, which both won 3A state titles, as the only undefeated state title teams in T-Birds' history. Tumwater also won titles in 4A in 1993, 3A in 1987 and 2A in 2010.
The previous five state championship teams at Tumwater were all coached by Otton, who as a two-time honoree of NFL Coach of the Year for the state of Washington (2010, 2016).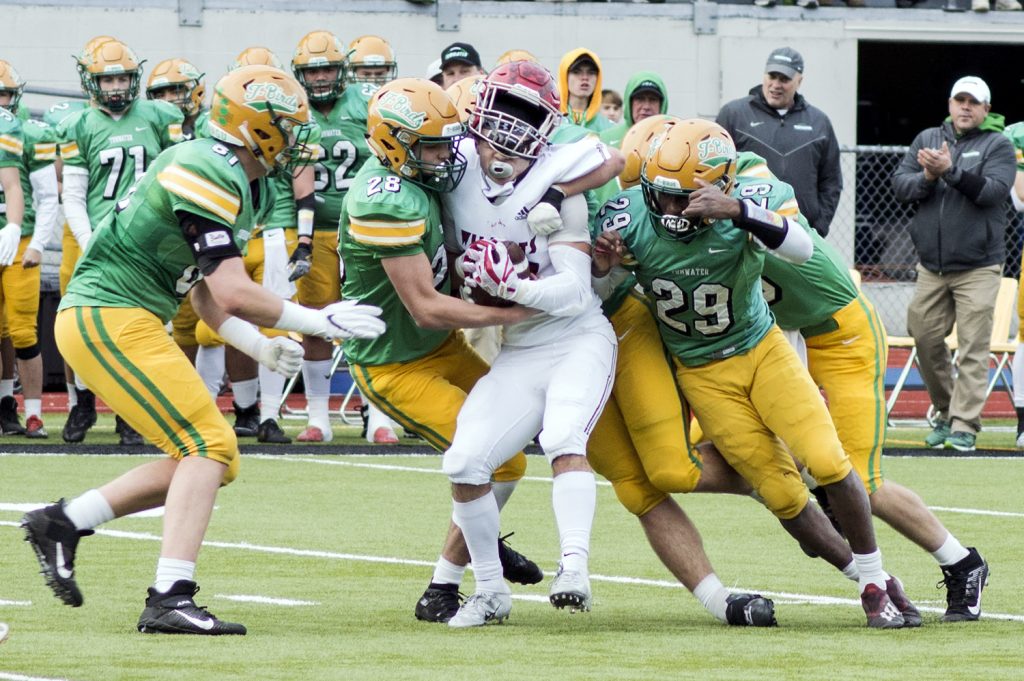 "Coach Otton, who started this back in 1974, has just done a fantastic job setting the tone for this. And to come in here the last three years and be able to keep that tradition going," Beattie said. "Then our coaches and our players worked so hard and to have them get the benefit of winning this at the end of a great year like this is fantastic."
Beattie was joined by fellow 2019 state champion high school football coaches Jon Eagle (4A, Camas), Dominic Daste (3A, Eastside Catholic), Wiley Allred (1A, Royal City), Mazen Saade (2B Onalaska) and Jeff Nelson (1B, Odessa) to raise the 12 flag prior to kickoff during the Seahawks' game against Arizona.
"The Seahawks do such a wonderful job with this (and) to have the opportunity to do something like this, that's one of those bucket list items," Beattie said. "Not very many people get to do that so (I'm) very, very grateful."
Beattie and his coaching assistants were also named the coaching staff of the year by the 2A Evergreen Conference.
Tumwater junior lineman Jacob Schuster was named the EvCo's most valuable player, while senior running back Dylan Paine was the conference's offensive player of the year after rushing for 1,729 yards and 28 TDs with his best performance coming in the state championship game where he ran for 229 yards and three scores.
The T-Birds also had first-team all-conference picks in seniors Villami Hofoka (offensive line), Hunter Baker (running back), Ty Gilliland (punter), Tyler Woods (linebacker) and Gaven Murphy (linebacker), juniors Cooper Wall (defensive end), Turner Allen (defensive back) and Jaylen Clay (defensive back), and sophomores Ryan Otton (defensive end) and Austin Terry (tight end).
Honorable mention all-conference recipients included Austin Working (senior, offensive line), Danny Goodburn (senior, wide receiver), Cody Whalen (junior, quarterback), Jack Jones (junior, defensive back), Nathan Vani (junior, kicker) and Ryan Orr (sophomore, defensive back).
Tumwater began its run toward the program's sixth state championship with a 66-13 win over Columbia River in the district playoffs. Three more lopsided victories followed with triumphs over Franklin Pierce (56-7), Archbishop Murphy (48-0) and two-time defending state champion Hockinson (55-7).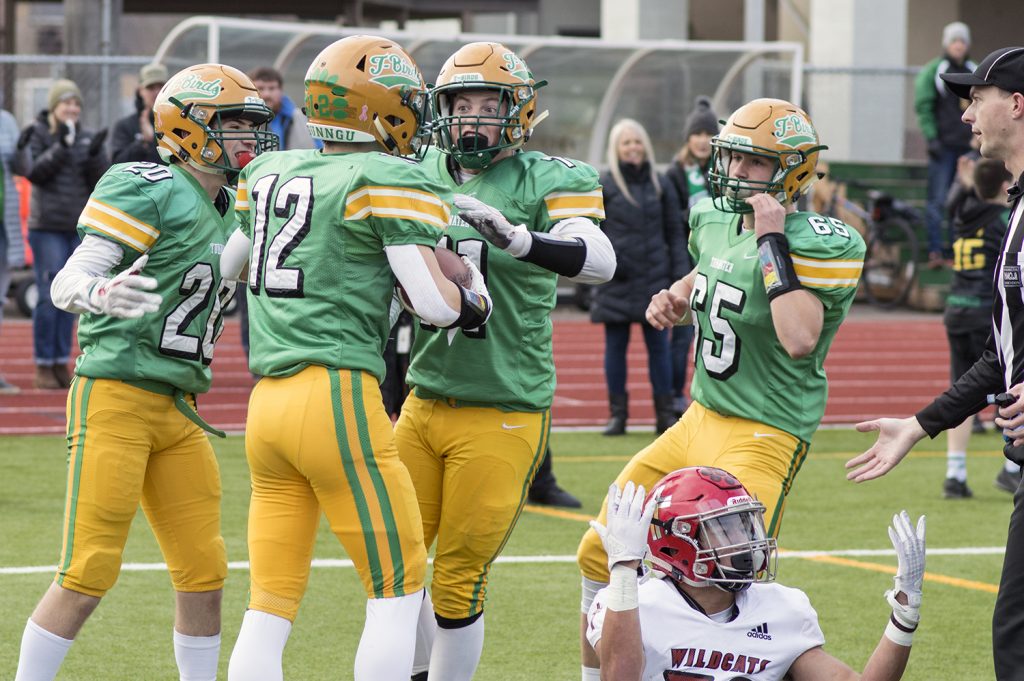 In the title game against Steilacoom, the T-Birds overcame an early 6-point deficit after Whalen hit Goodburn on a 22-yard scoring strike midway through the first quarter.
Paine added touchdown runs of 2 and 42 yards in the second quarter to give Tumwater a slim 20-13 lead at the intermission.
Baker, who finished with 164 yards on 10 carries, scored on third-quarter runs of 55 and 87 yards, while Paine found the endzone on a 34-yard scoring scamper to help Tumwater build a 41-20 cushion.
Leading 41-34, Terry sealed the victory by returning Steilacoom's attempted onside kick 43 yards for a TD with 63 seconds remaining.
The T-Birds finished with 422 rushing yards, breaking the 2A state title game record of 406 set by Othello in 2002. Baker's 87-yard TD run was the longest in 2A state championship game history and Paine's three rushing touchdowns matched the record set by Prosser's Steve Natho in 2007.