Almost every month, the Lacey South Sound Chamber highlights one of its members as the Business of the Month at their forum. Businesses that are capable of receiving this award are from every sector of business in the community "We like to spotlight businesses that are engaged giving back to our community, so that members and the public can see who is making an intentional impact," says Shyanne Sanchez, office manager for the Lacey South Sound Chamber. If you missed any of this year's recipients or would like a quick reminder of these outstanding businesses and organizations and what they do, take a look below to get to know each of them more.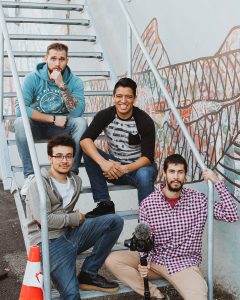 Cabin Light Studios (formerly Media Marketing Solutions)
Cabin Light Studios is a professional video and film production company. For those looking for a television commercial or dynamic content for their website, the Cabin Light Studios team is the one to call.
121 State Avenue Northeast, Olympia
360-688-1694
PCI Pest Control
PCI Pest Control is a veteran-owned family-run business specializing in the most effective and up-to-date techniques to keep homes pest-free. They put an emphasis on making connections and community service, says Matt Purcell, founder and owner. "The people in the Chamber are very active in our community," he says, "so we are frequently seeing other members at after-hours events, and community service organizations and activities."
Recognition by the Chamber helped them make more connections with new customers and other area businesses. "It's an honor to receive the recognition and publicity," adds Purcell.
2812 Pacific Ave SE, Olympia
360-628-8625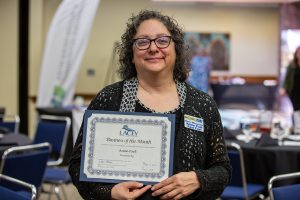 Acme Fuel Co.
With two Fast Fuel stations in the South Sound, Acme Fuel Co. is the definition of a local business. "This is where the focus of our operations and philanthropy is," says Christophe Allen, president and co-owner. "We give to local charities and organizations that serve people in this community." For 95 years, Acme Fuel Co. has been a part of the community, with services to homes and businesses in addition to their Fast Fuel stations. Looking ahead, they are beginning a complete remodel of their Lilly Road Fast Fuel station, with plans to break ground this winter.
416 State Ave NE, Olympia
360-943-1133
Fast Fuel Stations
501 Lilly Rd SE, Olympia, and 303 Thurston Ave NE, Olympia
PC Technologies
The IT Experts for Thurston, Pierce, Lewis, and Mason counties, PC Technologies helps businesses increase their productivity and get more out of technology. They specialize in solutions that safeguard and protect data and keep operations running smoothly.
3739 Griffin LN SE, Olympia
360-491-2227
Sandstone Distillery
Located in Tenino, Sandstone Distillery produces a variety of spirits from Washington-grown grains. From whiskey, vodka, and gin to small-batch sipping vinegar, Sandstone Distillery creates special and unique products that cannot be found anywhere else. Every visit to their tasting room and store is an experience.
842 Wright Rd SE, Tenino
360-264-1901
Intercity Transit
2019 has been an exciting year for Intercity Transit. "We increased service by 25 percent, that's almost 51,000 hours, to better serve the community," says Ann Freeman-Manzanares, general manager. By starting service earlier, ending later, and arriving more frequently, Intercity Transit has been able to meet the needs of new and continuing riders alike. They rolled out the One, a new limited-stop express line, and have hired over a hundred new employees. They are finishing up work on the Olympia Transit Center facility and have been implementing plans to transition to zero-fare service in January 2020.
222 State Avenue, Olympia
360-786-1881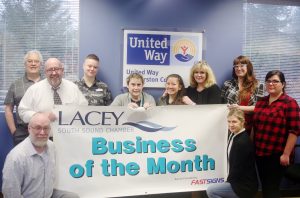 United Way of Thurston County
The United Way of Thurston County is a non-profit that advocates for the health, education and financial stability of all of Thurston County. They identify critical needs in Thurston County within focus areas and invest in local nonprofits doing the best work to meet those needs. They help solve issues by bringing together community stakeholders and collaborating to develop short and long-term strategies to benefit the community.
3525 7th Ave SW Suite 201, Olympia
360-943-2773
America's Credit Union
America's Credit Union is a not-for-profit financial cooperative originally formed on Fort Lewis in 1954. Membership is open to anyone who lives in the Pacific Northwest, including members of the Armed Forces and their family members, civilian personnel, Veterans, and military retirees. With 15 locations across the South Sound, from Yelm to Puyallup and Lacey to Tacoma, and everywhere in-between, America's Credit Union is available with services in personal or business banking.
253-964-3113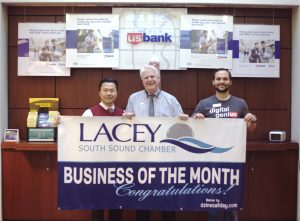 Michael Jameson and Lacey's US Bank
The Chamber's most recent spotlight is on Michael Jameson and Lacey's US Bank for the month of December. "He is a dependable mortgage officer, who shares his customer's vision for success," says Sanchez. "Working with Michael is like working with a knowledgeable longtime friend."
5520 Martin Way E, Lacey
360-923-2475
Each Lacey South Sound Chamber 2019 Business of the Month is different, but what they all have in common is a commitment to excellence and service for their customers and the community. Stop by one of these businesses or organizations or give them a call and get to know them better. They would surely like to get to know you. If you are on the hunt for other great businesses in the region in every type of industry and any service, the Lacey South Sound Chamber has you covered. Check out their business directory online, or find them on their social media page on Facebook.
Sponsored