There is a park just north of Olympia full of lush trees, beautiful hiking paths and all the oyster harvesting you can imagine. It's Tolmie State Park, a gem known to locals who like to get a small piece of serenity when they have the time. Tolmie is good for those who just want to time to soak in the sun by the water, hike to clear their mind or even show their kids a piece of the Puget Sound. For all who love the outdoors, Tolmie State Park is a great place to take in Washington.

According to the Tolmie State Park website: "Tolmie State Park was named for William Fraser Tolmie (1812-1886), a doctor of medicine who served 16 years with the Hudson Bay Company at Fort Nisqually as a physician, surgeon, botanist and fur trader. Washington State Parks acquired the first parcel of land that is now Tolmie State Park in 1962."
Tolmie is home to 3 miles of hiking trails, 1,800 feet of shoreline, and when the tide is out plenty of oysters and clams are ready for the harvesting. While you're out enjoying the quiet serenity of Tolmie State Park, you'll get to see all sorts of wildlife. From stunning birds, to maybe an occasional harbor seal searching for food, you're bound to see many different parts of the Tolmie State Park ecosystem.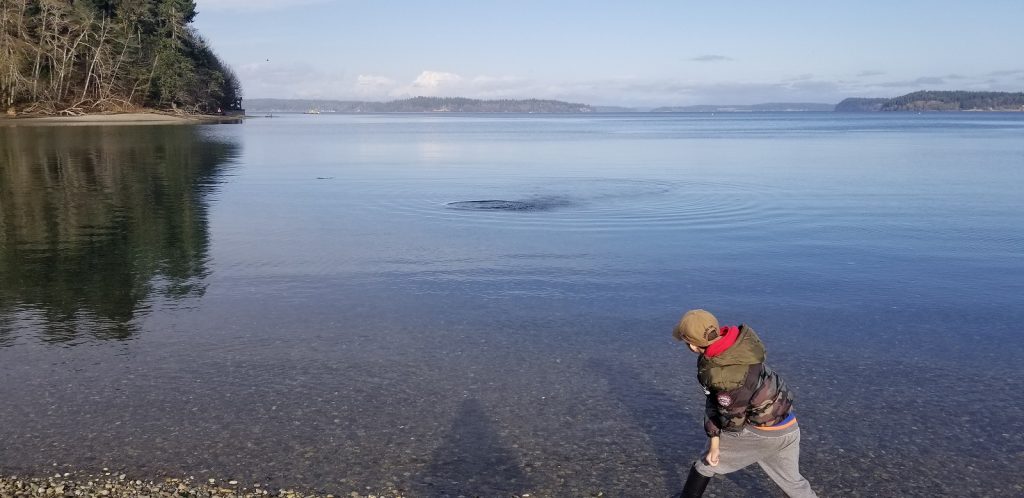 If you like to harvest your own oysters, Tolmie State Park is a great place to do so. Before you go, always check your local tide chart to find out when the tide is low. You'll also need to make sure you have a shell fishing permit, accompanied with your muck boots, ice bucket, shucking gloves and an oyster shucker. The gloves are important because those shells are sharp, and cut up hands are no fun. Also note that you must shuck the oysters and leave the shells behind, as it is important for reproduction.
But you don't have to collect oysters to enjoy the water. There are big logs you can sit on, or picnic tables on the grass in the shade.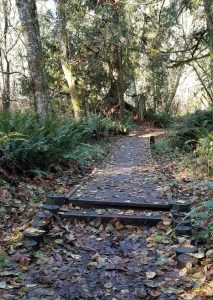 Now, if you are not into playing near the water, there are plenty of trails to hike on. There is a map located at the end of the bottom parking lot and it shows each trail and the distance within the hills. Each path also provides a length of time you should allow for your excursion.
The Sandy Beach Trail starts near the shelter by the water, and it's an easy hike for smaller kids. Should you attempt the 4 Cedars Trail with younger children, it's best to bring along your carrier or baby hiking backpack to wear the tots. I made the mistake of not doing so, and ended up carrying one of mine for quite some time. However, if you don't have kids all of the trails are great. You get to walk beneath the tall stunning green trees, amidst heavenly fern groves, and paths that are well kept. No matter what your speed, as long as you allow for time, you'll truly enjoy all the trails.
Since this is a state park, a Discover Pass is helpful. Not only does a Discover Pass get you into Tolmie State Park, but it will also work for all state parks in Washington. If you don't have one, you can pay the day-use fee of $10 at the electronic pay station.
Tolmie State Park also has two shelters that hold up to 50 people; both have kitchens, grills, sinks and bathrooms. The website mentions that "earlier reservations are recommended" and that's only because they only have one shelter working at a time.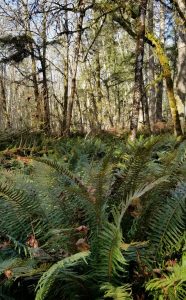 Tolmie State Park also has different summer and winter hours. In the summer, it is open from 8:00 a.m. to dusk. In the winter, it's open Wednesday to Sunday 9:00 a.m to dusk. It is easy to see why Olympians love the outdoors. Water to play in or kayak on, trails to hike and food to harvest Tolmie State park provides it all. It is a truly great destination just in our backyard, and a place for all to enjoy.
Tolmie State Park is located at 7730 61st Avenue N.E., Olympia, WA 98506.