Dogs in holiday sweaters. Riders on horseback. Tractors festooned with reindeer antlers. And of course, children everywhere, craning to get a look at Santa, squatting to pick up candy thrown out of passing parade floats and tugging their parents onto the next activity or cup of hot chocolate. Throw in a live soundtrack performed by choir students from six elementary schools, two middle schools and Yelm High School, plus two bands, and you have Christmas in the Park, Yelm's annual celebration of community spirit.
On December 7, the Yelm Chamber of Commerce and City of Yelm hosted the 31st annual event and this year, the weather cooperated. This year's theme was the T'was the Night, a concept developed by the Chamber's Activities Committee. "We wanted something that was fun and really captured the holiday magic and spirit of this event," says Line Critchfield, chamber executive director. "This theme made it easy for people to come up with their own ideas and really get into the spirit of Christmas."
In this year's parade, volunteers of the Yelm Parks Advisory Committee Bill and Sara DeVore were named as the Grand Marshals based on their service to the Yelm Community. Bill has been with the Yelm Police Department since 1995 and was recently awarded Best Law Enforcement Officer in the Best of Nisqually contest, facilitated by the Nisqually Valley News. The couple dedicates time to the Justin D. Norton Scholarship Fund, Cuffs-n-Trucks Golf Tournament, and Crimestoppers, as well as conducting fundraising events for community groups through the 507 Taproom and Filling Station, a new business they own. "We are so grateful to have caring and compassionate individuals who dedicate countless hours to benefit our community," says Critchfield.
The Chamber of Commerce hosts the parade and coordinates with the City of Yelm Police and Public Works Departments to reroute traffic and allow for nearly 60 businesses and organizations to march down Yelm Avenue. The City hosts the festival at Yelm City Park and is facilitated by a dedicated group of volunteers who make this event possible.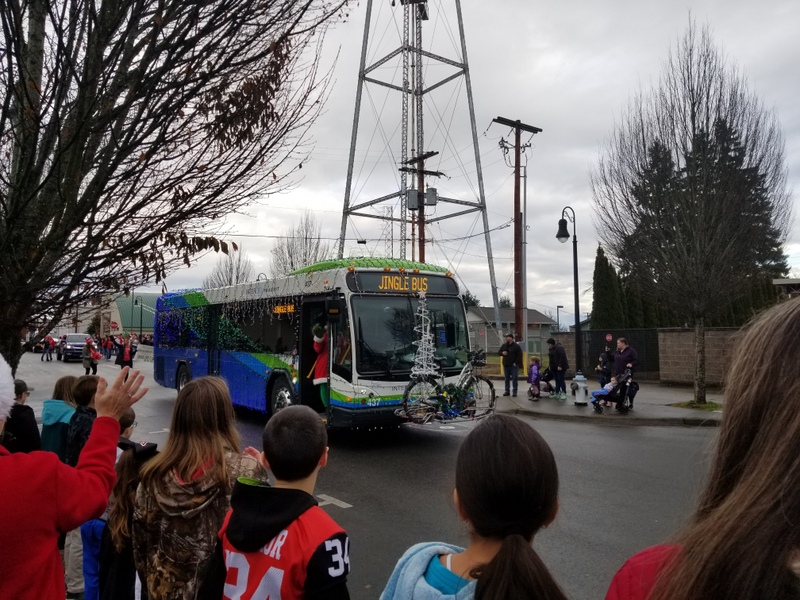 Indeed, parade participants went all out, decking their floats with a visual feast of holiday cheer. Soccer clubs, unicyclists, cheerleaders, the Yelm High School marching band, and a variety of local businesses and nonprofits walked, drove, rode, and danced their way down the Main Street. Intercity Transit's Jingle Bus made an appearance, as did the Thurston County Posse, a charitable horse riding organization.
But perhaps the most memorable sight came toward the end, when nearly a dozen bright orange J&I Power Equipment tractors hit the road covered in holiday decor. It was an appropriate symbol for a rural town with deep ties to agriculture.
Once the procession ended, it was time for the crowd to shift over to the city park where church and community groups were waiting with food, hot drinks and activities for children.
The spicy and sweet aroma of ginger and candy filled the inside the Community Center as attendees observed little houses framed with candy canes, rooftops made of graham crackers and gumdrops, and lawns made of cotton candy. Not to mention the first place winner, an impressive gingerbread replica of the new Yelm Middle School rendering, created by Yelm Middle School students. On the other side of the Community Center, hundreds of families lined up to get their free pictures with Santa, provided by City staff.
Just outside of the Community Center, the choirs took turns performing holiday songs, the accumulation of five weeks of practicing. "It's part of a larger district involvement where groups from each of the elementary schools, the middle schools and the high school come and sing Christmas music they've been working on in class for a half-hour time slot," says Mary Rivera, Yelm Middle School choir teacher. "It's our chance to perform for the community."
For Yelm Mayor JW Foster, it was a nostalgic occasion. "This is my 23rd year attending Christmas in the Park," says Foster. "Every year our kids were in those musical groups or reading their Christmas essays. Now that my own kids are grown, I get to enjoy Christmas in the Park from a different angle. I get to see all of the other families interact and watch their own students and it warms my heart to see how proud parents are of their kids during those performances."
Rivera rotates her song selection each year so even if students have previous choir experience, they'll need to learn new songs for the Christmas in the Park performance. This year, her choir learned eight new songs that included two-part to four-part arrangements. Given that they began working on these songs at the end of October, it wasn't much time to learn them. "It gives all of us a clear idea of what it takes to learn a piece of music well and how to apply what they've learned in September and October," says Rivera.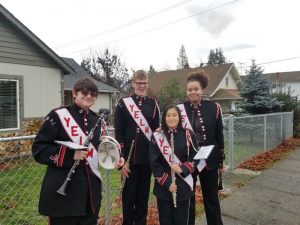 The experience provides an opportunity to adapt to an outdoor venue with varying weather conditions. "We were fortunate this year that it didn't rain or snow," she says. "When you're outside in the rain under a cover that may not fit everyone, it's a whole different feeling. It gives them an understanding of how different it is performing outdoors in the weather versus inside in a space designed for their sound."
Over the years, Rivera said she has received overwhelmingly positive feedback from the audience and this year was no different. Christmas in the Park is a very unique event," she says. Many people come here from other areas and they're very impressed that it's such a family-friendly festival. Not very many communities do things like this."
Look for information for Christmas in the Park 2020 on the City of Yelm website.
Sponsored