River Ridge and Tumwater both capped stellar volleyball seasons with a trip to the Class 2A state tournament at Central Washington University in Ellensburg.

Under second-year coach Nyra Gallardo, River Ridge won two loser-out matches at the district tournament to secure the program's fourth ever trip to state and it's since 2010.
After losing to eventual state placer White River in the opening round of the district 4 tournament, the Hawks (9-11) defeated Orting in five sets and Kingston in four to wrap up the district's sixth and final state berth.
"What impressed me the most about the team was how much improvement they made throughout the season," Gallardo said. "After having 14 seniors in the program last year, we knew it was going to be a building season for us. After many losses during the normal league season, we kept telling the girls that it's all going to click one day and when that happens, it will be magical. That click came at a perfect time during our district tournament, winning back-to-back against Orting and Kingston. They came together and played the best volleyball I had seen all season and secured a spot in the state tournament."
River Ridge received a less-than enviable draw at the state tournament, opening against undefeated Ridgefield, the defending state champion which had a considerable size advantage over the much smaller Hawks as the Spudders featured a pair of college-bound 6-foot-1 outside hitters and a 6-4 middle blocker.
Ridgefield won, claiming a 3-0 win over the Hawks before cruising to the second straight state title.
River Ridge would next face Selah, losing again in three sets, but despite the early exit at state, Gallardo believes the experience will serve as a major positive for the program as it moves forward.
"The experience at state was incredible. Our first match was against Ridgefield High School and they had girls on their team who were well over six-feet tall. Despite the odds being against us, our girls played incredibly tough and competed with Ridgefield and even scored 18 points in one of the sets," Gallardo said. "They persevered and really fought with them until the end. Overall, it was such a wonderful experience for us to take part in. I told the girls that we just got a sample of what state was like, and that we should be even more hungry, ready to fight again next year."
Once again setting the tone for the Hawks all season with senior outside hitter Emily Chisa, who was named first-team all-league in the 2A South Puget Sound League west division.
"Emily Chisa will have a legacy at River Ridge for years to come," Gallardo said. "She's a great volleyball athlete and an incredibly humble, kind individual. In conjunction with volleyball, she also does running start full time and does a phenomenal job in maintaining her grades by being on the honor roll. She's the whole package, and I'm so excited for the great things she's going to do in her life."
Joining Chisa on the all-league list was senior Jenny McDonald, an honorable mention pick at setter.
In addition to Chisa and McDonald, River Ridge also graduates seniors Alisa Ha, Holland Maxfield, Brooke Scharpf and Cassidy Sroor this year.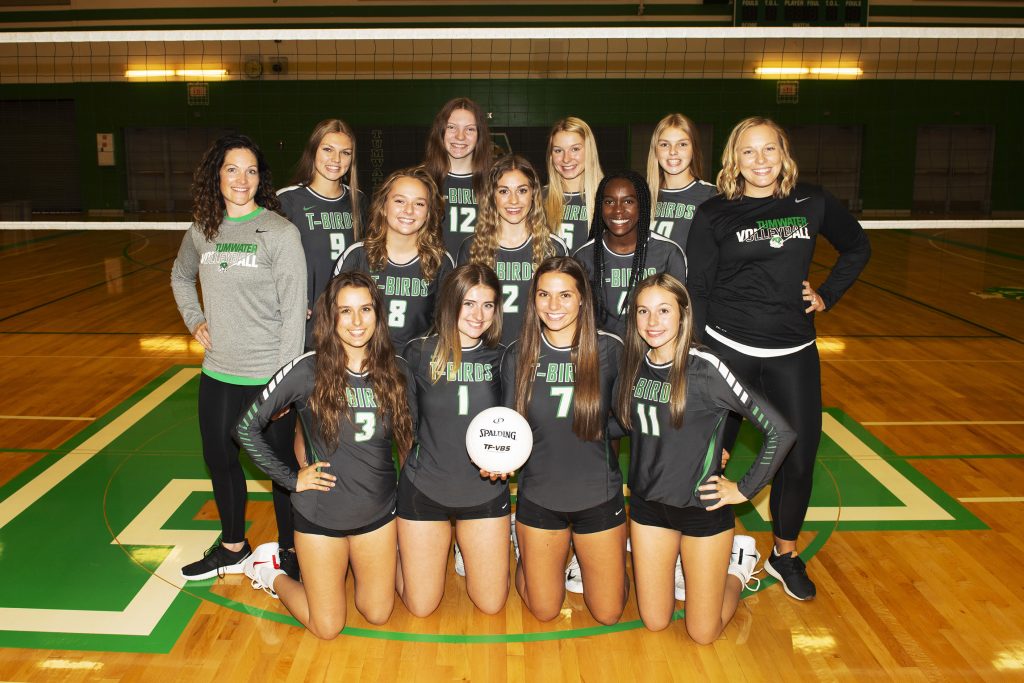 "Just like Emily, the other five seniors will also leave positive legacies at River Ridge," Gallardo said. "All six of them brought different traits to the table including talent, hard work, humor, determination, mental toughness and heart to our program. They will be truly missed, but I am looking forward to following their journey in life to make the world a better place."
Following a rare one-year hiatus, Tumwater, which was co-champion of the 2A Evergreen Conference with Black Hills, found itself back at the state tournament for the 24th time in school history.
The Thunderbirds (14-7) defeated Fife in five sets (17-25, 26-24, 25-19, 25-16, 15-8) in the first round to give the team its first state tournament victory since its win over Woodland in the 2017 championship.
Tumwater would lose to eventual state runner-up Ellensburg (25-15, 25-17, 24-26, 25-22) in the quarterfinals before falling to fifth-place finisher White River in a loser-out match.
The T-Birds were led by a strong senior class this season, including Ellie Bocksch, who was named the 2A EvCo player of the year.
All five Tumwater seniors received season-ending conference honors. Joining Bocksch was fellow seniors Leah Cairns, who was a first-team all-conference recipient, second-team picks Aliyah Williams and Rachel Schultz and Rose Foisy, who received honorable mention accolades.
First-year Tumwater co-head coaches Jordan Stray and Jill Giudice were named the conference's coaches of the year.