Just writing this I can smell the greenery. It's time to head out and find that perfect Christmas tree to kick off your Christmas festivities! Pick out your favorite tree, find wreaths and garlands to deck your halls, drink a cup of cocoa and take a family photo – it's all waiting for you at these local farms. Here is your 2019 guide to Christmas tree farms in Thurston County.
Beaver Creek Christmas Tree Farm
1647 Beaver Creek Dr. SW, Olympia
November 29 until sold out
Friday, Saturday – Sunday: 9:00 a.m. – 4:00 p.m.
The Beaver Creek Tree Farm has Nobles, Grand and Silver firs at their u-cut Christmas tree farm in Olympia. Be sure to check out their handmade wreaths, log candle holders, and other gifts. They have hot cider to keep you warm and lots of friendly dogs for the kids to play soccer with – including a new puppy! You can also find their wreaths at the Hillbilly Beans Espresso in Littlerock.
Black Lake Trees
62nd Avenue SW & Delphi Rd SW, Olympia
Open daily starting November 23: 10:00 a.m. – 7:00 p.m.
Head to Black Lake Trees and decide if you want to cut down your own or have them help – the choice is yours! They will be open daily until they sell 1,000 trees. Choose from Douglas, Grands, Norways and Nobles. You can also purchase boughs and wreathes and even discounted "Charlie Brown" trees if you are looking for something unique this year.
Cetak Family Christmas Tree Farm
6448 41st Avenue NW, Olympia
November 30, December 1
If you purchased your tree from the Cetak Family Christmas Tree Farm last year and were hoping to do so again, you will need to be quick! They are in a "growing year" and will have a very limited number of trees for 2019. They are planning on being open November 30 and December 1 to sell the limited Christmas trees they do have. Contact them on Facebook for more information including hours those days.
Clyde 'n Dale's Holiday Trees & Gifts
10712 Tracie Court SW, Olympia
November 23: 9:00 a.m. – 5:00 p.m.
November 29 – December 15 (or until they sell out)
Fridays, Saturdays, Sundays: 9:00 a.m. – 5:00 p.m.
Want to take a ride in a wagon pulled by two beautiful draft horses to pick out your lovely tree? Then there is only one Christmas tree farm in Thurston County to head to – Clyde 'n Dale's Holiday Trees & Gifts! You can pre-tag your tree at their Holiday Open House on November 23. They open for the season November 29. On November 30, they will have a group singing your favorite carols and on December 7 and 8 a local 4-H club will be giving pony rides. December 1 and 8 will also have Santa visits from 1:00 p.m. – 3:00 p.m. They have a gift shop open during tree sales that are full of decorations for your home. They have Fraser, Noble, Gran and Douglas trees.
Hunter Family Farm
7401 Yelm Highway Se, Olympia
November 29 – December 23
Monday – Friday: 10:00 a.m. – 6:00 p.m.
Saturday – Sunday: 9:00 a.m. – 6:00 p.m.
(u-cut closes at 5:00 p.m., fresh cut at 6:00 p.m.)
The Hunter Family Farm is at is again for Christmas! The pumpkins are carved and now it's time for candy canes and Santa. If you are wanting professional photos taking in a breathtaking setting, Hunter Family Farm allows you to bring in your own professional, so you can make a holiday card you will cherish forever! Choose from u-cut or fresh cut in Noble, Grand, Douglas, Nordmann, Norway and Fraser (fresh cut only). They also have a huge holiday shop with ornaments, garland, wreathes and Santa on November 29-30 and December 1, 7-8.
Riverbend Ranch
2840 184th Ave SE, Tenino
November 29 – until they sell out
Daily: 9:00 a.m. – 5:00 p.m.
Riverbend Ranch is a Christmas tree farm in Tenino. They have Noble, Doug and Grand firs, including Nobles that are natural (un-sheared). Shope their homemade sways, wreaths and yule logs after you select the perfect Christmas tree. Warm up with hot chocolate, cider and cookies. There are mini donkeys on select weekends!
Schilter Family Farm
141 Nisqually Cutoff RD SE, Olympia
November 29 – December 15
Daily: 9:00 a.m. – dusk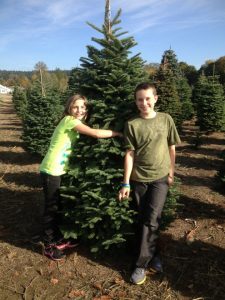 The Schilter Family Farm has tons of holiday fun waiting for your entire family. Enjoy hay rides (weekends only) and Santa the first three Saturdays (November 30, December 7, December 14) from 12:30 p.m. – 3:30 p.m. Check out their lighted nativity inside their 140-year-old barn. All the trees are shaken to remove dead needles and they can even drill your tree trunk and install their specialty tree stand. They can also net your tree for travel. Choose from Noble, Fraser, Grand and Douglas.
Sprouffske Tree Farm 
14020 Finian Road, SE, Rainier
November 29
Daily: 9:00 a.m. – 4:00 p.m.
Sprouffske Tree Farm has Noble, Grand and Douglas Christmas trees waiting for you. Be sure to check out their Tree Shoppe, where you can find candy canes, hot chocolate and Russian tea. They have saws for you to borrow if you forgot yours.
National Forest Trees
You can head to the woods to find that perfect Christmas tree, as long as you have a permit for our local National Forests. For Just $5 you can get a Christmas Tree Permit. Fourth graders can receive a free permit. New this year, trees cannot be taller than 15-feet. For more information visit the National Forest website.