Seventy-five years ago, Olympia resident Ralph Stormans decided to open a grocery store across the street from the Safeway he once was an employee at. Throughout the years the Stormans family store went through name and location changes, additional stores, and generations of family members helping to keep the businesses at the forefront of the Thurston County community. Ralph's Thriftway and Bayview Thriftway are celebrating this history of the Stormans family tradition of bringing quality products to residents all year long.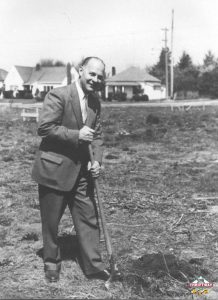 "The business started in 1944," explains Charelle Foege, granddaughter of Ralph Stormans and the current Stormans vice president. "He worked for Safeway on Legion. He learned a lot about the grocery business there and wanted to do it himself. He told his boss he was going into the grocery business and that he would be opening across the street. He really had some confidence! It was a lot of hard work but he was able to pull it off."
What started as Ralph's Food Center quickly expanded into what we now know as Ralph's Thirftway. The state-of-the-art grocery was one of the first to have a scanning system and resided in a beautifully built structure. Over time, Stormans added many locations throught Lacey and Olympia with one being located next to the Olympia Yacht Club. This location would eventually be known as Bayview Thriftway. The deli and restaurant at this location made way for an expansive deck and second story balcony to be built for customers to enjoy inlet views with their purchases. Both stores quickly became staples to the community.
With multiple stores and a growing customer base, the stores have been the foundation of their lives, with the whole family being involved. "We all worked in the business growing up," says Foege. "We all actually loved working there. My brother and I would help around the store from a young age. We straightened the shelves and put out the grease pencils. I remember spending a lot of time in the bakery frosting maple bars and helping at the counter. My parents encouraged us to spread out wings and head off to college. I went to school to become a teacher and taught for a few years before coming back. I missed it. In the end, we all ended up coming back to work at the family business."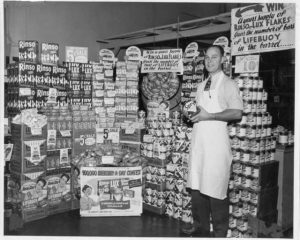 Just as the Stormans family made the business a part of their daily lives, over the years, both grocery stores, along with a handful of other Stormans-owned businesses, have become staples to residents. "Stories are coming in from locals that really highlight the stores," describes Carly Brettman, marketing manager. "It's so fun to see how people have made the stores a big part of their lives. From meeting their future spouse at a location to shopping for their annual Christmas ornaments. So many people have their lives intertwined into our stores."
To help celebrate 75 years of this family run business two major events will be held in their honor. "We have two events each year during the holiday season already so we thought this year, let's make them bigger and better than ever to celebrate," says Brettman. "The first event was Ralph's Fall Festival Open House and the second is going to be at Bayview's Taste the Holiday Spirit on Saturday, December 14 from 11:00 a.m. – 3:00 p.m. We are inviting the community to share in a piece of anniversary cake and check out fun vintage memorability. There's an original cash register and amazing photos that encompass the history of our stores. There will also be anniversary bags filled with Bayview's favorite products from local favorites including Chehalis Mints, Batdorf & Bronson, and Johnson's Smokehouse. The best part about all of our celebrations are that they have been led entirely by an employee committee. Having these amazing staff members involved makes it even more special."
"We are so thankful the doors have been open for 75 years," describes Stormans. "The biggest thing for us has always been the community. From long time staff members to new customers, we want to celebrate the family legacy of the business with everyone involved."
Sponsored