Homelessness, single motherhood, loss of identity, stereotyping and discrimination are just a few of the experiences that Washington state women of color legislators had to overcome on their paths to victory in the state's most recent election.
Sitting shoulder-to-shoulder in The Evergreen State College's Purce Hall, five legislators spoke candidly to students about their lives and what motivated them to run for office on a panel called "Transforming Dialogue into Action: Washington Womxn of Color Legislators," as part of the college's second annual Equity Symposium on November 14 and 15.
One story came from Rep. Melanie Morgan, a former school board director, U.S. Army veteran and a black woman of Jamaican descent who represents the 29th Legislative District, which includes parts of Tacoma, Lakewood, and Spanaway.
She told the crowd that she got her start on the board of the Franklin Pierce School District and that her road to the legislature had not been easy as a single, divorced mother of four. "If any of you are single parents out there, do not let the circumstances predict what could be," she said.
Morgan explained she faced poverty after divorce and her family spent a decade on Section 8 housing vouchers and food stamps. Eventually she became homeless. But she didn't let that stop her from reaching her goal of leadership in public office.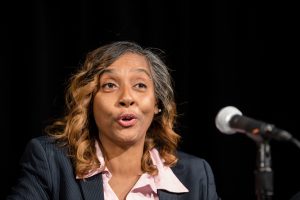 She said she won her seat by 22 percent due to one thing: "Engaging with community members who had not been engaged civically for 20 years."
In 2019, Morgan was welcomed into the most diverse group of legislators in state history. It includes a female majority in the House Democratic Caucus, with women of color serving in both the House and Senate leadership.
Morgan was recently appointed to the newly-created Office of Equity Task Force to promote opportunities across all sectors of government.
This year's theme of Evergreen's Equity Symposium was "Transforming Dialogue into Collective Action." The campus-wide gathering of workshops, speakers and dialogues is dedicated to advancing diversity, equity and inclusive excellence.
Also participating in the panel were Rep. Debra Entenman and Sen. Mona Das, who work on behalf of the 47th Legislative District, Rep. My-Linh Thai, from the 41st Legislative District, and Sen. Emily Randall, from the 26th district.
The legislators cited several key challenges they had to overcome in order to achieve their success. Few role models looked like them or came from their communities. Some were dismissed because English was not their first language. Others were discouraged by educators about achieving higher education goals. All struggled with a lack of resources and pressure to assimilate.
Entenman and Das, who represent part of southeast King County, including part of Kent, Covington and Auburn, also had powerful stories to tell.
Entenman is a former non-traditional student who is passionate about education for people of all ages and stages of life. She explained that she grew up in the Rainier-Vista housing project where she was one of the first children to benefit from Head Start, an early learning program for low-income children. "My life has been changed by the opportunity to have access to quality public school education," she said.
She told the crowd that she decided to get more involved in politics when a legislator representing her district tried to cancel a school breakfast program for low-income students. "I knew at that time that that legislator did not represent me and I knew that I had to run for office," she said.
Das was born in India and moved to the U.S. with her family when she was eight months old. She told the audience that her family arrived with just $6 and described a painful childhood spent trying to fit into her new country. "Back then the conventional wisdom was, assimilate, assimilate, assimilate," said Das. "I tried everything to shed my parents' accent and the fact that I went to school smelling like curry."
But there was one thing she soon realized that she couldn't change. "I've lived in eight states and three countries and I've always been the only brown person in every room I walk into," said Das. "I had never seen a politician who looks like me."
She'd thought about running for office, explained Das, but didn't have any role models until one day when she was walking her dog along Puget Sound and saw a campaign sign that read "Pramila Jayapal for State Senate."
"I stopped in my tracks," said Das. "I started to bawl my eyes out because even though I had never met Pramila Jayapal, I knew she was Indian by her name and I knew she was a woman by her name and I, for the first time in my entire life, knew that my crazy dream was possible."
She decided to jump into the race for senator in her district and won. "For me, representation matters," she said. "The five of us being new this year, we shook things up. I don't know if you noticed, but we passed some bills that wouldn't have been passed a long time ago."
Rep. My-Linh Thai, who works for the 41st Legislative District, which covers all of Mercer Island, Newcastle, portions of Bellevue, Renton, Issaquah, and Sammamish also joined in the panel.
She immigrated to Washington state with her family from Vietnam when she was 15 and is the state's first refugee legislator. Thai, who is trained as a pharmacist, called herself an "accidental politician."
She said she'd always wanted to become a doctor, but was discouraged by a school counselor. Although she spoke fluent French and Vietnamese, the counselor told Thai that since English was not her first language she was not likely to succeed on such a career track.
She first became involved with public service with the Bellevue School District Parent Teacher Student Association (PTSA).
In 2013—the year the DREAM Act died at the federal level—she met two undocumented students through reading their scholarship essays as part of her work with the PTSA.
The students, she said, reminded her of herself and she felt compelled to make the system work better for future generations. "Even though my own children were born here in this country, they face discrimination and racial injustice every day," said Thai. "And if I don't choose to do anything, many will continue to live in the shadows the way I have, or have to let go of their identity."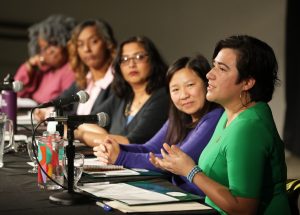 At 34, Sen. Emily Randall, who represents the 26th district, which includes southeastern Kitsap Peninsula, from Bremerton and Port Orchard in the north to Gig Harbor in the south, is the youngest member of the State Senate.
She explained that her grandparents moved from Utah to Kitsap County in the 1950s because they were facing employment and housing discrimination and were drawn to the Bremerton area because of work at the nearby naval base. "My grandparents really tried to assimilate. They stopped speaking Spanish," said Randall.
Born in Washington with Chicana roots, she's one of the first openly gay women elected to the Senate.
In many ways, it was easier for her than her parents and grandparents, said Randall, but she explained that she did have glimpses of the racism they'd faced during her childhood in Kitsap County. "We got home from a camping trip and on our home basketball court in the yard someone had spray-painted a swastika and the words, 'Die Mex'," she said.
Despite the experience, Randall said she grew up with a deep understanding of public service because of family members who served in the military and worked as firefighters. In addition, she had great respect for the role of government in making peoples' lives better when her sister was born with a severe disability and Medicaid covered her care.
Randall is a first-generation college student who has worked as a community organizer and advocate for healthcare and education. After the 2016 election, she felt compelled to return to her home state to run for office to protect and advance healthcare and education for all people in Washington.
"One of those things that I was most proud about was reaching folks who hadn't been reached before," she said, "down those long driveways in our rural community—folks who had felt previously unheard."
And it paid off. There was a 45 percent youth voter turnout, said Randall.
The legislators encouraged more women of color to join their ranks to bring more diverse representation to the Washington State Legislature.
Sponsored